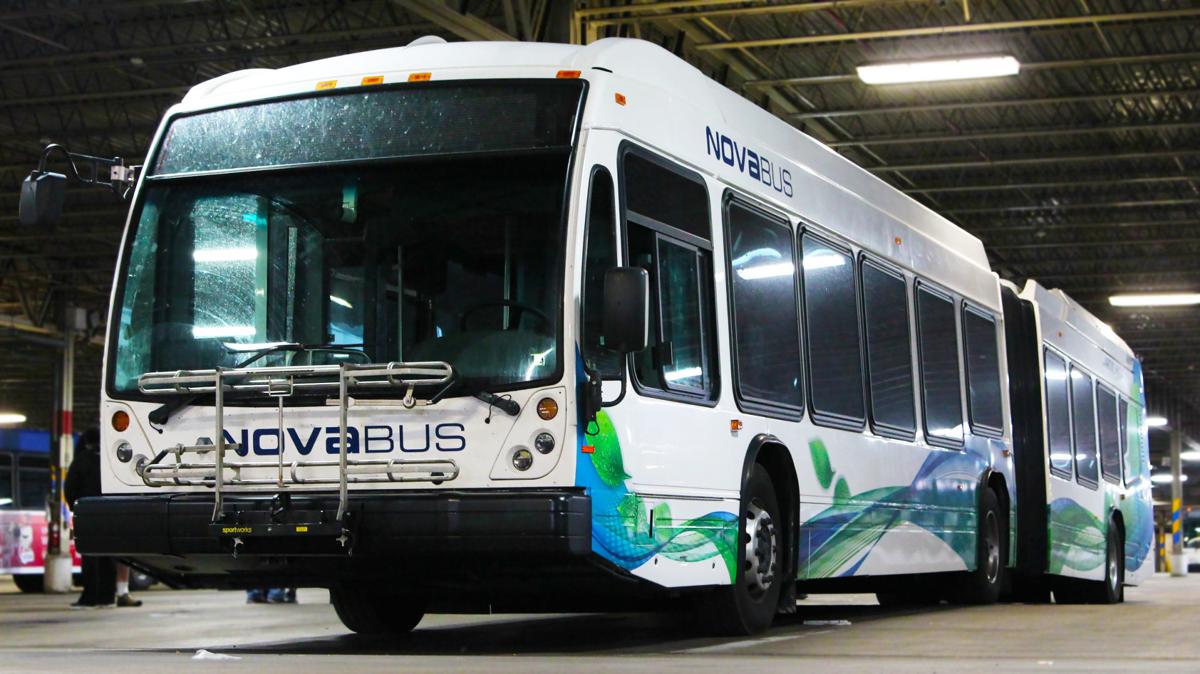 Hoping to finally realize a transportation initiative that has been in the planning stages for a number of years, city officials are moving toward implementing a bus rapid transit system.
But dropping a faster, more efficient people mover into the middle of a densely developed city will be a daunting challenge. With little capacity to expand streets, Madison will have to make hard choices about whether to trade some on-street parking or regular traffic lanes for dedicated bus routes.
It will also be costly. An initial route roughly from East Towne to West Towne malls will require a capital outlay of $80 million to $100 million — plans call for much of that to come through federal funding — and could cost about $3 million annually to run.
On the benefit side of the ledger, supporters say, BRT would boost capacity for Metro Transit, cut travel times, serve as a catalyst for economic development, contribute to energy and carbon reductions, and provide a more equitable transit system because low-income people and minorities are most affected by long travel times.
Bus rapid transit, or BRT, is a high-frequency, high-capacity, limited-stop service that would run on city streets and dedicated lanes. It would use snazzier, 60-foot-long buses that bend at the center and have low floors, three doors and technology to extend green lights and other traffic signal improvements. Stations would be equipped with concrete platforms, shelters, benches and lighting, ticket vending machines, real-time bus information, bike racks and perhaps heating.
"We need to find a way to meet everyone's transit needs," said Mayor Satya Rhodes-Conway, who urged quick action on the project during her campaign. "The best way to do that is through BRT."
City leaders, who hope to open the initial east-west route by 2024, are preparing to seek federal funding that could cover up to 80% of capital costs while also exploring how to fund operations in a tight city budget that's constrained by state levy limits.
In the last five years, Madison has approved 14,000 dwelling units that will create an additional 120,000 daily trips, city transportation director Tom Lynch said. And in the last three years, the city has approved 3.3 million square feet of office space, generating 60,000 more daily trips, he said.
The city's population is projected to grow from 255,200 in 2017 to 292,500 in 2050 — or up to 355,000 if growth continues at the same rate as from 1990 to 2017, Lynch said. Dane County is projected to grow from 536,000 in 2017 to 638,000 over that period, or more than one million if growth mirrors the last 27 years, he said.
But the city's main arteries, such as East Washington and University avenues and Park Street, have scant prospects for expansion, officials said.
"We are growing. It is our desire to grow," said David Trowbridge, the city's principal transportation planner. "(But) we don't have the roadway capacity."
Route choices
In East Madison, the route would run from East Towne along East Washington Avenue with a jog to Madison Area Technical College then returning to East Washington Avenue to Downtown.
There are two Downtown route options. One would hug Capitol Square, which would be fastest but require moving some local bus routes off State Street and having BRT buses on at least a part of the Square during the Dane County Farmers' Market and 70-plus annual events.
"We'd like BRT on the Square," Lynch said. "It's the obvious place where you'd like your premium transit service."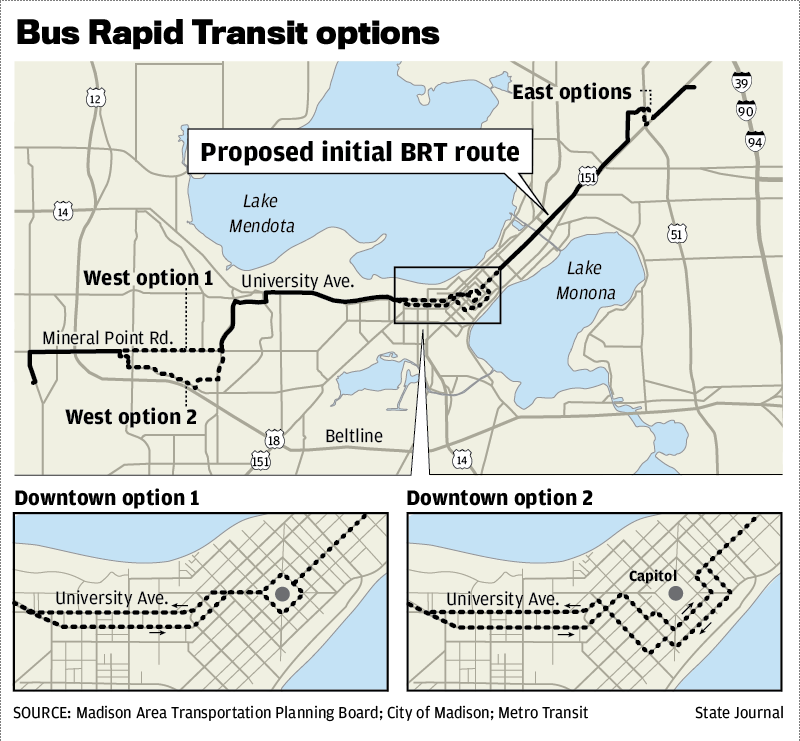 The second option would run to the south of the Square using streets a block or more away, which would serve stations close to State Street, Monona Terrace and the City-County and Madison Municipal buildings, but require changes to Henry Street and removal of parking on Broom Street.
There are two choices for West Madison. The first would go from University Avenue through the Hill Farms area to Whitney Way to Mineral Point Road past West Towne, which would be fastest and use existing dedicated bus lanes but may require relocation of the West Transfer Point. The alternative would also go from University Avenue through Hills Farms to Whitney Way but continue to Odana Road and on to West Towne. It would serve Market Square and Westgate malls, provide better service to UW Research Park and West Towne, and allow expansion of the West Transfer Point at or near its current location, but have no dedicated bus lanes on Odana Road.
A delicate balance
In some places, such as Mineral Point Road, the city has dedicated bus lanes that would be ideal for BRT. But many other corridors — East Washington Avenue, University Avenue and Odana Road — don't have those.
That could mean eliminating a lane of vehicle traffic or parking, or devising ways to let BRT buses get around traffic at stoplights. For example, the buses could use a short "priority lane" at stoplights to pass stopped cars and get their own green signals before other vehicles.
Accommodating the buses means weighing trade-offs.
On East Washington Avenue, for example, converting an existing lane of traffic to a BRT lane would make the bus trip between Blair Street and East Towne 30% faster, but it would cause regular vehicle traffic to run one and a half to two times slower. Removing a parking lane between Blair and First streets for a BRT lane would make the bus trip 20% faster and wouldn't slow regular traffic but would force parking onto side streets. Allowing the buses to jump the queue at stoplights or creating bypass lanes would eliminate some parking while making the bus trip 20% faster with no impact on regular vehicle times.
"It's kind of a delicate balance," Trowbridge said.
Rhodes-Conway said it would be "absolutely critical" for the city to get the system right.
"That does mean we're going to have to dedicate right of way," she said. "What that looks like depends on the corridor."
Another reason to get it right: It's harder to reroute BRT than a normal bus line, especially Downtown. Riders would pay fares at the stations, which will be located one-third to a half-mile apart and would be far more substantial and expensive than regular bus shelters.
The city doesn't expect to acquire private property for the system and will only have to cut into street terraces for about 5% percent of the route for lanes or stations, Lynch said.
BRT will complement, not compete with, Metro's regular bus system, but there will be changes to local routes, Lynch said.
"It does mean we'll have to change," he said. "We'll have to make hard choices."
Hunt for funding
And there's no getting around the cost.
The estimated $80 million to $100 million in initial costs would cover the east-west route for the longer electric buses, stations, and modifications to roads, Lynch said.
The city will seek grants from the Federal Transit Administration to cover up to 80% of capital costs, he said. The grants are non-competitive, meaning the city will get the money if it meets certain criteria, which include a justification for the project and some local funding.
At the same time, the city faces other major capital costs for Metro, including $57 million for repairs at its sprawling bus garage at 1101 E. Washington Ave., and $15 million to $30 million for a satellite bus storage facility, a precursor to BRT. The city is negotiating with owners of the former Oscar Mayer facility on the East Side to buy part of the property for that use.
The bigger challenge, however, may be the roughly 5%, or about $3 million, annual increase in Metro's operations budget BRT would bring, officials said.
The Republican-controlled state Legislature has opposed establishment of Regional Transit Authorities, which would have the capacity to levy taxes.
As an alternative, the city is looking at a mix of sources including more transit funding in the state budget, revenues from an expected 10% to 15% increase in ridership, vehicle registration fees, regional partnerships, and a newer concept called Local Transportation Options, which work like an RTA but provide benefits to communities without transit systems.
The city has sponsored well-attended public meetings to kick off the east-west BRT planning study and share preliminary alternatives, the latter session attended by more than 100 people Wednesday. A third public meeting will be held in July. To learn more, or to participate in a survey and provide other suggestions, visit go.madison.com/brt.
The city will submit its federal grant application in the fall of 2020. If successful, the first phase of could be completed as soon as 2024.
"We are growing. It is our desire to grow. (But) we don't have the roadway capacity." David Trowbridge, principal transportation planner for city of Madison
"We are growing. It is our desire to grow. (But) we don't have the roadway capacity."

David Trowbridge, principal transportation planner for city of Madison