After four years of effort, the city and a developer are firming up a design for a $14 million Madison Public Market and new, private commercial space, offices and housing on the East Side.
The private component could bring $30 million to $40 million in investment for a first phase with more in a second phase, the developers said.
The design would raze a half-century-old strip mall, deliver substantial new construction and reuse the city's Fleet Services Building in a dramatic transformation of property bounded by East Washington Avenue, First and East Johnson streets and Burr Jones Field.
Meanwhile, a consultant's draft study says the city can expect to raise between $2 million and $5 million in private funds for the Public Market. The current budget relies on $4.25 million from the city, $3 million in private donations, $3.5 million in federal tax credits, and $3 million in unidentified state or federal funding.
The city's Public Market Development Committee had a generally positive reaction to the emerging site plan and fundraising study when it was presented earlier this month.
"We've been very pleased with the site design process," committee chair Anne Reynolds said. "The architect and site design group have been responsive to community input, and the private owners have been involved in the conversations. Fundraising is an important challenge, but I'm confident we're developing a path forward to meet the challenge."
For months, the city and Steve Doran and Todd Waller, owners of the Washington Plaza shopping center, 1858 E. Washington Ave., have been working closely on plans to create a cohesive redevelopment on adjacent private and public properties.
"It's a great opportunity for us and the city," Waller said. "It's got to be financially feasible and everything is leading in that direction. So far, the site plan is going really well."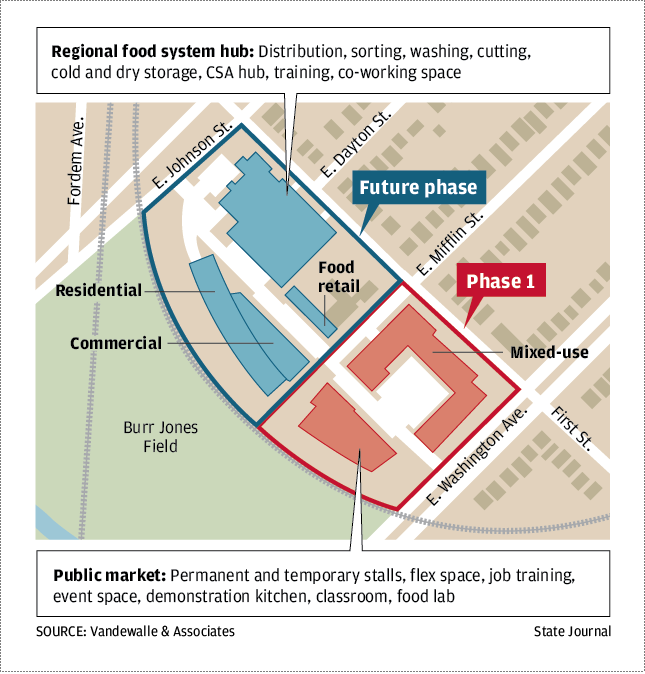 The properties are in two zoning districts, both allowing buildings up to five stories with additional height under a conditional use process. An Urban Design District calls for buildings between three to five stories along the street, with stepped back heights up to eight stories.
"I don't think anyone's envisioning a lot of height there, more in the line of three to five stories, not 10 or 12," said Dan Kennelly, manager of the city's Office of Business Resources. The market itself would be one or two stories, perhaps with high ceilings in the main market hall, he said.
A draft plan still being refined shows a first phase with the Public Market at the corner of East Washington Avenue and railroad tracks and a mixed-use private project with retail, office space and housing on the prominent corner of East Washington Avenue and First Street.
The composition of the private component is still evolving, Waller said, adding, "It depends on the height and density."
The city budget envisions construction of the market to begin in 2018.
A second phase would convert the Fleet Services Building, 200 N. First St., into a regional food hub with capacity for distribution, sorting, cold and dry storage, and other uses. A site along the railroad tracks would have more commercial space for restaurants and services and housing, the latter terraced up to six stories. Construction would start after the city relocates Fleet Services to the Far East Side around 2020.
Doran and Waller are interested in doing the second phase. "We're the natural fit for the project," Waller said.
The commercial space would hold restaurant and small retail establishments, Waller said. "It's got to be a compelling retail use, something unique that fits the neighborhood and the market."
The city would extend Mifflin Street into the heart of the redevelopment and create a new Market Lane across the property connecting East Washington Avenue and East Johnson Street.
A new pedestrian crossing could be built over the railroad tracks to Burr Jones Field. The redevelopment would have three plazas and address a major challenge of parking with at least some underground stalls.
"The vision is that this feels like one place, so there's a shared look and feel to what hopefully will feel like a market district," Kennelly said.
The city committee suggested moving the Public Market closer to East Washington Avenue in space slated for outdoor stalls, having entrances from the market in every direction, and ensuring the building have the prominence to be a destination on its own, vice chairman Barry Orton said.
To be successful, the market must have an attractive mix of offerings and have easy access, Orton said. "It's getting there," he said. "There are a lot of moving parts."
The city's architect, Graham Baba of Seattle, is expected to offer a more detailed site plan next month.
The city and private developers must still forge a formal development agreement on land ownership. The city could buy land from Doran and Waller for the market, enter a ground lease or condominium deal with them, or do a land swap that would provide city land to the developers for the second phase of the project, Kennelly said.
Next steps
As site design proceeds, the city is also making other preparations for the market, which is projected to have more than $12 million annually in food sales, incubate 35 businesses, create 265 full-time jobs across the region, and deliver a $22 million annual economic impact.
The city is preparing to launch a "MarketReady" program that will provide training, technical assistance and "micro- enterprise grants" up to $14,000 apiece to help small businesses.
"There is strong alignment within the community around the Public Market's goals of diversity and inclusion," Reynolds said. "This is very encouraging, and we look forward to working with a broad group of partners to make these goals a reality."
Meanwhile, consultant Amanda White is making recommendations for a successful capital campaign, including leadership from minority, business and "foodie" communities and shifting away from Mayor Paul Soglin to a community leader as spokesperson to show it's a community-led effort.
It's always been the city's intent to have an independent, nonprofit organization with its own staff and board of directors to operate the market, Kennelly said.
With initiative, a fundraising campaign could secure $4 million to $5 million but a campaign larger than $5 million isn't recommended, the study says.