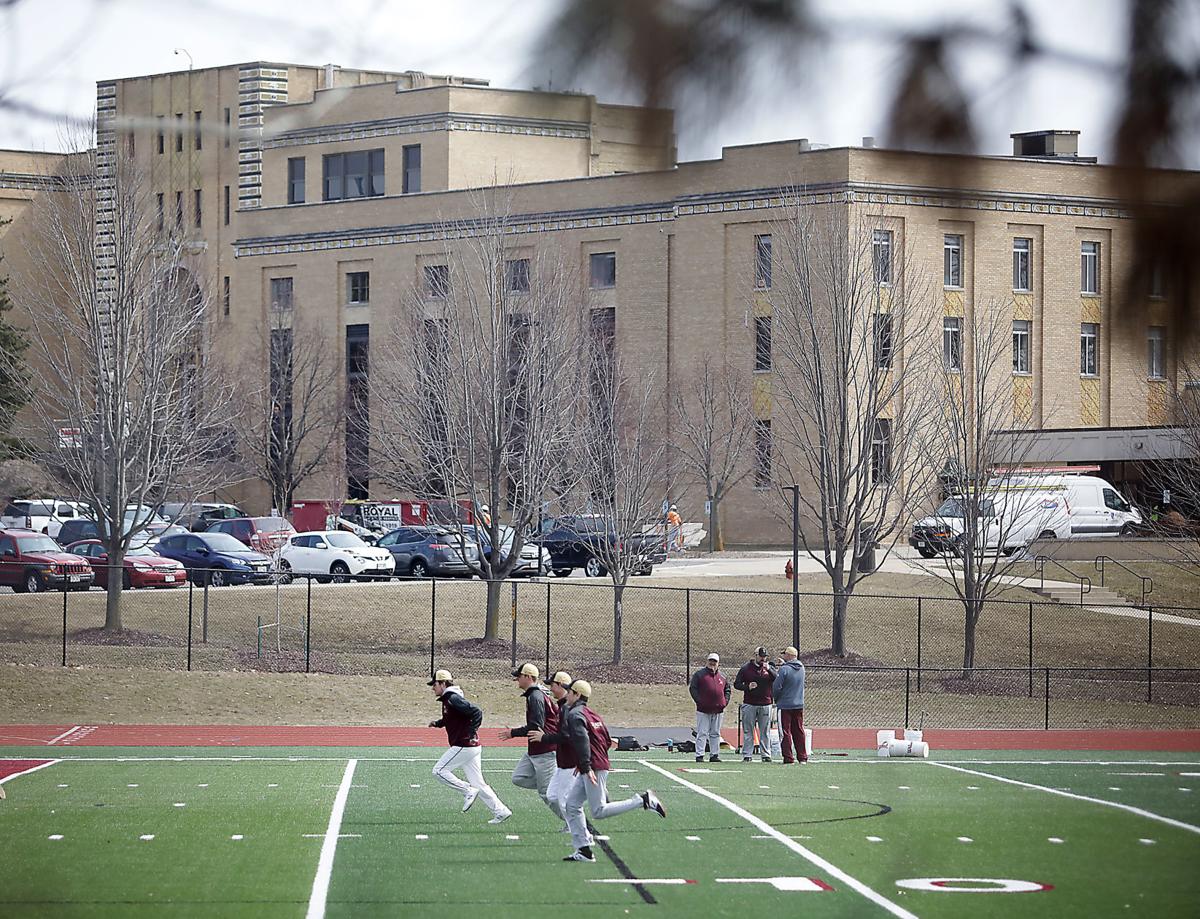 After a meeting that lasted more than seven hours Monday, the Madison Plan Commission voted to delay a decision on a proposal that would have allowed Edgewood High School to play games on its athletic field. 
Also delayed was a vote on an ordinance that would have prevented Edgewood from making modifications, such as adding lights or a sound system, to its field unless it applied with the city to do so. Both proposals were pushed to the commission's next meeting, which is three weeks away. 
More than 100 people registered to speak on the measures, many of them neighbors who were concerned over noise and traffic caused by games, others supporters of Edgewood who wanted students to be able to play on their home field.
The conflict between Edgewood and the city over whether the private Catholic school can use its own field to host athletic competitions has been escalating for months, most recently culminating in a federal lawsuit filed last week where Edgewood alleged it is being religiously discriminated against by the city.
This past spring, the city's zoning administrator determined that wording in the school's master plan prohibited it from using the field for competitions and issued two notices of ordinance violations for games played on the field. That interpretation was upheld at a Zoning Board of Appeals meeting in July, which Edgewood is appealing in the federal lawsuit.
Wording in the school's master plan describes the intended use of the field as athletic practices and gym classes — without mentioning competitions. Edgewood has maintained that was not meant to be an exhaustive list of uses.
The ordinance that was up for a vote at Monday's meeting would repeal Edgewood High School's master plan, allowing it to host games on its field as other Madison high schools without master plans are allowed to do. Mayor Satya Rhodes-Conway had initially sponsored Edgewood's request to repeal its master plan, but withdrew her support in light of the lawsuit. 
Voluntary agreement
In a memo to the Plan Commission Monday, city planner Timothy Parks noted that Edgewood chose to enter into a master plan voluntarily and should be allowed to repeal it if it wants.
"As it is voluntary for a Campus Institutional-zoned institution like Edgewood to request approval of a master plan for its campus, staff believes that is also possible to ask to no longer be governed by a master plan," Parks states in the memo.
The city attorney's office recommended the commission approve Edgewood's request because it did not believe the city should force an organization to stay in an agreement that it entered into voluntarily.
You have free articles remaining.
But some commission members were concerned about the broader impact of repealing the master plan, which outlines future projects for both Edgewood High School and Edgewood College. Ald. Patrick Heck, 2nd District, said a lot of work was put into the master plan, and repealing it could impact the health, safety and welfare of the community. 
"I just think we need to think through all of the possibilities and where all of that good works goes that was done in the past," Heck said. 
Commission member Bradley Cantrell, who said he was there when the master plan was passed in 2014, said he wants the plan to stay in place, but also thought Edgewood should be able to play games on its field.
Cantrell voted against the delay because he wanted to deny Edgewood's request to repeal that night and encourage the school to apply to amend its master plan to include games and competitions.
The Plan Commission voted 5-3 to delay, with those opposed wanting to deny the request to repeal that night. 
Two proposals, one timeline
Members who wanted to shelve the ordinance also felt it was important to keep the repeal on the same timeline as the proposal that would prevent Edgewood from making improvements to the field.
Earlier in the meeting, the commission voted to delay the vote on that ordinance -- which would require Edgewood to apply for city approval before making any improvements or modifications to its field -- over concerns that the measure was being rushed. 
Wendy Fearnside, a neighbor of Edgewood High School, urged the Plan Commission to keep the two ordinances together. She said not doing so would be "giving Edgewood the go ahead" to install lights and a sound system. 
Edgewood has been trying to make improvements to its field for months, including adding a new sound system, lighting for night games and expanded seating. It had initially wanted to install stadium seating, concessions and permanent bathrooms but halted those efforts after backlash from the surrounding neighborhood.
Plan Commission member Bradley Cantrell noted that the rule would also apply to UW-Madison, Madison Area Technical College and Madison-area public high schools. Although those schools have been notified of the potential new rules, Cantrell said it could impact them in ways they didn't realize.
"I don't think they understand the implications of it," Cantrell said.
The commission wanted more time to consider possible impacts, and voted unanimously to refer the limits on field changes to the Plan Commission's next meeting on Sept. 16.