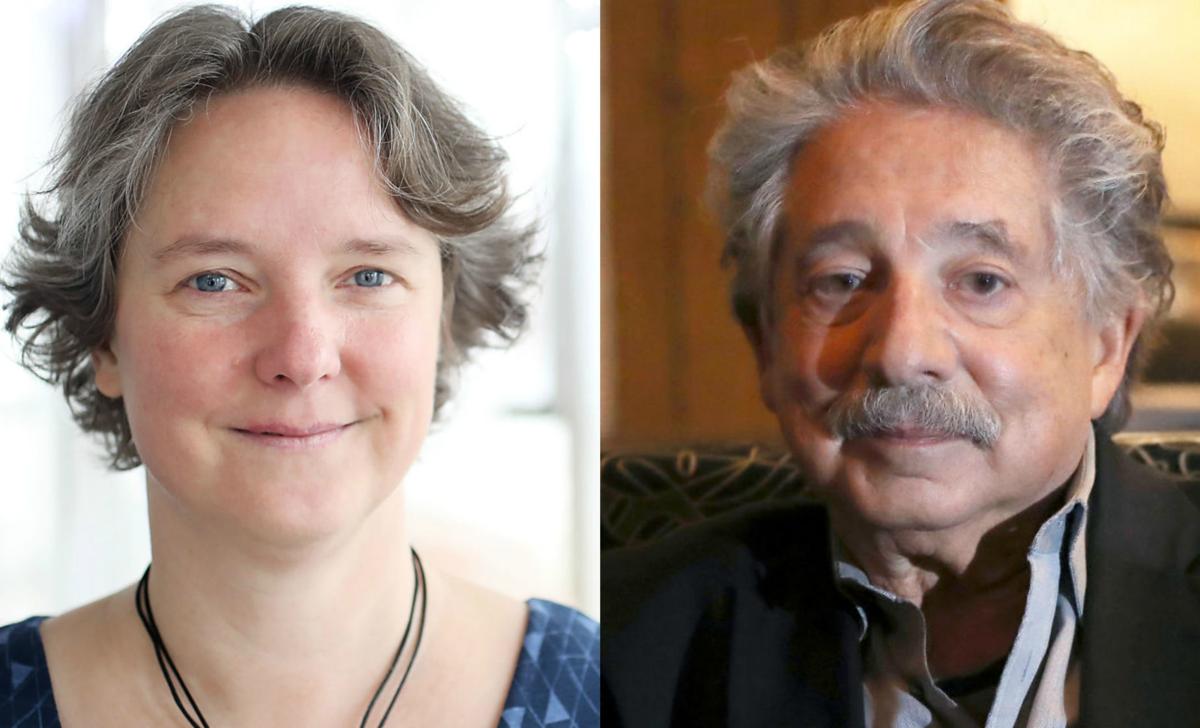 After advancing from Tuesday's primary, Mayor Paul Soglin and his challenger, former Ald. Satya Rhodes-Conway, launched into the general election campaign with a fervor — with Soglin vowing a new campaign dynamic at a press conference, and Rhodes-Conway promising a vigorous effort amid planning and media contacts on Wednesday.
"The dynamic is going to change now," Soglin told reporters at a press conference at Monona Terrace, explaining that candidates in Tuesday's six-way primary made a lot of promises untethered to fiscal and other realities. "There are no more freebies here. There are no more feel-good positions."
Rhodes-Conway, managing director of the Mayors Innovation Project at UW-Madison's Center on Wisconsin Strategy, who served three terms on the City Council, was upbeat and welcomed a contest of ideas.
"I'm pretty excited," she said in an interview. "Look at the numbers. It's pretty clear Madison is ready for a change. We're going to continue what we've been doing. We're going to hit the streets ... and talk to people at their doors."
Especially important, Rhodes-Conway said she recognizes the special opportunity and responsibility as a role model if she were to become the city's second female and first openly gay mayor. "I'm really mindful we have a chance to make some history," she said.
She welcomed a debate on specifics. "I spent six years on the (city's) Finance Committee," she said. "I know what the budget looks like and how hard it is to put it together. It's going to take setting priorities and making hard decisions."
By far the longest-serving mayor in the city's history, Soglin narrowly won Tuesday's primary with 28.6 percent of the vote, followed by Rhodes-Conway with 27.7 percent, Ald. Mo Cheeks, 23.3 percent, Raj Shukla with 18.4 percent, and others a combined 2.0 percent.
"Soglin's greatest asset is familiarity," said Barry Burden, a professor of political science at UW-Madison. "Many people, especially those who have lived in Madison for a longer period of time, are comfortable with him remaining as mayor because he is a known quantity.
"The main liability for Soglin is having to explain missteps or growing pains that the city is experiencing," Burden said.
The general election is April 2.
Getting 'real'
Although he accused challengers of making unrealistic promises, Soglin declined to share examples about Rhodes-Conway, other than to note that she addressed a question at a forum about affordable housing with a response that focused on so-called "tiny houses," homes with square footage usually between 100 and 400 square feet.
The mayor said such homes are unrealistic for families with children needing two or three bedrooms. "Let's get real," he said.
Soglin, jumping on the issue of creating housing for those with lower incomes, said the city once had the lowest vacancy rate in the nation, under 2 percent, but has increased that number through public investments and supporting the private sector. He said he's looking to do more with lenders related to lowering interest rates for the construction of affordable housing.
Rhodes-Conway said she's been talking about a variety of solutions to the city's housing challenges.
Her ideas include expanding the allowable uses of the Affordable Housing Fund to include anti-displacement efforts and land banking, supporting programs that provide assistance for home improvement programs, more fully leveraging city resources to encourage production of more affordable units in all neighborhoods, encouraging housing cooperatives and land trusts, as well as supporting more tiny-house villages.
"I think the mayor hasn't been listening," she said. "There's no one solution that will solve our affordable housing crisis."
Turnout will rise
In the primary, a familiar pattern emerged, with Soglin showing strength on the farther East, North and West sides. Rhodes-Conway largely won the Isthmus and wards close to it, with Cheeks strongest on the South and Southwest Sides, and Shukla grabbing a smattering of wards.
Soglin, who got 53 percent of the vote in a five-way primary in 2015, fell far short of that mark on Tuesday, winning 28.6 percent with a whopping 71.4 percent of voters casting ballots for someone else.
Both candidates vowed to pursue supporters of others. Cheeks and Shukla were non-committal about endorsements on Wednesday.
"I'm looking forward to having conversations with the candidates about how our city can become safer, more innovative, and more inclusive," Cheeks said.
Shukla, executive director of the conservation organization River Alliance of Wisconsin, didn't respond to a question about endorsements.
Rhodes-Conway is likely to win over more of their voters than Soglin, Burden said.
"That the overwhelming majority of voters chose someone other than Soglin indicates that more of those people are open to supporting her than supporting the mayor's re-election," he said.
But there's more to it than capturing other candidates' primary voters.
In 2015, a total 22,460 votes were cast in the February mayoral primary. But the turnout more than doubled to 51,929 in April, as Soglin's percentage of the vote rose from 52.8 percent in the primary to 72 percent in the general election.
That can mean a lot of votes are up for grabs.
"Turnout is likely to rise in the April general election," Burden said. "That increase would seem to help Rhodes-Conway because it will bring in less regular voters who are probably less wedded to Mayor Soglin. However, in 2015 Soglin actually increased his vote share between the primary and the general election, so there are no guarantees."
Get Government & Politics updates in your inbox!
Stay up-to-date on the latest in local and national government and political topics with our newsletter.