To support a $332 million operating budget, property owners in Madison are paying a record $241.8 million in taxes. The city's $347.6 million capital budget — the second biggest in history — authorizes more borrowing than ever before.
Thanks to growth and a stable city economy — benefiting from state government, UW-Madison, biotechnology and health care — Madison has maintained its top Aaa bond rating from Moody's, helping to hold down the cost of the borrowing. The city's rainy-day fund is around historically high levels.
But the next mayor still faces daunting financial challenges, including strict state levy limits, stagnant or declining state and federal aid, and extremely limited options for raising new money.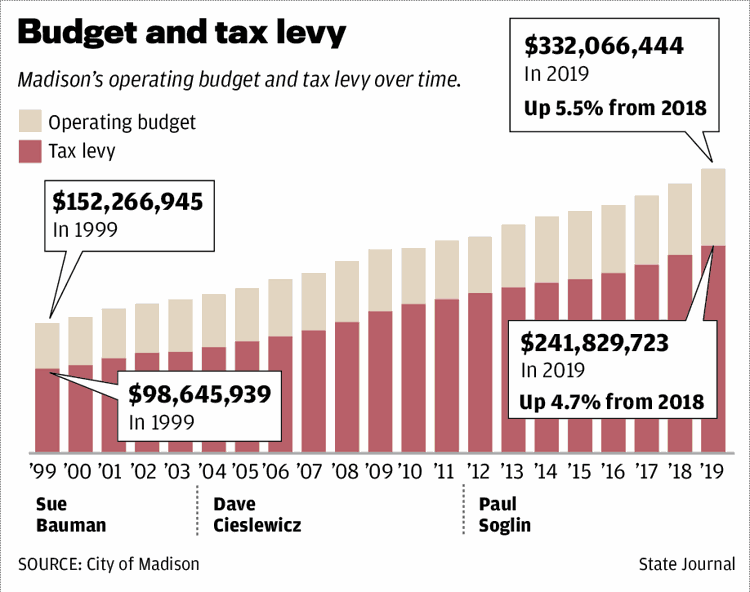 Meanwhile, rising debt payments continue to eat into the operating budget, just as the city faces expanding demands for service and personnel costs that outpace revenue growth.
Mayor Paul Soglin, the city's longest-serving mayor, and his challenger, former Ald. Satya Rhodes-Conway, managing director of the Mayors Innovation Project at UW-Madison's Center on Wisconsin Strategy, each say they are best equipped to handle competing demands to continue existing services while replacing aging streets, expanding infrastructure, handling emergencies like flooding and deciding which private developments deserve public support.
"It's a no brainer," Soglin said of the choice facing voters, contending he's stopped poor financial practices like using cash premiums from lenders — essentially one-time money — to indirectly support the operating budget and fought with the City Council to contain borrowing and keep property taxes in check.
Rhodes-Conway says her three terms on the council and service on the city's Finance Committee, plus work with cities across the nation, will produce collaborative, efficient strategies on everything from addressing climate change to stopping more public money from going to the massive Judge Doyle Square redevelopment Downtown.
"It's a question of priorities," she said.
Relations with City Council
Soglin, mayor for 22 years over five decades beginning in the 1970s, has repeatedly clashed with the City Council on finances. He stopped use of the cash premium for operations, persuaded the council to slash TIF support for The Edgewater hotel — which was eventually built without TIF — and railed against borrowing.
After years of almost steady increases, authorized and actual borrowing dropped at the start of Soglin's latest stint in office but has since bumped up. Debt payments, which can rise even if actual borrowing falls because the city repays debt over 10 years, now represent more than 17.4 percent of general spending, well above the target of 12.5 percent.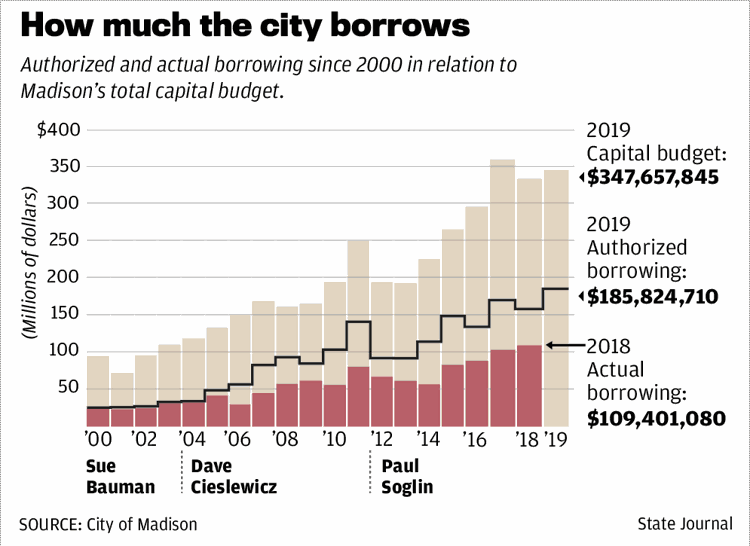 Soglin said he's sacrificed priorities, especially more neighborhood centers, but that the council keeps refusing to delay big-ticket items like new police and fire stations. He said Rhodes-Conway was part of the council that made some "horrible decisions" from 2007 to 2013.
"I can't do this alone," he said. "No mayor can do this alone. The final decider is the City Council."
Soglin said he wants to expand community services and use the city's peer support initiative to help connect more families to health care coverage, and address climate change and transit needs, especially by persuading the state to allow Regional Transit Authorities.
You have free articles remaining.
Register for more free articles
Stay logged in to skip the surveys
Rhodes-Conway, who voted against the Edgewater TIF, said she has been financially responsible and will continue to be.
"The mayor is wrong: I was a part of the solution and used my position on the Finance Committee to carefully scrutinize every capital project and voted against many that I felt were not community priorities," she said. "I'm proud of my record and will remain focused on wise investments that benefit our community. As one current example, I sure wouldn't be throwing more taxpayer money at Judge Doyle Square."
Rhodes-Conway said she'd work with department heads and the council to improve transportation options — with a more ambitious, regional approach to Bus Rapid Transit — and prepare for climate change through the use of rain gardens, tree planting, and pervious pavement to reduce the amount of rain flowing to stormwater drains and into the lakes.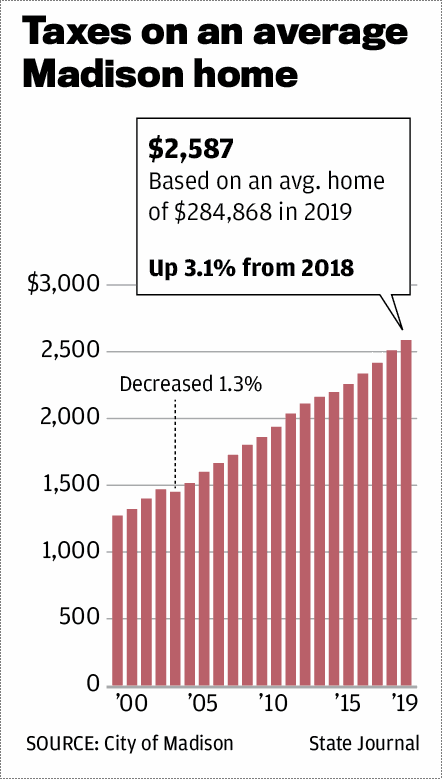 "It sounds simple," she said. "(But) it's really about setting priorities and making sure we're on the same page."
Rhodes-Conway said projects funded with public money, including TIF, must provide community benefits including housing that's affordable to people with lower incomes, energy efficiency, developments that control rainfall received on site, and living-wage jobs.
She said the city should continue to review the impact of its Jobs TIF policy, created in 2014 to reward companies for creating or retaining jobs.
Soglin said he likes the Jobs TIF policy but said the city must be prepared to move quickly to capture and retain economic development. "We almost lost Exact Sciences," he said of the health care giant's efforts to look elsewhere before deciding to expand in Madison. "We have to be nimble. We have to be quick."
Rhodes-Conway said the city's next TIF district may be best placed around the former Oscar Mayer plant on the East Side, while Soglin said it could be in areas of the town of Madison to be annexed early in the next decade.
Commercial assessments
The candidates are beginning to tangle on property assessments, which determine how the city's taxes are divided among property owners.
Last month, a former assessor's office official filed a city ethics complaint claiming Soglin is "allowing and encouraging" undervaluation of commercial properties to the benefit of major developers.
Soglin strongly rejects the allegation, contending a "disgruntled employee" who has left city employment had used a new, flawed methodology to assess commercial properties that led to dramatic increases in values for hotels and big apartment buildings and a very high number of appeals in 2017. The city, through its normal appeal process, delivered favorable adjustments to values for many property owners, he said.
"I believe that's been fixed," Soglin said, voicing confidence in the city's new assessor and staff now handing commercial valuations.
Rhodes-Conway said the city must ensure its assessment practices measure well against national standards.
"I think that's something to look at," she said. "We must make sure we look at tax fairness and that commercial properties pay their fair share."