In his final city spending blueprint, Mayor Paul Soglin on Wednesday unveiled a $332 million operating budget for 2019 that he says puts a continued focus on upward economic mobility and safety and adds $72.11 in city taxes to the average home's bill.
Soglin, who announced in July that he would not seek re-election next spring after 22 years in office over the past five decades, offered a proposed budget that brings no sweeping new initiatives.
But it builds on a peer support initiative to address violence and strengthens a police Special Victims Unit, bumps investments for some neighborhood centers and tourism, sustains community development programs and increases spending 5.5 percent.
"We accomplish upward mobility through a mix of strategies that are affordable, ensure safety for all, and help all of our residents access the tools for success," he said in a statement.
City Council President Samba Baldeh could not be reached for comment, but another council member said colleagues will likely discuss adding police patrol officers next year.
The mayor will continue funding $400,000 for peer support efforts to help those caught up in cycles of violence, and add $300,000 — a 75 percent increase — for additional peer support that would proactively reach into neighborhoods.
Peer support specialists, who typically have gone through similar experiences as those they are seeking to help, are trained and provide support to those involved in incidents of violence or leaving incarceration. Soglin's proposal would add more specialists to make contact with residents and help deal with individual needs such as employment or housing before violence occurs.
"I want to see us take it to a new level," the mayor said.
Other public safety initiatives include:
$1.1 million for a training academy to deal with increased turnover amid retirements in the Police Department.
Expanding the Special Victims Unit by authorizing a new detective position and upgrading an officer to detective sergeant, which will allow the unit to focus more on sex trafficking and crimes against children.
An extra $299,000 for police overtime based on current trends.
Providing $25,000 for smartphones for all police field staff.
Police Chief Mike Koval, in his budget request, called strengthening the Special Victims Unit his "top priority."
In the request, Koval applauded Soglin and the council for adding eight patrol officers in 2018 but said an analysis shows the department remains understaffed and requested six more officers, a $310,500 cost, for 2019. Soglin didn't fill that request.
Ald. Mike Verveer, 4th District, the council's senior member, predicted there will be a conversation in coming weeks about adding police officers.
Soglin's budget also adds $53,000 for a crisis counselor to address the needs of city staff, particularly peer support teams in the Police and Fire departments.
The mayor's budget expands by $50,000 an existing contract for immigration legal support and assistance for a total of $100,000. It provides $100,000 for transitional funding for Kajsiab House, a unique therapy program for Madison's Hmong community, as Dane County evaluates a decision by Journey Mental Health to close the facility.
"This community has asked very little from us," Soglin said. "I just couldn't bear the thought of this program coming to an end and that these folks might be left to fend for themselves."
Neighborhood support
The budget delivers a combined $103,000 more for Theresa Terrace, Bayview, Elver and Kennedy neighborhood centers.
In the area of economic development, Soglin would increase support for the Madison Region Economic Partnership (MadREP) to $50,000 and provide $150,000 over three years to provide microloans to small business startups.
Neighborhood Resource Team and community garden support would be increased by $20,000.
The budget also reclassifies 5.5 full-time grant administrator positions as Community Development specialists, re-purposes $41,000 to neighborhood centers and housing assistance, and boosts community agency contracts by a total of $664,000 to $9.2 million.
It continues many economic development and employment initiatives, including adult and youth employment, and the Wanda Fullmore scholarship program.
The mayor added $65,000 for a new public information officer related to engineering activities, including severe weather events and construction projects.
For employees, the budget includes full-year funding of a 2 percent pay increase for Teamsters Union members slated for December 2018 and a 3.25 percent increase for all other civilian positions set for January 2019. Bargaining is ongoing with the police and firefighter unions.
The budget anticipates funding 2,927 full-time-equivalent positions, 10.5 more than this year's budget, but the count includes changes made through September of this year.
Loan payments rise
The mayor's budget follows a Room Tax Commission decision on how to spend $18.8 million in hotel room tax revenue, which is projected to rise $700,000 over 2018. Soglin's budget raises support to Overture Center from $1.9 million to $2 million and increases funds to the Greater Madison Convention and Visitors Bureau from $4.2 million to $4.9 million.
Loan repayments and contributions to capital projects rose a net $5.4 million, the largest dollar increase in the budget, followed by the $3 million increase for the Police Department.
Soglin said he balanced the budget through several means, including a $1.7 million savings in health insurance premiums by Dean Health Plan, a bump in investment earnings and an increase in general fund revenues and state aid of $2.7 million.
"This is a budget that's focused on costs to continue and implementing initiatives begun in the last budget," said Dave Schmiedicke, city finance director. "It tries to maintain and enhance city services where possible under levy limit restraints of state law."
The city continued to see growth in new construction and property values, which allows for an increase in tax collection under state law and a lowering of the tax rate, Schmiedicke said.
City tax collections from all property would increase 4.7 percent to $241.8 million, with taxes on the average home rising 2.9 percent to $2,582.30.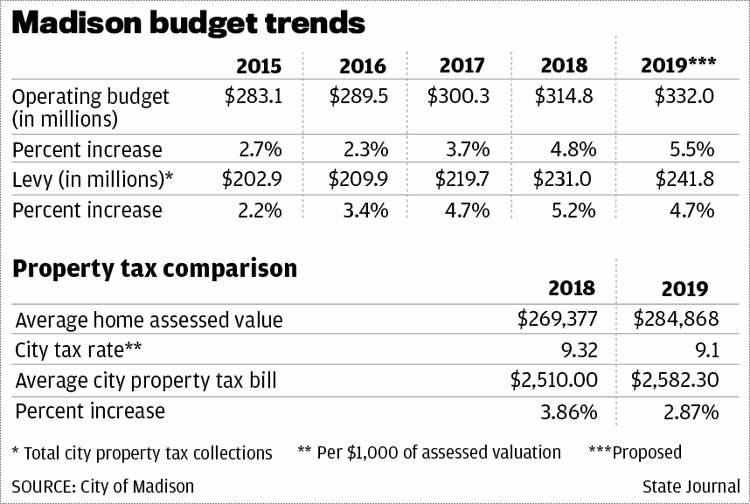 Reserves are expected to be about $47 million, keeping the balance around the target of 15 percent of spending in 2019, which is important for the city's Aaa bond rating.
"We've made much progress over the past several years," Soglin said in his statement. "There is so much more to do. My 2019 operating budget builds on the foundation laid by that progress and sets the stage for continued improvement toward the outcomes that all the residents of our great city expect and deserve."
The City Council could still increase tax collections by about $400,000, or an additional $4 on the average home, before hitting state-mandated levy limits, Schmiedicke said.
Soglin's proposed budget will be considered by the city's Finance Committee later this month, with final council decisions on the capital and operating budgets in the week of Nov. 12.