More than 120,000 fewer Wisconsin residents are using food stamps than two years ago, and up to $197 million less will be spent on food stamps this year than what was spent in 2014.
Gov. Scott Walker's administration attributes much of the drop to an improving economy recovering from the Great Recession of 2008. But food pantries aren't seeing a similar decline in the number of people seeking meals and groceries, their administrators say.
In fact, they say demand is up in some areas as lawmakers have scaled back the value of food stamps and as recipients are kicked out of the state's FoodShare food stamp program for not actively seeking work — a new state requirement for able-bodied food stamp recipients.
"Poor people haven't gained employment, they have simply been 'disappeared' from our view by these statistics," said Sherrie Tussler, executive director of the Hunger Task Force, a supplier of food pantries, soup kitchens and homeless shelters with emergency food.
According to data from the Department of Health Services, the number of Wisconsin residents using food stamps has dropped from 842,335 to 719,070 from May 2014 to May 2016.
David Lee, executive director of Feeding Wisconsin — an organization that advocates on behalf of food shelters and oversees a network of pantries in the state, said that decrease is in line with a national downward trend, and is reflective of an economic upswing. But he also noted that in Wisconsin, about 43 percent of that decrease is a result of a new state law that requires able-bodied FoodShare recipients without children at home to seek employment.
If within three months those recipients do not seek employment, they lose benefits.
"If you do the math in raw numbers, that suggests about 53,000 have lost their FoodShare benefits (and) the remaining 67,000 reflects more of a natural retraction," said Lee.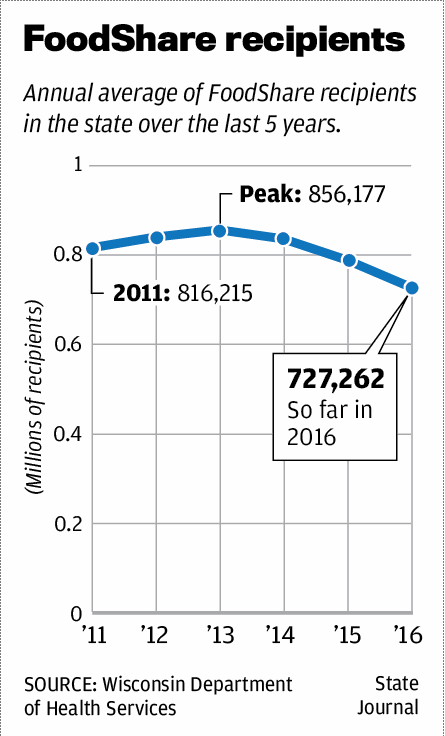 Dan Stein, president of Second Harvest Foodbank of Southern Wisconsin, said staff at food pantries in southern Wisconsin have reported a flattening or an increase in number of meals distributed. Last year, the food bank distributed the equivalent of 1.3 million more meals than it did the year before for a total of 13.7 million meals — the most the organization has ever distributed, he said. 
"It appears the group that we're serving is the last one to see a lot of recovery," Stein said. "Even though (they're) working, they are still in need because they are not making enough to make ends meet for themselves."
Since the start of the recession, the number of Wisconsin residents seeking help in paying for food through FoodShare hit its peak in August of 2013, when enrollment was 861,200 individuals, according to DHS, which administers the FoodShare program.
Since 2013, the number of residents in Wisconsin and other Midwestern states using food stamps has fallen. Between 2015 and 2016, Wisconsin saw a 4 percent decrease in FoodShare participation. Ohio saw a similar percentage decrease, while Minnesota saw a decrease of about 8 percent, Indiana saw a decrease of about 7 percent and Michigan saw a decrease of about 6 percent. Food stamp use in Illinois increased by about 1 percent, however, in that time period, according to U.S. Department of Agriculture data.
You have free articles remaining.
Register for more free articles
Stay logged in to skip the surveys
Julie Lund, spokeswoman for DHS, said it's difficult for state officials to pinpoint specific reasons for the change in recipient numbers because of the variety of factors contributing to whether a resident is eligible to receive benefits. But in general, she said, "when more people are working, fewer people are dependent on programs like FoodShare, and more people are working in Wisconsin."
Looking at just the number of FoodShare recipients does not provide a complete picture of residents' needs when it comes to food, however, Lee said.
"As a network (of food banks), our service rates are going up — we are continuing to serve more people more frequently," said Lee.
Stein said even though the number of recipients is decreasing, there are still a "significant" number of people in Wisconsin who are potentially eligible for food stamps but do not sign up. Lee estimated there are likely between 50,000 and 70,000 people who could receive benefits but do not enroll in the FoodShare program because of lack of awareness or to avoid the stigma that comes with using food stamps.
While the number of FoodShare recipients has decreased, it doesn't mean the state is saving money because the benefits are paid for with federal dollars. Elizabeth Goodsitt, a spokeswoman for DHS, said the state issued $1.1 billion in benefits in 2014 and is on track to spend between $185 million and $197 million less in 2016.
Senate Majority Leader Scott Fitzgerald, R-Juneau, said through a spokeswoman that "while he is optimistic that the reason for the decline in recipients is due to the improving economy as indicated by DHS, he would also like to see a more detailed analysis of the factors that may have contributed to this change."
A spokesman for Senate Minority Leader Jennifer Shilling, D-La Crosse, Assembly Minority Leader Peter Barca and a spokeswoman for Assembly Speaker Robin Vos did not respond to requests for comment.
Tussler has criticized the state's new work requirement for some FoodShare recipients, which resulted in 41,000 recipients losing benefits in its first year.
The 2013-15 state budget created a rule: If you're an able-bodied adult without children living at home, you must work at least 80 hours a month or look for work to stay in the program.
That rule went into effect in April 2015, and since July 2015, more than half of the eligible FoodShare recipients were dropped from the program for not seeking employment, according to the most recent DHS data.
Participants can get three months of FoodShare benefits before being removed from the program if they don't look for work.
But it also created a job training and placement program that has led to 12,000 recipients finding jobs in that time period, which Tussler has said is an "abysmal" rate compared to the number of people who lose benefits.
[Editor's note: This story has been updated to reflect a correction. The original version understated the number of meals Second Harvest Foodbank of Southern Wisconsin distributed last year. The food bank distributed the equivalent of 1.3 million more meals than it did the year before for a total of 13.7 million meals.]