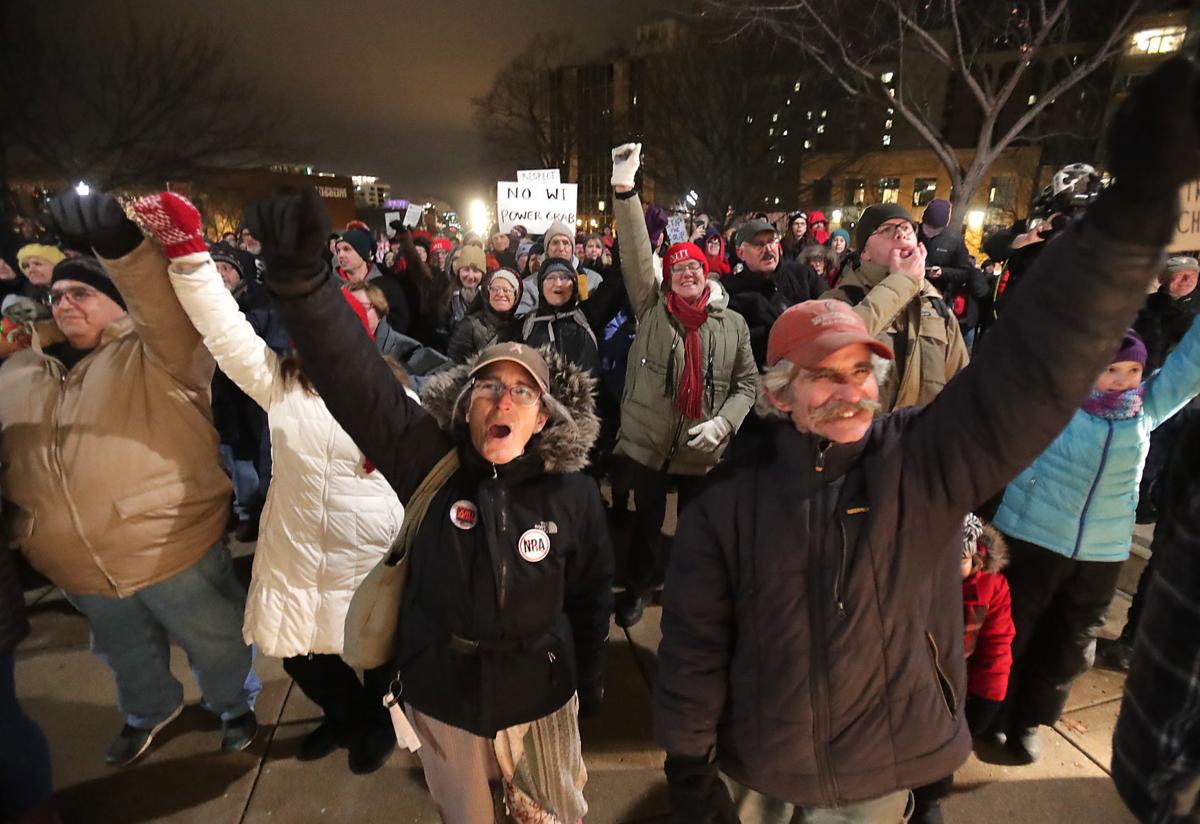 Parts of laws the GOP-controlled Legislature adopted curtailing executive branch powers are back in place after a state appeals court Wednesday temporarily suspended a ruling that struck them down.
The new ruling intensified the disarray in state government created by the passage of — and subsequent legal fight over — the laws, passed in a December lame-duck session just before Evers took office.
The ruling, issued Wednesday by a three-judge panel of the state District III Court of Appeals, temporarily stayed a ruling issued last week by Dane County Circuit Court Judge Richard Niess.
Democratic Gov. Tony Evers and GOP lawmakers sparred Wednesday about who is at fault for the chaos. They also clashed over the status of 82 state government appointments made by former Gov. Scott Walker, which Evers rescinded after last week's ruling.
Evers' office contended the appointments, which include a University of Wisconsin System Regent and a Public Service Commissioner, remain vacant. But an attorney for Republican lawmakers said the Walker appointees are back in their jobs. The court did not weigh in on that question.
Wednesday's ruling temporarily suspends Niess' ruling while the full appeals court considers GOP lawmakers' appeal of it. It also creates an expedited schedule for the court to consider the appeal.
It does not affect a separate ruling issued Tuesday by Dane County Circuit Court Judge Frank Remington in a different lawsuit, which blocked parts of the controversial laws.
Republican legislative leaders hailed Wednesday's ruling as helping resolve what they called a "constitutional crisis" they said was created by Niess' ruling. Issued last week, it invalidated the so-called "extraordinary session" convened to pass laws after Democrats swept statewide elections in November. Those measures included provisions limiting the incoming governor's and attorney general's control over state participation in lawsuits, targeting Evers' power to run the state's economic development agency and limiting early voting hours.
"Independent judges have put a Dane County ruling on hold that was based on politics, not the law," said Assembly Speaker Robin Vos, R-Rochester, and Senate Majority Leader Scott Fitzgerald, R-Juneau. "A judge should not violate the Legislature's basic ability to convene when its duly elected members call a session day."
You have free articles remaining.
Evers spokeswoman Melissa Baldauff said in a statement that the only winner from the ruling are the attorneys being retained at taxpayer expense by GOP lawmakers.
"Republicans created this chaos and have doubled down on defending their illegal attack on our constitution instead of working with the governor to move forward," Baldauff said. "We remain confident that the courts will ultimately undo the entire lame-duck session overriding the will of the people."
In finding Niess' ruling "inherently flawed," Wednesday's appeals court ruling said it underestimated the odds the ruling could be reversed on appeal — as well as "the irreparable injury that could result in the absence of staying a temporary injunction that prohibits enforcement of potentially valid legislation and appointments."
In addition to blocking the laws, Niess' ruling also vacated the 82 appointments to state boards, councils and other entities by former Gov. Scott Walker that were confirmed by the state Senate during the December extraordinary session. Evers moved quickly afterward to rescind those appointments and signal he would fill the posts with his own picks.
Republican lawmakers and former GOP Gov. Scott Walker enacted a set of laws in December aimed at curtailing the power of newly elected Democra…
Baldauff said Wednesday's ruling "does not invalidate the withdrawal of the appointees, nor does it affect the governor's ability to make appointments to those vacant positions."
But Misha Tseytlin, the former state solicitor general now acting as private counsel for GOP lawmakers, said in a statement that the appeals court ruling reinstates the Walker appointments.
"Those people have a statutory right to their jobs because they were duly confirmed by the Senate in December 2018," Tseytlin said. "The Governor's hasty, ill-advised actions last week cannot possibly impact those legal rights."
Tseytlin also has argued Niess' ruling could undermine more than 300 other laws or resolutions enacted during previous extraordinary sessions in the last four decades.
The lawsuit was brought by a group including the League of Women Voters of Wisconsin. An attorney for the plaintiffs, Jeffrey Mandell, said the group is "reviewing the court's orders and considering our next moves."