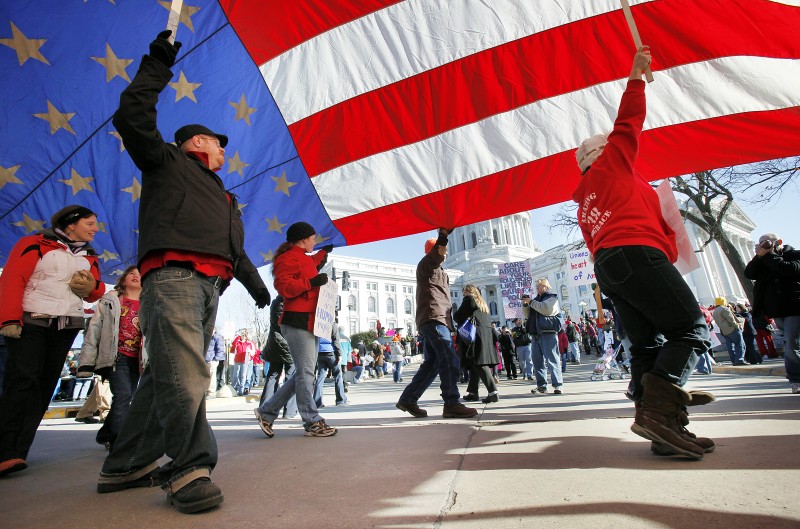 A marching, chanting crowd of 68,000 people thronged Madison's Capitol Square on Saturday, giving voice to a debate over the fate of unions and collective bargaining for public workers that now echoes across the country.
Supporters of Gov. Scott Walker's plan to effectively end collective bargaining for the state's public employees and increase their pension and health payments stood toe-to-toe and nose-to-nose with pro-union protesters. And, according to the Madison Police Department, a remarkable thing happened: A civil, peaceful debate broke out.
The massive gathering took place under the watchful eyes of a very large security force. A contingent of 120 Madison Police officers was supported by officers from the Capitol Police, State Patrol and the Dane County Sheriff's Office. Also on the streets were deputies from sheriff's departments from counties near and far, including Brown, Rock, Vernon, Dodge, Columbia, Grant and Sauk counties. Even the village of Lodi and the city of Two Rivers sent a police officer to help out.
There were no arrests, according to Joel DeSpain, a spokesman for the Madison Police Department. Nor were there any injuries, he said. DeSpain, who for part of the afternoon watched the swirling crowd from a Capitol Square rooftop, said he was impressed that such an enormous, emotional political gathering could play out so peacefully.
"There have been some heated exchanges, people yelling at each other," DeSpain said Saturday afternoon. "But we've had absolutely no violence. We with the police department just want to thank everyone for their decorum and civility. With the eyes of the country and the world on us, we have shown people that democracy works here in Wisconsin."
It was the largest gathering yet in six days of protest. During the day, the Capitol itself was filled at times with as many as 8,000 people.
Against the drama of the roaring crowds, the political theater that has fueled the emotional outpouring of the past week continued. Topping the list of developments was an offer from unions representing state and public employees, including teachers, that their members will contribute more for their pensions and benefits if Walker drops his proposal to eliminate most collective bargaining rights.
With that news, the 14 state senators who have escaped Wisconsin to forestall a vote on Walker's bill by denying the Senate a quorum fired a salvo from across the state line in Chicago where some of them are believed to be hiding.
"How long we stay out is totally up to the governor," said State Sen. Jon Erpenbach from a hotel room in Chicago. "There is a very serious offer on the table. If he says no to that, then that means his intent from the very beginning was to bust the public unions in Wisconsin."
Republicans rebuffed the offer. As protesters poured onto the Square on Saturday morning, Senate Majority Leader Scott Fitzgerald, R-Juneau, held a news conference and said the 19 Senate Republicans would not compromise on Walker's proposal, part of a budget repair plan to plug a hole in the state's budget.
"We're rock solid," Fitzgerald said.
Fitzgerald said the elimination of collective bargaining for public employees is necessary if local governments are to balance their budgets — tough enough already, let alone after steep cuts in state aid expected under Walker's two-year budget to be released March 1 — by trimming employee costs. Police, firefighters and the State Patrol are exempt from the collective bargaining restrictions under Walker's bill.
Erpenbach was little impressed by the argument. "Walker should get his own budget in order before he sticks his nose in local budgets," Erpenbach said.
Walker also chimed in, chiding the missing Democratic senators.
"Sen. Erpenbach, Sen. Miller and his fellow Democrats should come back to Wisconsin to do their jobs," Walker said. "These are many of the same senators who, two years ago, rammed through a billion dollar tax hike in 24 hours with no input.
"The quickest way to resolve the current situation is for the Democratic Senators to stop shirking their responsibilities and debate the bill in Madison. We continue to call on them to come to Madison and do their jobs."
That outcome appeared remote Saturday. State Sen. Fred Risser, D-Madison, speaking from exile, said none of the 14 senators plans to relent. "I don't see any wavering amongst the Senators," Risser said.
But all of the words seemed to pale when stacked against the size and the passion of the masses that turned the Capitol Square into a living, roaring, sign-rattling, drum-beating civics lesson.
Speaking before a huge, enthusiastic crowd outside the Capitol, Mary Bell, president of the Wisconsin Education Association Council, raised a roar by emphasizing that the dispute with Walker is not about money.
"It is all about workers having a voice," Bell said. "Those who say it's all about money have not been listening and have not been willing to tell the truth."
At mid-morning, pro-Walker marchers made their way up State Street and other avenues toward the Capitol Square, already awash with anti-Walker forces. It seemed a moment when police and others held their breath. Marchers from both sides closed ranks and the shouting grew in anger and volume. But, mostly, a war of words ensued.
Tea partiers chanted "Trim the fat!" and anti-Walker crowds shot back "Don't drink the tea!"
Around the Square, groups of opposing protesters moved to within inches of each other and tried to out-debate and, at the very least, out-shout their foes. The Capitol lawn was churned to mud. Mid-afternoon, a convoy of honking cabs circled the Square, passengers waving pro-union signs from the windows.
Through the din wandered some who seemed almost dazed by the immensity of it all. Lou Kusay, a 51-year-old insurance salesman, traveled from New Lenox, Ill., to be a part of something that seemed to him historic. He isn't in a union and has no connection to Wisconsin but sees Walker's effort to end collective bargaining for public employee unions as a dangerous precedent nationally.
Mostly, however, the crowds seemed to give off a unique Wisconsin vibe. It seemed at times equal parts sporting event and political rally. Lots of Badger red and at least one sign that scolded, "Hey, Walker. This is not how you Bucky."
— State Journal reporters Ron Seely, Ed Treleven, Doug Erickson, Dee J. Hall, Dan Simmons, Patricia Simms and Sandy Cullen contributed to this report.
With national attention falling on Madison in the last week, Twitter has exploded with people talking about the Gov. Scott Walker's bill to remove many collective bargaining rights from most state employees. Thousands of people used Twitter to spread information (and rumors) and organize protests.
Late last week, Twitter reported the hashtag "#wiunion" had become one of the most talked-about subjects on the microblogging service nationally. In Twitter, a hashtag is a keyword or term people use to help categorize their tweets by subject.
The chart below shows the rate that tweets with #wiunion in them have been sent this week.
And here are tweets being sent right now about the union budget battle on Twitter.
Get Government & Politics updates in your inbox!
Stay up-to-date on the latest in local and national government and political topics with our newsletter.