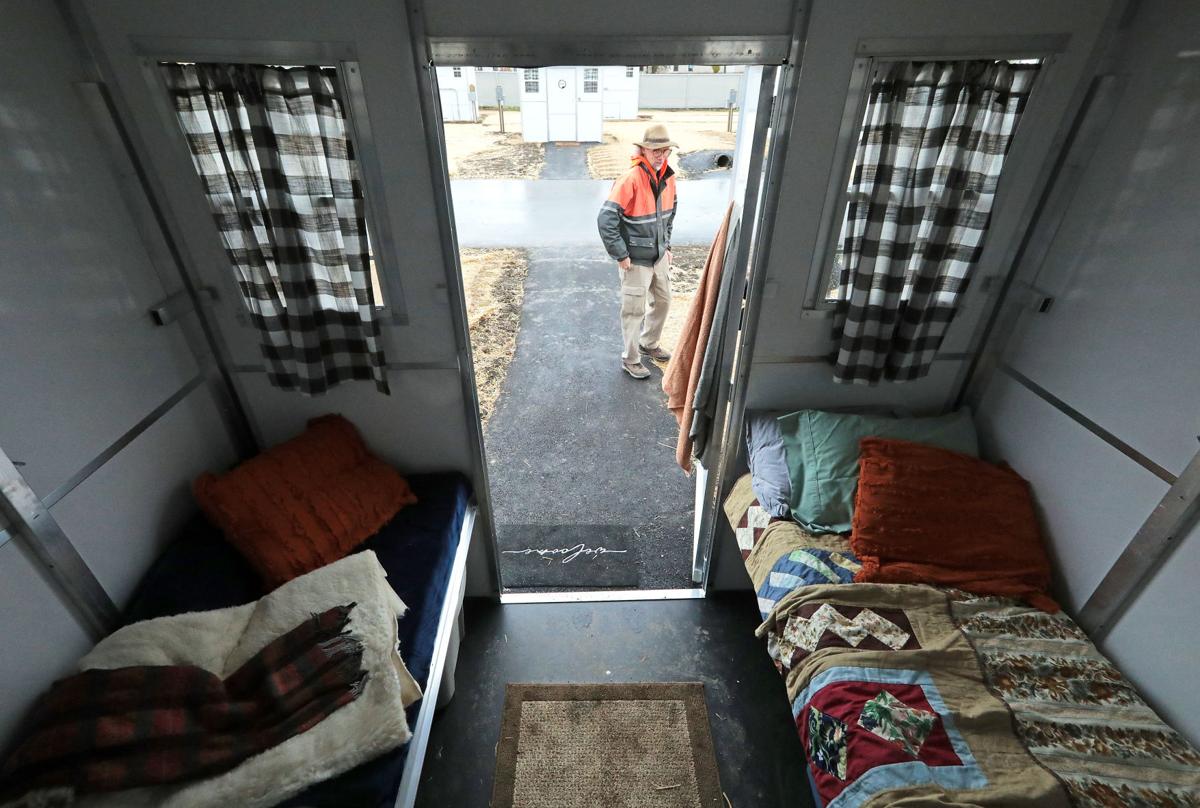 With cold weather approaching, the city and its operating partner are making last-minute adjustments before opening Madison's first homeless encampment on the Southeast Side next week, including adding insulation to the thin-walled shelters not intended for a Wisconsin winter.
The near-complete encampment on 1.8 acres of city-owned property at 3202 Dairy Drive is designed to shelter some of the homeless staying at a large, unsafe and now illegal encampment at Reindahl Park near East Towne.
Most of the homeless who have visited the site have given it favorable marks, said Brenda Konkel, executive director for Madison Area Care for the Homeless (MACH) OneHealth, which will be operating the encampment with Kabba Recovery Services.
"We're pretty excited about people living in the park who will get a chance to stay here," Konkel said. "We feel we have been able to address many of the issues."
"I think the general favorable response is great news," city community development director Jim O'Keefe said, noting that people will move to the encampment over the course of a few weeks.
"We are providing temporary alternatives for people who have been sleeping in tents, people who have been sleeping on the streets and in doorways. This is going to be a whole lot warmer and a whole lot safer."
Now, the city and the operators are making final preparations, including MACH OneHealth retrofitting the tiny shelters with more insulation, resolving safety and other issues with restrooms, and details like non-duplicate keys to shelters and getting a buzzer from the front gate to the office.
"There are going to be issues that arise," O'Keefe said. "Our city engineering staff has been nimble to meet challenges."
On Aug. 31, Mayor Satya Rhodes-Conway and the City Council determined the Reindahl campsite was unsafe and declared a state of emergency at the park. The council unanimously approved a plan to transform the site at 3202 Dairy Drive, which is across the street from the Madison Fire Department's Station 14, into a "safer and more sanitary" campground for those experiencing homelessness.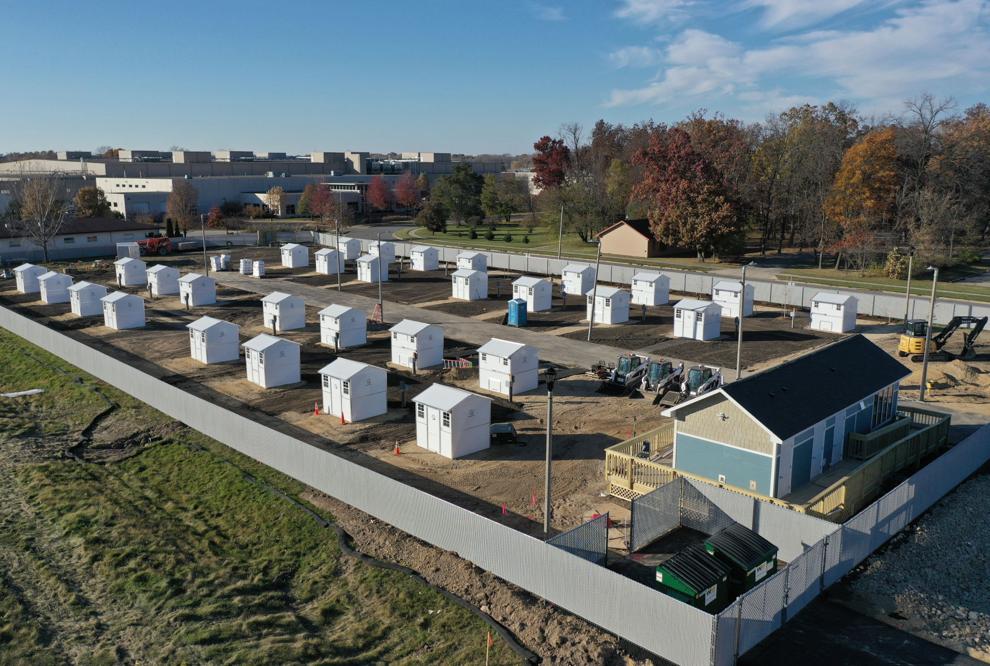 In just 10 weeks, the city has graded the site, assembled the 30 tiny, prefabricated, climate-controlled shelters, brought in a small building and remodeled it with an office space and six restrooms with showers and outside entrances, created an asphalt fire lane down the center of the site, erected streetlights and electrical hookups to serve the shelters, installed a 6-foot chain-link fence with vinyl privacy slats, and begun landscaping.
The 64-square-foot shelters, purchased from Pallet Shelter of Everett, Washington, are built with aluminum frames and insulated composite panels, and have locking doors, operable windows, fold-up beds, shelving, electricity, heaters and air conditioners, refrigerators and safety features including an emergency exit, fire extinguishers and smoke alarms.
The city purchased Pallet's "cold weather package," which provides shelters with thicker wall and roof insulation, a 4,500-watt heater, and insulation under the floor panel.
The shelters, "camping units" under the Wisconsin campground code, have an R-5 rating for the base/floor and R-2 rating for the walls and roof, said Bryan Cooper, an architect with the city's Engineering Division. Also, each shelter has a resilient gasket material at the exterior joint/gaps to reduce air infiltration and an electric heater that may be controlled by the occupant, he said.
'Significant upgrade'
"The shelters will not have the same R-values as a single-family home or commercial buildings, but the shelters should be far superior to tent camping for keeping occupants dry and significantly reducing/eliminating wind chill," Cooper said. "Additionally, access to a safe occupant-controlled heater should be a significant upgrade from tent camping."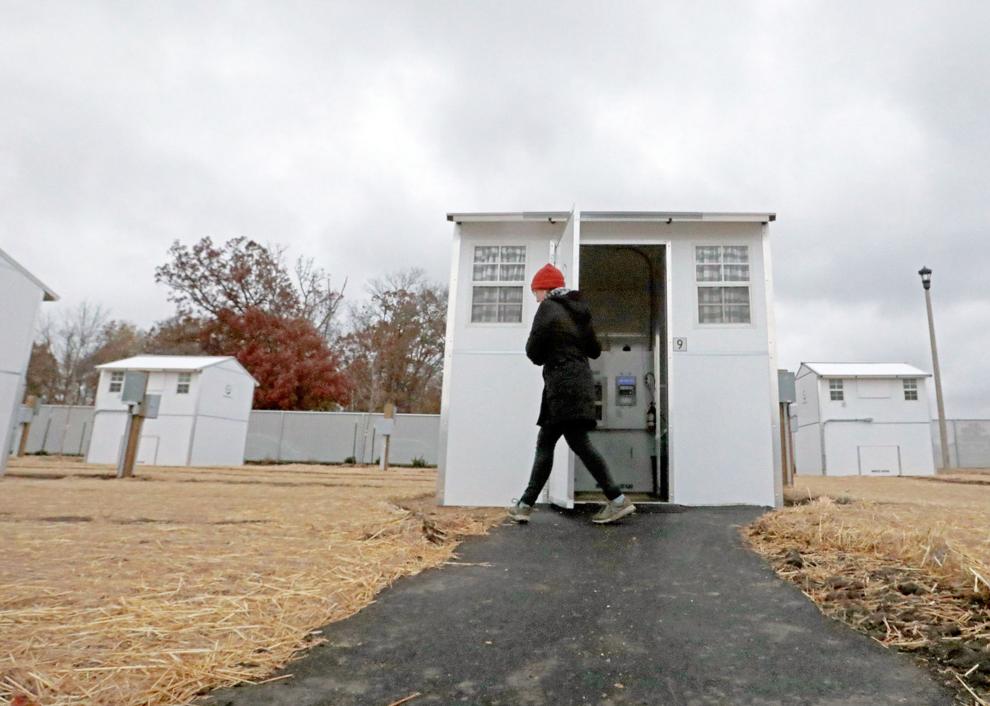 "We didn't buy housing. We didn't buy tiny houses," O'Keefe said. "It is not meant to be long-term housing."
The insulation is below standards for Wisconsin winters and should be upgraded, Konkel said. The shelters will provide an indoor temperature about 40 degrees above the outside temperature, meaning if it's 10 degrees outside it will feel like a still-chilly 50 degrees inside, said Tim Jones, facilities leader for MACH OneHealth.
The insulation ratings are below those for structures at nonprofit Occupy Madison's tiny hut village at 1901 Aberg Ave., and the nonprofit's tiny houses at 304 N. Third St., both on the East Side, Konkel and Jones said.
"We can do better," Konkel said, adding that some concern would be relieved if there was a congregate place people could be during the day when it's really cold. "I think people deserve better."
In coming days, MACH OneHealth hopes to retrofit the shelters with additional insulation similar to that installed in Occupy Madison's tiny huts.
The city has no objection to the operators retrofitting the shelters with more insulation, but wants to know what will be used, and is open to discussions about helping cover the cost, O'Keefe said.
Other issues
The city and MACH OneHealth are also addressing other issues.
The six restrooms at the main building have individual locking doors, which allows privacy, but there's no way for the operators to know if someone is injured or passed out in them, Konkel said. The city is moving to install some lights that will go on if the doors are locked and there is no movement or sound from inside, she said.
Other details include getting non-duplicate keys to shelters, addressing shower stalls that spill water onto the floor with no drains, no mailboxes, no buzzer from the gate into the office, and no cooking anywhere on site, except grills, Konkel said.
For the longer term, three social workers must work from a 144-square-foot office, which doesn't allow space for privacy, support staff and meetings, and there's no meeting space for people who live there for gatherings, serving food and activities, she said.
There is value in creating more community spaces over the long term, O'Keefe said.
The city estimates the camp will cost roughly $900,000 in initial costs and $75,000 monthly for operations.