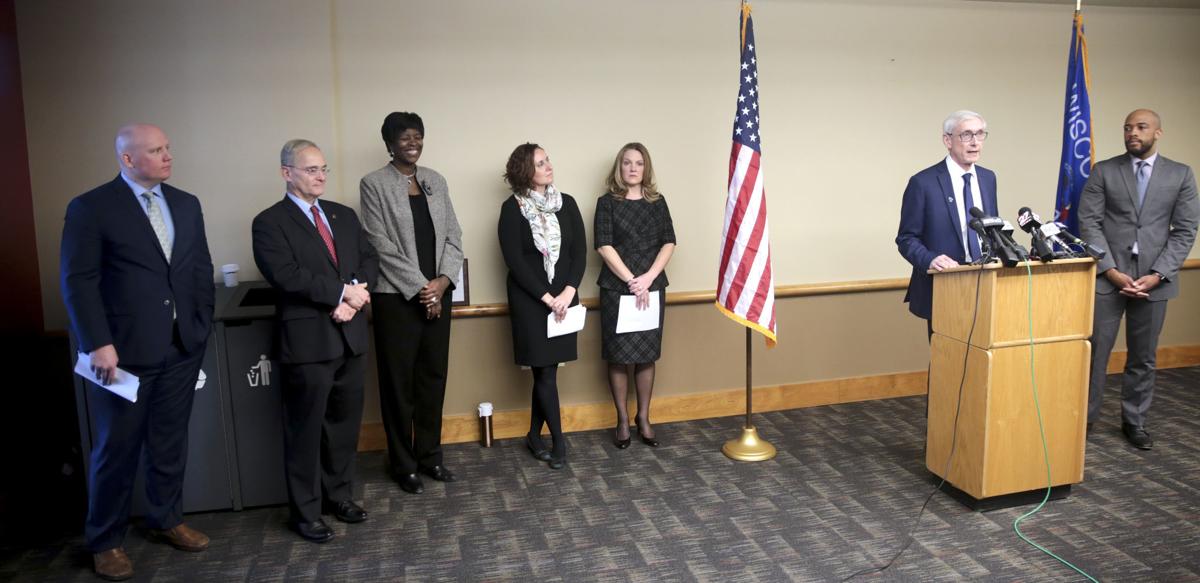 Several members of Gov. Tony Evers' cabinet are not up for a vote in the Republican-controlled Senate's upcoming session.
A calendar for the session, which begins Tuesday, includes appointment confirmation votes for only five of the Democratic governor's agency secretaries.
They are Department of Revenue Secretary Peter Barca, Department of Financial Institutions Secretary Kathy Blumenfeld, Department of Administration Secretary Joel Brennan, Department of Corrections Secretary Kevin Carr and Department of Veterans Affairs Secretary Mary Kolar.
Some of the appointees not on the list include Department of Workforce Development Secretary Caleb Frostman; Department of Tourism Secretary Sara Meaney; Wisconsin Economic Development Corp. Secretary Melissa Hughes and Department of Safety and Professional Services Secretary Dawn Crim.
Also not on the schedule are: Brad Pfaff, secretary of the Department of Agriculture, Trade and Consumer Protection; Craig Thompson, secretary of the Department of Transportation; Emilie Amundson, secretary of the Department of Children and Families; Preston Cole, secretary of the Department of Natural Resources; and Andrea Palm, secretary of the Department of Health Services.
Under state rule, cabinet secretaries are appointed by the governor, but the Senate provides final approval.
While committees have recommended confirmation of most of Evers' appointments, the full Senate has yet to vote on any.
Wisconsin's constitution doesn't define when a Senate vote must occur, so the chamber can vote at any time to approve or turn down any secretary or other member who requires Senate approval. An appointed cabinet member could technically serve all four years of a governor's term without Senate approval.
Senate Majority Leader Scott Fitzgerald's office didn't respond to a request for comment.
Get Government & Politics updates in your inbox!
Stay up-to-date on the latest in local and national government and political topics with our newsletter.