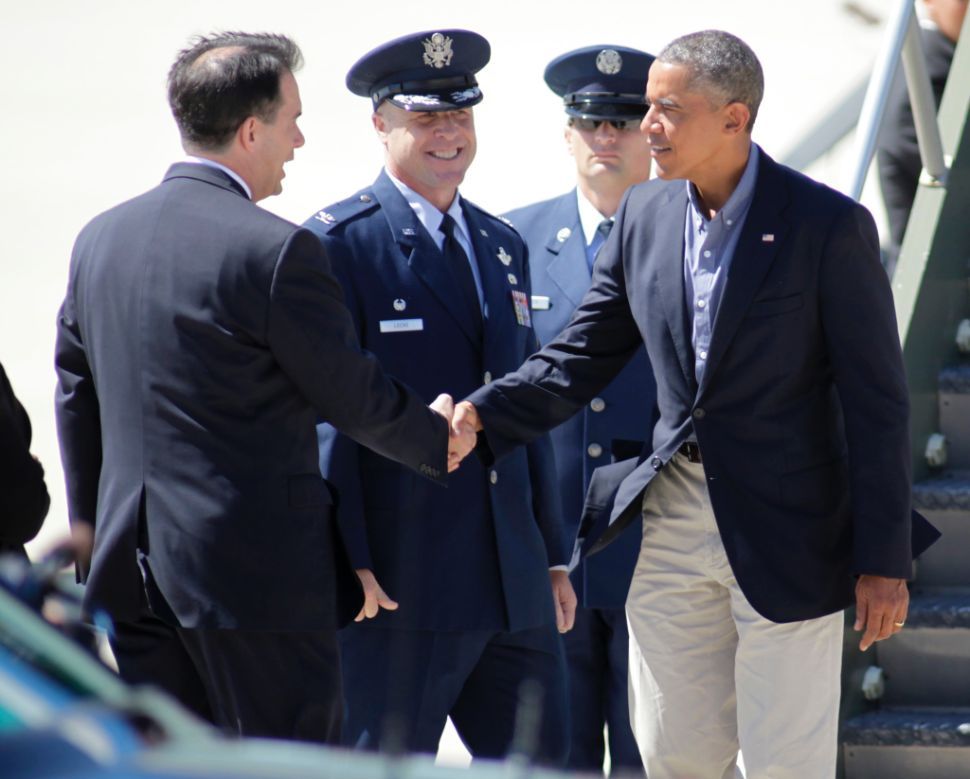 As Gov. Scott Walker was wrapping up his visit Monday with the State Journal editorial board, he joked with cartoonist Phil Hands that Hands draws his ears too big — but said the cartoonist's portrayal of his bald spot was accurate.
The bald spot, he said, was the result of a repair incident in the kitchen when he banged his head on an open kitchen cabinet door while making repairs requested by his wife, Tonette.
She kept telling him to go to the doctor to get the scar on his head looked at, he said. When he finally did, the doctor said his hair would never grow back in that spot, the governor explained.
Tonette still points to the bald spot as a reminder that he should always listen to his wife, he said.
Not to be outdone, Walker's Democratic challenger Mary Burke had a hair story of her own for the State Journal editorial board.
Burke poked fun at attempts by the Walker campaign and other Republicans to portray her as the same as former Democratic Gov. Jim Doyle.
"The hair alone should tell you we're very different people," she joked.
Old mine rock and roll
Walker may want to drop any Bob Seger songs from the playlists for his upcoming political events.
Seger slammed Walker in a recent interview with The Detroit News when talking about one of his new songs, "It's Your World," which includes a reference to mining in Wisconsin, from his new album, "Ride Out."
"The governor, Scott Walker, passed a bill through the state legislature on a weekend that there will be no environmental oversight, 'we want this mine.' Well, the mine is right by a river that runs into Lake Superior, which is some of the cleanest fresh water in the world," Seger told the newspaper.
"But sorry, according to Scott Walker, there isn't going to be oversight, we're going to build this thing, and it's going to be nine miles long."
We'll be listening to hear whether Mary Burke adds "Turn the Page" or "Old Time Rock and Roll" to her rally playlist.
No ID necessary
Madison-based U.S. Attorney John Vaudreuil wants it to be very clear to the public: Photo IDs are not required to vote on Nov. 4, and anybody attempting to confuse voters into thinking otherwise may be prosecuted.
"That is a direct attack on people's right to vote," Vaudreuil said in an interview Friday. "I don't want anyone not going to the polls because they're confused or they don't have an ID."
The law was struck down by a federal judge earlier this year, then reinstated last month by a federal appeals court before recently being put on hold by the U.S. Supreme Court. The high court has yet to weigh in on the merits of the case, but isn't expected to do so before Nov. 4.
Republicans have pushed the law, which polling shows the majority of voters support, as a way to protect election integrity. The U.S. Justice Department opposes the law as a potential roadblock to voting, especially for low-income minority voters.
Vaudreuil said in the past 20 years he can count on one hand the number of allegations of election fraud brought to his office, none of which resulted in major prosecutions. Voter intimidation allegations also are rare, but he worries this year there could be more cases because of how easily voters could be confused about the photo ID requirement.
"I just want people to know if they voted the last time, it's the exact same process," he said.
Vaudreuil's office issued a press release this week announcing that Assistant U.S. Attorney Peter M. Jarosz will lead his office's efforts to monitor any reports of election fraud or voter intimidation, which includes questioning, challenging, photographing or filming voters under the pretext of trying to prevent voter fraud.
Jarosz will be on duty while the polls are open on election day to field any complaints about election fraud or abuse. His office can be reached at 608-658-3743.
The FBI also will have special agents in each field office to receive such allegations. The local FBI field office can be reached at 608-833-4600.