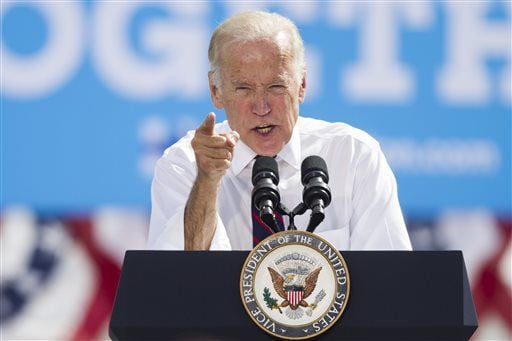 "Hey, everybody," Biden announced to about a dozen coffee shop patrons. "My name is Joe Biden and I work for Russ Feingold."
Biden and the Feingolds ate ice cream — the shop doesn't sell it but keeps some on hand for drinks — while Baldwin sipped coffee.
The vice president briefly went behind the counter to greet baristas and coffee shop staff.
"Dreams are coming true," said Tyne Oberlander, a 22-year-old barista who took Biden's orders.
Biden urged patrons to vote and chatted with reporters about health care and the U.S. Senate's refusal to fill the vacancy on the U.S. Supreme Court left by the death in February of Antonin Scalia.
He also told a story about how his Catholic high school would get a period free the day after every win by the Green Bay Packers.
"So everybody in the little Catholic high school is a Green Bay Packers fan," Biden told reporters as Feingold looked on. "You think I'm joking but I'm not."
Marquette Law School
poll outtakes
Results from the final Marquette Law School Poll of the 2016 campaign were released this week.
One major finding was that Democrat Hillary Clinton has a 6-point lead over Republican Donald Trump in the Wisconsin presidential campaign.
Another was that the U.S. Senate race between Sen. Ron Johnson of Oshkosh and Feingold of Middleton is a toss up.
But the poll of 1,190 likely voters also took stock of voters' attitudes on a variety of subjects:
A quarter of respondents say they aren't confident votes will be accurately counted. That includes 41 percent of Republicans, 14 percent of Democrats and 26 percent of independents. Trump has made unsubstantiated claims that the election will be "rigged."
About 70 percent of Democrats, 50 percent of independents and 45 percent of Republicans are concerned foreign governments such as Russia are trying to influence the election.
A series of emails from Clinton's campaign have been leaked by Wikileaks in recent weeks. And federal authorities accused the Russian government of hacking into Democratic National Committee emails later posted on the Wikileaks web page.
Trump himself has offered praise for Russian president Vladimir Putin, though when challenged on the point has said he doesn't know Putin.
Among Republicans, 37 percent would like to see Trump continue as leader of the party regardless of the election's outcome, 41 percent would prefer House Speaker Paul Ryan of Janesville, 17 percent would prefer Texas Sen. Ted Cruz and 3 percent would prefer someone else.
Cruz won the Wisconsin GOP presidential primary but later dropped out of the race after losing to Trump in Indiana and having no plausible path to the nomination.
Among all registered voters, 47 percent have a favorable view of Ryan, second-highest among all politicians asked about in the poll. President Barack Obama had the highest favorable rating at 54 percent.
More likely voters view Clinton as caring about them (47 percent) than say the same about Trump (37 percent). More view Trump as honest (36 percent) than Clinton (28 percent). More view Clinton as qualified to be president (59 percent) than Trump (35 percent). More view Clinton has having good judgment (47 percent) than Trump (28 percent).
A majority (53 percent) are bothered a lot by Trump's recorded comments about women. Half are bothered by Clinton's use of a private email server as Secretary of State. About 42 percent are bothered by Clinton's comments that politicians need a public and private agenda. About 41 percent are bothered by Trump not releasing his tax returns.
A fifth of likely voters say Trump at age 70 doesn't have the physical capacity to be president, compared with 28 percent who say the same about Clinton, 69.
More than a third (36 percent) say there is a relative or friend they have stopped speaking with because of the presidential election.
The poll also asked again whether voters approve of Gov. Scott Walker's job performance. Among registered voters, 42 percent approved and 51 percent disapproved. The approval level is about the same as the average of all publicly available polls in the state that have asked about Walker since January 2015, when he began an ultimately unsuccessful bid for president.