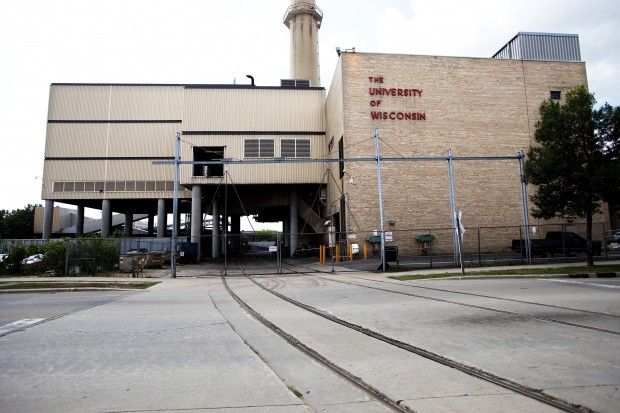 UW-Madison's Charter Street heating plant, a state office building near the Beltline, land surrounding a Hill Farms office complex and a former governor's residence are among many state-owned properties that could have "For Sale" signs in their future.
Those buildings appear on the Department of Administration's list of buildings and properties being studied for sale or lease in the next two years.
Gov. Scott Walker and the Republican-controlled Legislature gave DOA broad authority to sell or lease state buildings as needed as part of the 2013-15 state budget. Proceeds could be used to pay down state debt.
DOA Secretary Mike Huebsch provided the list Tuesday to the State Building Commission, though he emphasized there is no plan to sell or lease any of the facilities at this time.
"No decisions have been made in this regard," Huebsch wrote. "Any possible transactions must be prudent, logical and in full compliance with the relevant provisions" of the 2013-15 state budget.
Any possible transactions are subject to review by the State Building Commission and the Legislature's budget committee, and DOA must explain how it conducted a transparent and competitive process.
The list includes all 32 state-owned heating and cooling plants, the sale of which has previously been debated. Walker included a proposal in his 2011-13 budget proposal to sell the plants and contract for their operation, but it was opposed by Democrats and Republicans. Republicans also pushed the idea in 2005, but it was vetoed by Gov. Jim Doyle.
Other sites in Madison include the Badger Road State Office Building on Madison's South Side, which houses the Department of Employee Trust Funds; the Knapp House, a former governor's residence at 130 E. Gilman St. that previously housed education graduate students but is not currently used; a hangar at Dane County Regional Airport used for state-owned aircraft; and land surrounding the Hill Farms State Transportation Building on the West Side.
Buildings listed around the state include telecommunications towers and related infrastructure, the Northern Wisconsin Center in Chippewa Falls, the Ethan Allen School in Wales, the Wiscraft Workshop & Administration Buildings in Milwaukee and underused land at the Southern Wisconsin Center in Union Grove.
You have free articles remaining.
Sen. Fred Risser, D-Madison, a Building Commission member, rejected the possibility of selling certain buildings, particularly if the state still has to rent the space or facility.
"It's ripping off the taxpayers," Risser said. "It would create another layer of middlemen who cash in on taxpayer dollars."
Assembly Minority Leader Peter Barca, D-Kenosha, pointed to Arizona, which in 2010 helped close a budget hole by selling and then leasing its state office buildings, only to have the governor propose buying them back two years later.
Steve Stiloski, president of Commercial Property Consultants in Jackson, said selling an office building in the current market might not be a smart financial decision, but selling buildings and then leasing them is something many private companies, such as Walgreens, are doing.
The state would be able to pay down debt in the short term, while reducing labor costs at facilities, Stiloski said. At the power plants it could also lock in low energy rates as part of the lease while transitioning to alternative forms of energy.
"I don't think there's anything inherently wrong with it if it's structured correctly," Stiloski said. "The deal should be looked at by objective independent consultants so the best deal can be made by the public at large."
DOA plans to determine the value of the properties and put together a cost-benefit analysis and other data to ensure any transactions follow the law while providing value and reducing risk, Huebsch said.
Huebsch's letter did not list the fair market value of the buildings "due to the complexity of such a determination as well as the negative impact premature disclosure of such information could have on any future negotiating process."
The state budget required DOA to provide the list to the commission by July 1. The department plans to work with several consultants over the next several months to determine the "risks, benefits, costs, value and impact of such transactions."
The consultants include Public Financial Management, Robert W. Baird & Co., William Blair & Company, Loop Capital Markets, J.P. Morgan Securities, Latham & Watkins and Godfrey & Kahn.
Get Government & Politics updates in your inbox!
Stay up-to-date on the latest in local and national government and political topics with our newsletter.