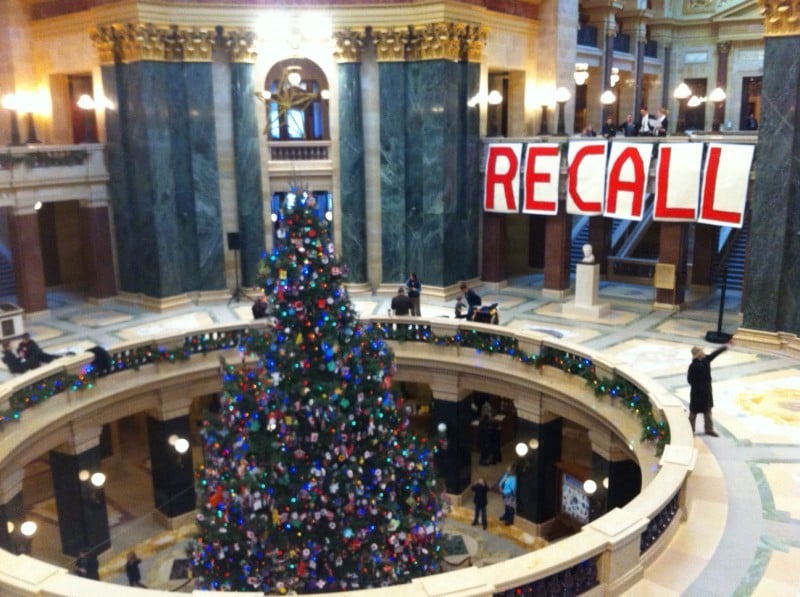 Even the holidays are a little different at the Capitol this year.
Protesters turned their backs as Gov. Scott Walker lit the tree at Friday morning's Christmas tree lighting ceremony at the state Capitol. Afterward a small group of protesters hung a massive "Recall" sign over the second floor railing in the rotunda with the help of rope and weighted plastic milk bottles.
The Capitol tree lighting is usually at noontime, but this year the lighting was held at 8:15 a.m., with a second "gift of the tree celebration" at noon. 
Democrats like state Sen. Bob Jauch, D-Poplar, said the "mind-boggling" change was made because the Walker administration hoped to avoid protesters. But Walker spokesman Cullen Werwie said the governor had previous engagements in Milwaukee.
"It was not to dodge protesters," Werwie said.
Several dozen protesters showed up at the early morning event, and some of them booed Walker when he was introduced, but they did not interrupt the ceremony or cause any disruptions. Some 200 people were at the tree lighting, including many members of the military and veterans who were honored during the ceremony.
"They booed and protested a ceremony that honors our veterans and lights the Capitol Christmas tree," said Senate Majority Leader Scott Fitzgerald, R-Juneau. "Every time you think they've crossed the line, it's like they invent a new line to cross." 
Controversy continued after the morning ceremony ended, when Jason Huberty and other protesters displayed huge signs of letters spelling "recall" over the second-floor railing in the rotunda. Shortly before the noontime ceremony began Capitol police officers removed the signs, but Huberty said he was told he would get them back.
The tree has been surrounded by controversy since Walker first announced it would be called a Christmas tree rather than a holiday tree, as it had been called since 1985.
In other news, people don't seem to be getting into the holiday spirit when it comes to Wisconsin political debate.
Battlefield: Grade school
It may seem strange to say this, given the current political climate, but few important fights are won by employing tactics learned on the playground in fifth grade. Pulling pig tails, slapping books out of hands, feigning injury and being a bully; these are not the ways to defend, or recall, a governor.
Unfortunately recall-related reports are leaking out that lead us at OTC to think some people are in dire need of a time out — if not a dunce cap. 
Just this week, Madison police investigated three alleged crimes against recall volunteers, including a stolen "recall Walker" sign, a petition ripped in half and a reported assault. This followed news out of Racine about a vandalized "recall Walker" sign and someone dousing a signature gatherer with a big cup of soda.
Police investigating the assault claim found it unwarranted. A woman had a clipboard accidently pushed while collecting signatures, they said. This, of course, led the woman to accuse the police officer of being pro-Walker.