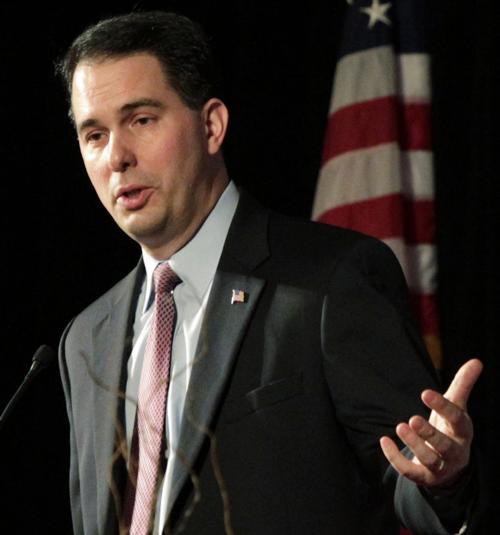 Gov. Scott Walker announced Wednesday that he is rejecting Medicaid expansion under the federal health care law.
Walker said he would instead work to increase health coverage for Wisconsinites with an alternate plan that involves lifting an enrollment cap on Medicaid programs for childless adults, tightening income eligibility for state residents able to use Medicaid programs, and bumping thousands of people from such programs to federal government-run health care exchanges where they can buy private insurance.
The governor said his plan would reduce the number of uninsured people by 224,580, or by as much as 50 percent — from 14 percent to 7 percent in the state — close to the change that would have occurred under the Medicaid expansion.
"My goal in looking at this is two things: One, I want to have fewer people in the state who are uninsured, but along with that I'd like to have fewer people in the state who are dependent on the government," Walker said.
He unveiled his plans during a meeting of Wisconsin Manufacturers & Commerce, the state's powerful business lobby, at Monona Terrace in Madison.
The governor described his proposal as a hybrid plan, but Democrats and health care advocates accused him of catering to "right-wing extremists" and playing politics at the expense of low-income people in need of health care.
"Gov. Walker said no to a good deal today, plain and simple," said state Rep. Jon Richards, D-Milwaukee. "What he outlined isn't some type of hybrid approach or middle ground. It's a bad deal for Wisconsin families and it's a bad deal for Wisconsin taxpayers."
If Walker had accepted the expansion, the federal government would have covered the cost for three years and, according to the Legislature's nonpartisan Fiscal Bureau, saved the state an estimated $66 million cost for three years. After that, state taxpayers would bear about 10 percent of the costs. Over four years, starting in 2016, new costs to the state could total about $133 million, according to the Fiscal Bureau.
Advocates of the Medicaid expansion said the state could always opt out at a future date.
Overhauling entitlement programs
Walker's much-anticipated Medicaid announcement was part of a broader speech about his plans for overhauling entitlement programs in Wisconsin, which he said will include requiring people who receive unemployment insurance to search for jobs four times a week and requiring able-bodied adults without children to get job training to receive food stamps.
During his speech, Walker said he plans to boost state spending on Medicaid programs by $644 million in his upcoming budget proposal for 2013-15, which is set to be released next week.
Democrats and health care advocates had been pushing for weeks for Wisconsin to participate in the federal Medicaid expansion, saying it would save the state money, create jobs and expand coverage to 175,000 additional people.
Six Republican governors, including John Kasich in Ohio and Jan Brewer in Arizona, have agreed to the federal expansion, while about a dozen other GOP governors have rejected it. Others are still deciding.
Democrats and health care advocates previously criticized the governor's earlier decision to not create a state-run marketplace, instead deferring to the federal government to create health care exchanges.
Those exchanges would now be a key aspect of Walker's proposal, which includes tightening the threshold for Medicaid eligibility to individual adults with an annual income of $11,490, and a family of four with an annual income of $23,550, or 100 percent of the federal poverty level.
Department of Health Services Secretary Dennis Smith said that under Walker's plan, about 87,000 people currently using Medicaid would no longer be eligible and would need to purchase insurance through the exchanges, while another 82,000 would become eligible for Medicaid because the enrollment cap would be lifted. That would amount to about 5,000 fewer adults on Medicaid in Wisconsin.