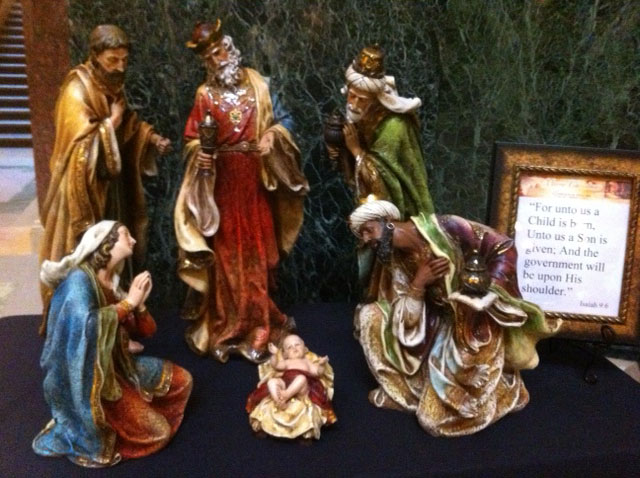 A tiny figure of baby Jesus is surrounded by Mary, Joseph and the three wise men in a new nativity scene in the state Capitol rotunda.
The conservative group Wisconsin Family Action set up the manger scene on Sunday, and its president Julaine Appling said the group plans to display it through the end of the month. But the move angered the Madison-based Freedom from Religion Foundation, which is now planning its own "slightly blasphemous" Capitol nativity display celebrating the winter solstice.
"It's distressing to me that we have a manger scene on top of all of the religion at the Capitol," Freedom from Religion co-president Annie Laurie Gaylor said. "Every day it's religion, religion, religion."
Gaylor said her group applied for a permit for its display on Friday, and hopes to set up the solstice scene as soon as possible. She didn't provide many details about it, but said "we will have a different type of wise people."
The foundation's permit was approved on Monday morning, said Jocelyn Webster, a spokeswoman for the state Department of Administration.
Appling said her group applied for permission to set up the manger on Dec. 1, and believes the rotunda is a public area and an appropriate place to express different opinions.
"Even with the court's current definition of the separation of church and state, it has not been abridged," Appling said.
The nativity scene includes six figures and a quote from the Bible that reads, "For unto us a Child is born, Unto us a Son is given; And the government will be upon his shoulder."
Get Government & Politics updates in your inbox!
Stay up-to-date on the latest in local and national government and political topics with our newsletter.