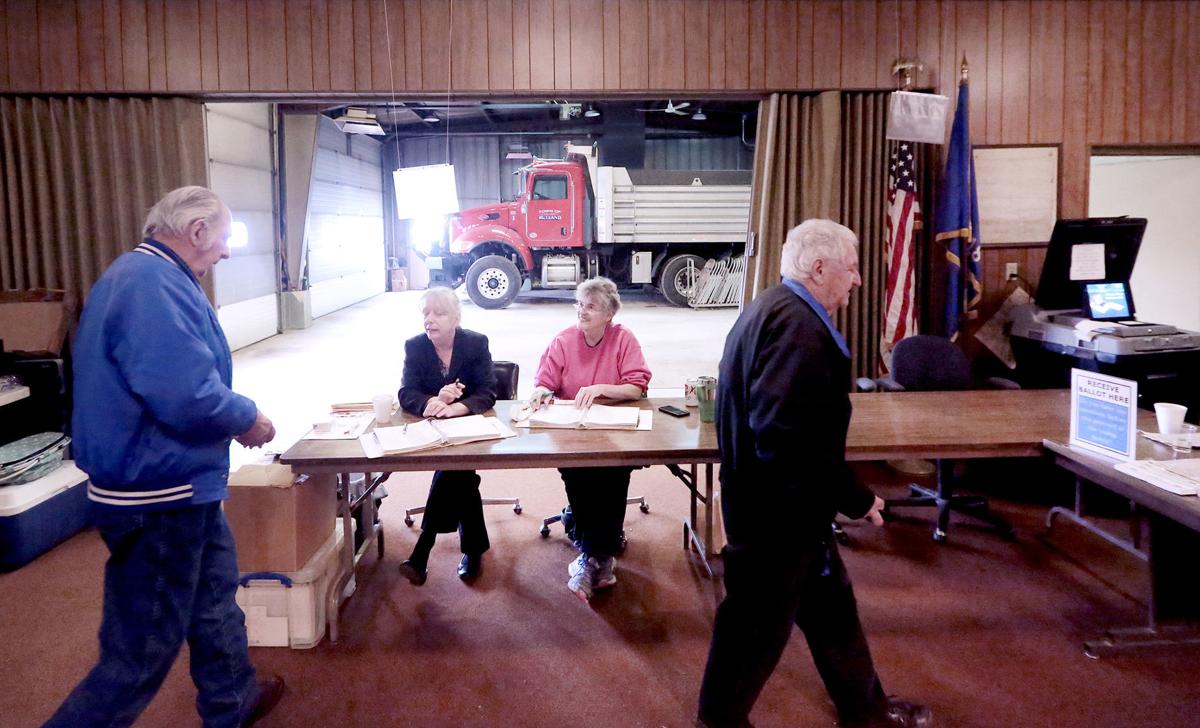 State officials are urging Wisconsinites to vote early or cast absentee ballots in the upcoming April 7 election as Wisconsin still plans to hold its Supreme Court and presidential preference contests in the face of a pandemic driving other states to postpone their spring elections.
Wisconsin's election, about three weeks away, comes as Georgia and Louisiana have opted to postpone their elections due to the novel coronavirus. Gov. Tony Evers has decided against the move for now.
"We are watching this as it goes forward, and we're hoping to hold it on the date if we possibly can," Evers said. "We are encouraging people across the state to avail themselves to absentee balloting or early voting. Either one of those work."
Evers declared a public health emergency on Thursday, but delaying the election under his emergency powers could face court challenges.
State and local officials are planning for the election to occur April 7, but it's already creating significant complications. Madison City Clerk Maribeth Witzel-Behl on Monday said as many as 31 polling locations may need to be moved due to public health concerns and because Madison schools are closed, meaning the city would have to relocate a third of its 92 polling sites.
Ten sites in Madison can't be used because they are nursing homes or care facilities that house high-risk populations. A Madison School District spokesman said district officials still haven't made a determination as to whether it will allow the city to have polling sites at the schools.
In the search for new polling sites, Witzel-Behl said it's important that all sites are fully accessible, especially for people with disabilities.
"I don't have any answers on where polling places will be," Witzel-Behl said. "That's up in the air right now and we're working on figuring that out."
The problems aren't limited to Madison. The city of Kenosha on Monday announced early voting, set to begin Tuesday, has been postponed until March 23 due to a delay in receiving ballots and an influx of requests to mail absentee ballots.
The COVID-19 coronavirus has also complicated the business of campaigning. Both the Democratic and Republican parties of Wisconsin say they're doubling down on virtual methods of communication to prevent the spread of the virus.
Voting absentee
State officials and political parties are working to promote absentee voting.
"If you are worried about getting to the polls on Election Day, make sure you are registered to vote at your current address and with your current name, and request an absentee ballot as soon as possible," said Wisconsin Elections Commission administrator Meagan Wolfe.
As of Monday, local officials have sent out 82,541 absentee ballots, and 1,356 have been returned. In Dane County, 18,432 have been sent out and 703 returned.
On March 20 of last year, two weeks before the April 2 Supreme Court election, elections officials across the state had sent out 88,060 absentee ballots while 27,480 of them had been returned. In Dane County, 10,243 ballots had been sent out and 4,439 had been returned.
If voters want an absentee ballot, they need to make sure they are registered to vote no later than midnight on Wednesday. The deadline for registered voters to request an absentee ballot be mailed to them is April 2.
Can Evers postpone an election?
The state could pass a law to move the date of the election or the courts could delay an election in response to a lawsuit. Late Monday, Ohio's health director was planning to declare a health emergency and order the polls closed for the state's Tuesday primary.
But it's unclear whether emergency powers give a Wisconsin governor the authority to delay an election to prevent people from jeopardizing their health or safety.
State law gives governors the authority to "issue such orders as he or she deems necessary for the security of persons and property."
But Doug Poland, a Madison attorney who practices elections and voting rights law, said it's unlikely the law gives Evers the power to reschedule elections, even in an emergency.
"There are some broad powers that are given but they're also limited in some ways, and I don't see anything expressed in the statute that would give the governor the power to be able to postpone elections or change the date of elections," Poland said.
Poland said the governor may have a difficult time defending an election delay given the textualist approach taken by many members of the Wisconsin judiciary.
Other legal experts say Evers has the authority to delay the April 7 election.
"Under his very broad emergency powers, he could alter the election dates or change the way voting takes place, or the time period it takes place to minimize the risks to the public," said Michael Maistelman, a Milwaukee attorney who practices election law.
Rick Esenberg, president of the conservative Wisconsin Institute for Law and Liberty, said state law does not specifically permit Evers to move an election, but he could rely on the breadth of his emergency powers to do so. Still, Esenberg said Evers' power is subject to constitutional limits.
"Anything that substantially impacts the right to vote is going to raise questions," Esenberg said. "A significant delay in the election may as well."
Get Government & Politics updates in your inbox!
Stay up-to-date on the latest in local and national government and political topics with our newsletter.