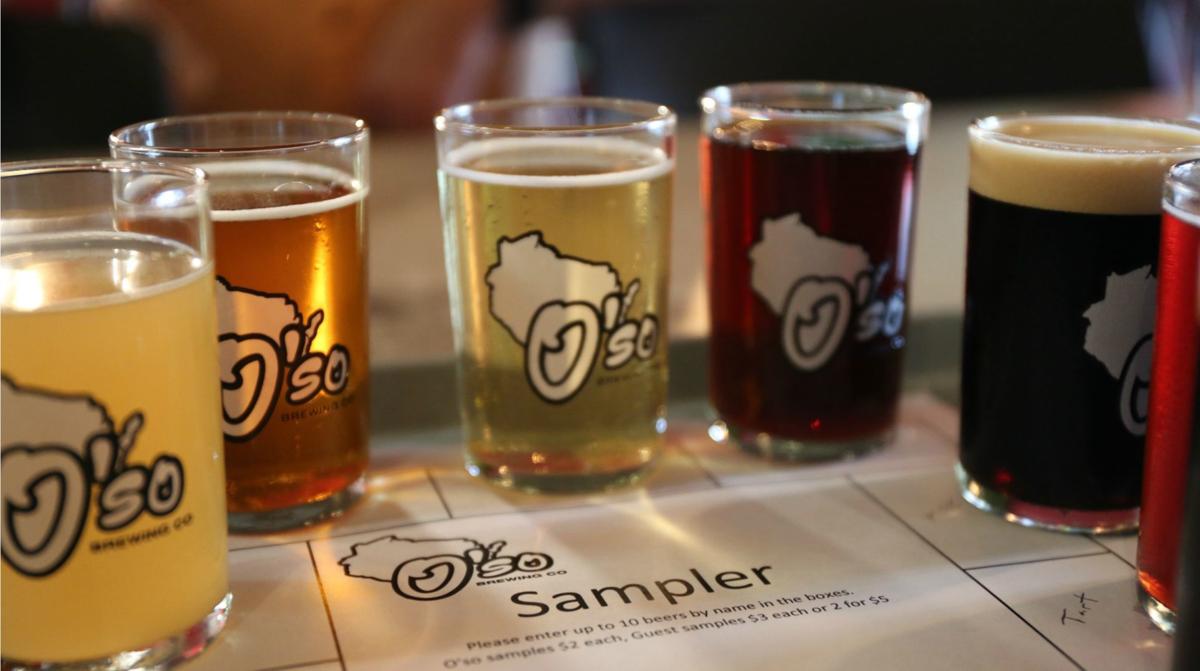 A growing upstate craft brewery hopes to open a tasting room in a new mixed-use project on Madison's thriving Near East Side.
O'so Brewing Co., based in Plover, is seeking to open a tasting room with indoor and outdoor seating and a small retail carry-out sales area in the new Marling Building, 1817 E. Washington Ave.
The Marling includes 228 apartments and 15,000 square feet of ground-floor commercial space and fronts the Yahara River.
Marc Buttera, a home brewer who founded O'so in 2007, has submitted plans for a 1,283-square-foot tasting room along East Washington Avenue with indoor occupancy for 49 and seasonal outdoor seating for 38 with no amplified sound outside.
The interior space would be low lit with a farmhouse-industrial look, with O'so reusing materials for the bar and tables from Marling Lumber and Homeworks, which occupied the site from the 1920s before moving to the Far East Side for the redevelopment, Buttera said. The tasting room will pay homage to Marling's history and use decor to make patrons feel like they're stepping into brewery facilities in Plover, he said.
"It's going to be a small, quaint, quiet thing," he said. "It's more of a coffee-house-type feel."
Madison, Buttera said, is a natural place for O'so to open the tasting room.
"Madison is our epicenter," he said. "We sell more product in Madison than anyplace else. We've got a lot of fan base there."
You have free articles remaining.
O'so, which produces a range of beers but specializes in barrel-aged, fruity sours, will offer hard-to-find choices at the tasting room, he said.
There are no current plans for food sales, but a preparation space for snacks and sandwiches may be a future option.
The proposed hours of operation are 3 p.m. to 11 p.m. Monday through Thursday, 11 a.m. to 11 p.m. Friday and Saturday, and 11 a.m. to 3 p.m. Sunday. Outdoor seating would close by 10 p.m.
Buttera was an avid home brewer and began a home-brew supply shop called Point Brew Supply in 2003 before opening O'so with his wife, Katina, in 2007. O'so currently operates from a 12,000-square-foot facility in Plover with a 4,000-square-foot warehouse in Stevens Point.
Tasting rooms offer beer, wine or liquor on the premises where it was manufactured or at an off-site location associated with the tasting room, and under state law, do not require a class A or B liquor license.
The O'so tasting room would operate as an extension of the company's brewing license as a satellite tasting room, meaning it can serve only beer and other fermented malt beverages primarily produced at O'so. It would be classified as a tavern under city ordinances but would need only a conditional-use approval from the Plan Commission. The application will be considered on Oct. 15.
The Marquette Neighborhood Association board unanimously endorsed the brewery's proposal due to the modest size and location of the tasting room, association president Lynn Lee said, explaining that residents want to shift some of the pressure to open tap rooms, tasting rooms and bars from nearby Williamson Street to busier East Washington Avenue.
If approvals are secured, the tasting room would likely open in January, Buttera said.
O'so also plans to open a 30,000-square-foot facility offering a brewery, taproom, barrel aging cellar, and area for parties and meetings along with an outdoor beer garden, kickball diamond, disc golf course and outdoor fruit orchard in Stevens Point in 2019.