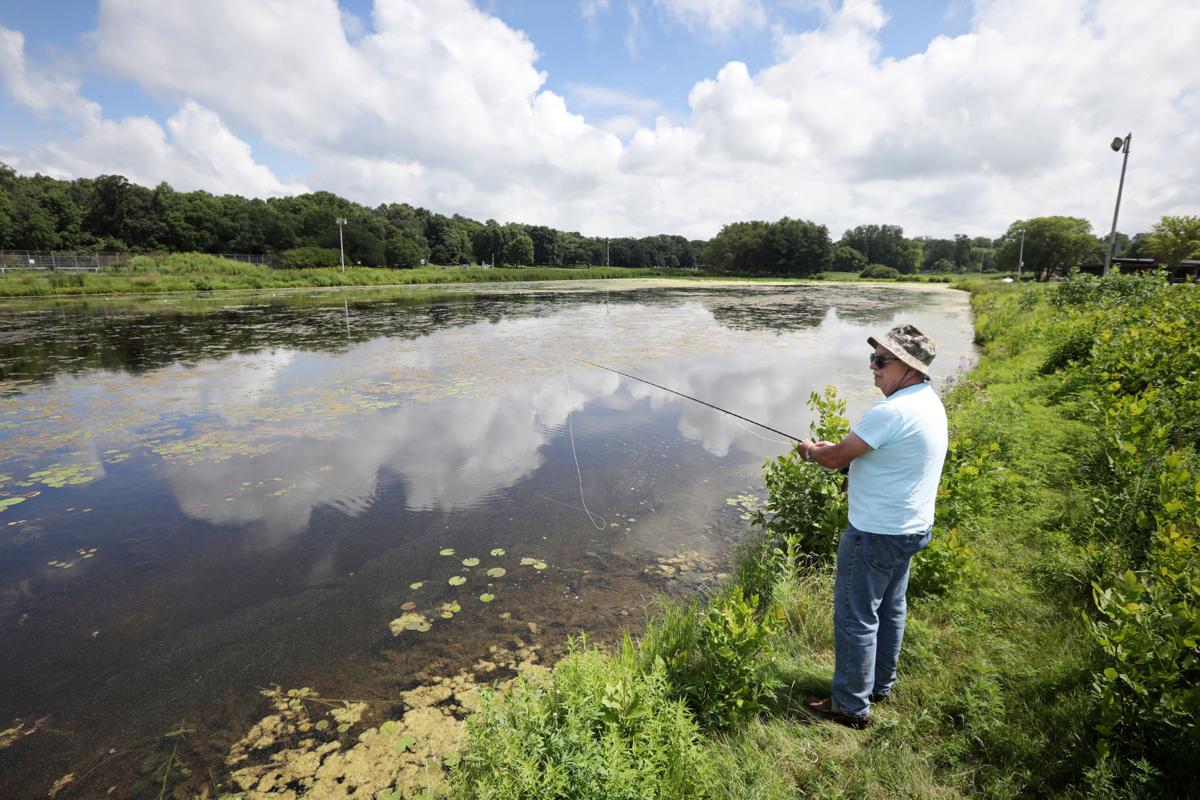 A plan in the works for the future of Vilas Park on Madison's Near West Side aims to strike a balance between preserving aspects of the space that residents love, while making needed upgrades and improvements.
"The goal of change is not for change's sake," Parks Superintendent Eric Knepp said. "It's to take known issues and try to improve them."
Parks Division staff are drafting the Vilas Park Master Plan, a vision to guide park development over the next 15 to 20 years.
The long-term plan will outline various projects, including preserving the lagoon, creating new walking paths, possibly adding boardwalks and scenic overlooks, replacing the outdated shelter, and updating the roadway along Lake Wingra so it's safer for pedestrians and bicyclists.
But some residents are concerned the changes could go too far, altering the character of their beloved park.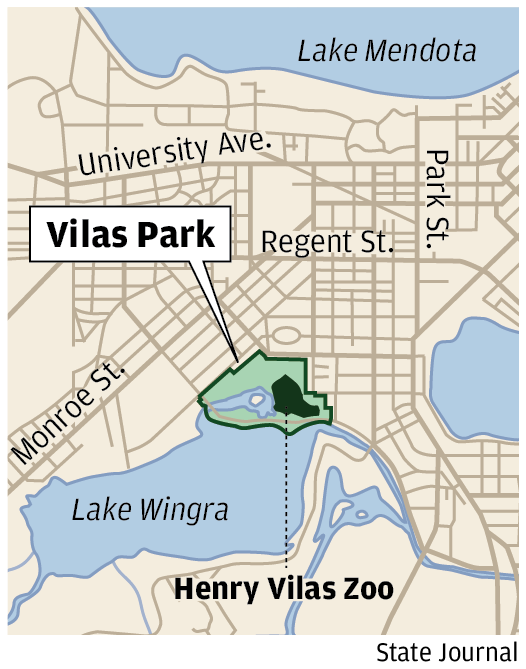 The popular park, which sits along the northern shore of Lake Wingra next to Vilas Zoo, includes a small beach, a large open space for various recreational activities, a lagoon that residents ice skate on in winter, three playgrounds, and tennis and basketball courts.
Ann Rivlin, who lives across the street from Vilas Park and visits almost every day, said she's happy the city is addressing certain issues, such as the health of the lagoon and traffic problems. But she is also apprehensive.
"It's a really, really loved park," she said. "It's going to be hard to convince people to make changes if things aren't really clearly explained, and there's not a clear need for it."
Ald. Tag Evers, whose 13th District includes the park, said he is "cautiously optimistic" that the master plan will be responsive to residents' concerns.
"You really want a plan that people feel like their voices were heard — that their voices matter," Evers said.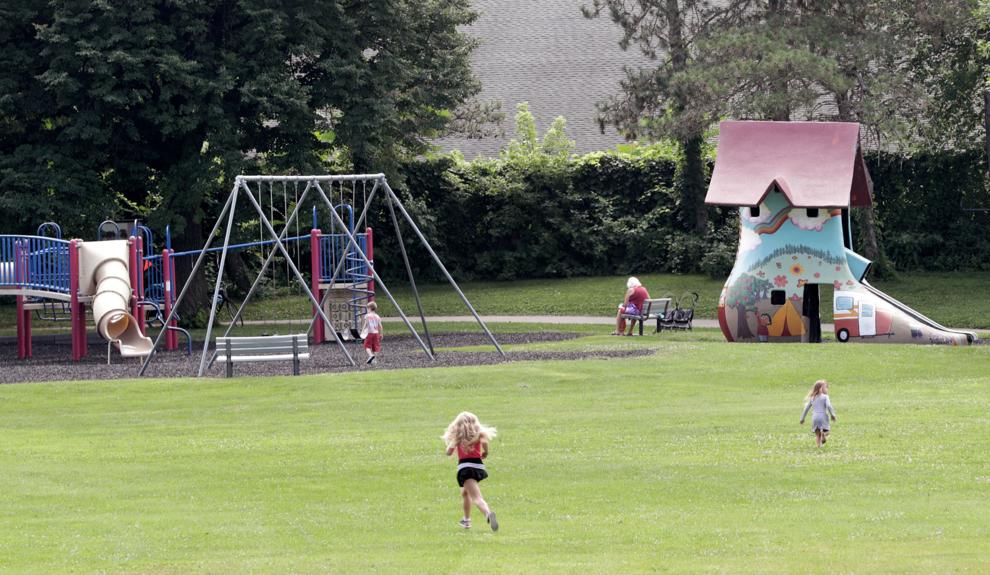 The draft plan should be released sometime this fall, go through another round of community input meetings and be adopted by the Parks Commission in the winter, Knepp said.
Infrastructure needs
Knepp said none of the projects for the park are set in stone, but there are some areas that need improvements.
Some spots have "decaying infrastructure," Knepp said, including the parking lots, roadways, tennis courts and walking paths. He said Parks staff could just repave them instead of building new ones, but "what drove the master plan was the idea that we could do better."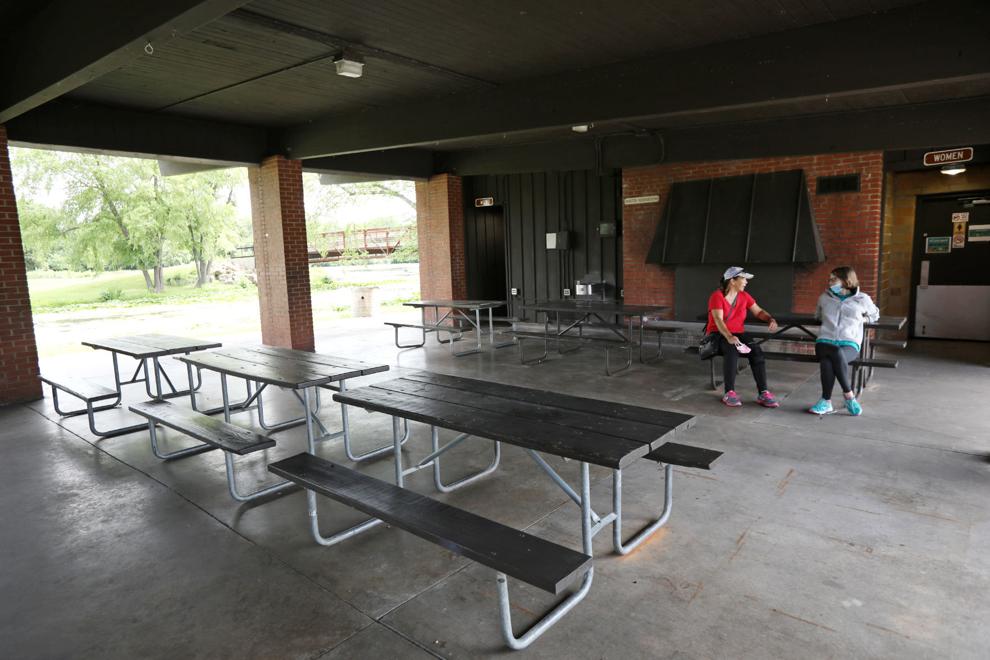 The main park shelter is also wearing down, Knepp said. Its walls were designed to be removable so it could transition from an open structure in the summer to a warming house in the winter. But that flexibility makes the building inefficient in terms of energy consumption. The poorly insulated walls are not airtight, causing heat to seep out in the winter — a massive waste of energy, Knepp said. The plan will most likely include a replacement for the shelter.
The lagoon is filling in with sediment, which lowers its depth and promotes aquatic vegetation growth, making it challenging to maintain ice for skating in the winter, Knepp said.
Vilas Park Drive is another problem spot. There's no sidewalk or bike path other than the roadway itself, which is a safety concern, Knepp said. It also makes it harder for pedestrians to use Lake Wingra's shoreline because the road runs right along it.
Roadway options
Three concepts for the park were presented at community input meetings, each with different features and layouts. The final master plan will likely mix and match different options from each of the concepts, or have new components based on community feedback. Knepp said the concepts were mainly created to gauge residents' reactions to various options.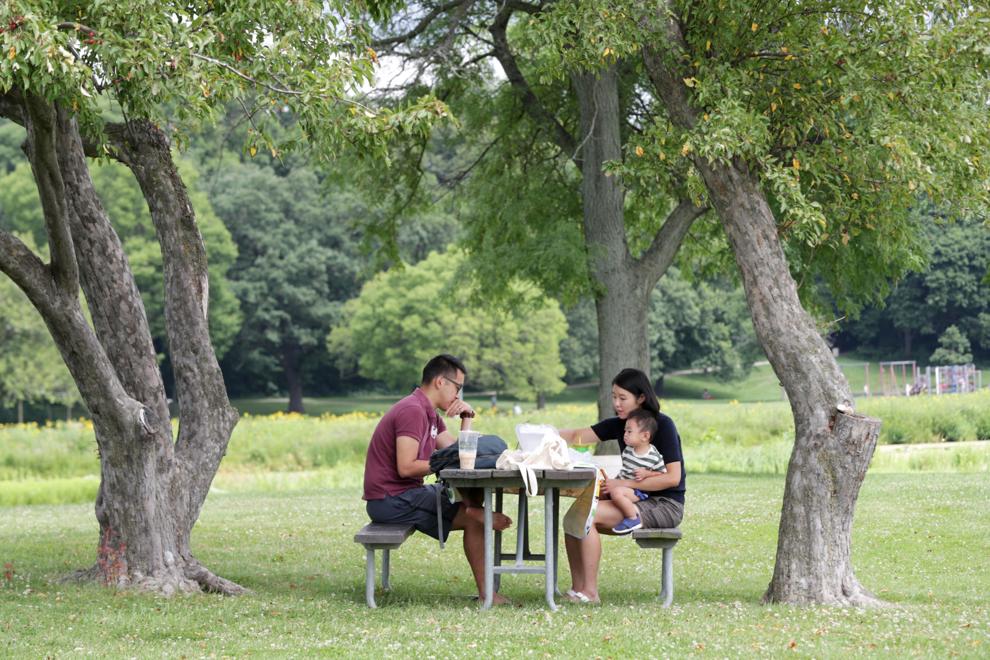 All of the concepts included a walking path or multi-use path along the shoreline instead of having the roadway butt up against the lake. Vilas Park Drive could include one-way traffic with a separated bike lane, two-way traffic with shared bike lanes, or be closed to traffic and dedicated to bikes and pedestrians.
The concepts also eliminated the somewhat awkward, one-way entrance to the zoo that runs diagonal to the street grid. A new two-way entrance would be at Campbell Street to the north, according to the draft concepts.
During the COVID-19 pandemic, traffic on Vilas Park Drive has been shut down temporarily to allow for social distancing between walkers and bikers. Jim Lorman, who has lived near the park for 45 years, said he wants the plan to keep it that way.
Normally the high level of commuter traffic interferes with his enjoyment of the natural landscape, Lorman said. Now the atmosphere of the park has been changed "dramatically" for the better, he said.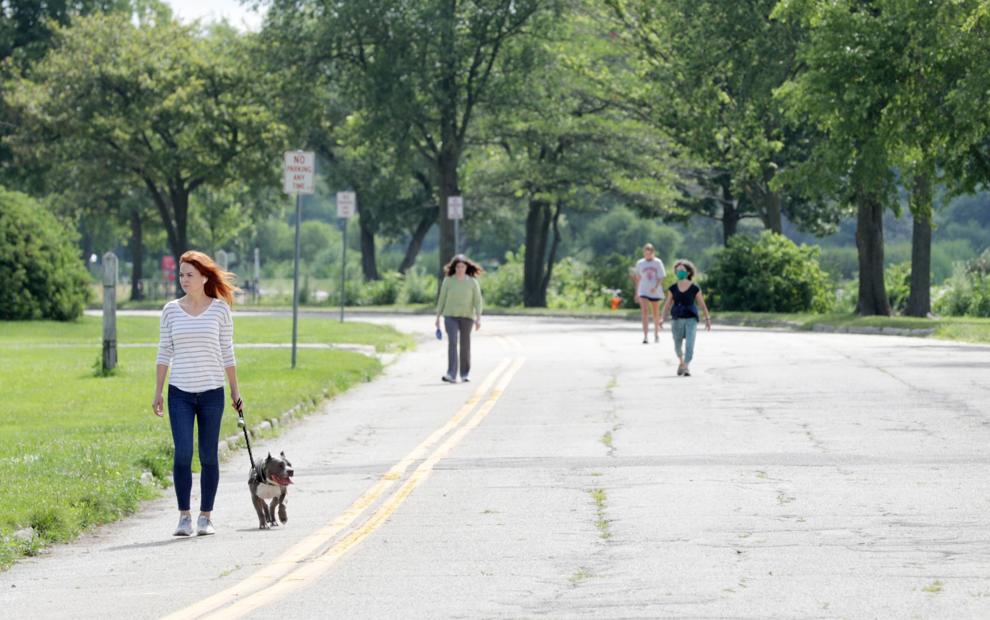 Knepp said the desire to keep the road closed has been "heard loud and clear" from many residents, but others have said vehicle traffic should not be eliminated completely. Parks staff have not yet decided what direction to go in, but the goal is to improve shoreline access and safety.
"It's very seldom that you can get coalescing or conciliation around a specific plan that does everything," Knepp said. "The tradeoffs and balancing act is a tough one."
Lagoon vs. wetland
Another major question is how to preserve the lagoon. Parks is considering whether to convert the lagoon to wetlands or maintain the lagoon as open water, which would require costly dredging but allow for ice skating in the winter. Wetlands could not be used for ice skating.
A hybrid approach would preserve part of the lagoon as open water and another part as a wetland. All three draft plan concepts added boardwalks along the lagoon.
Rivlin said the lagoon is "not in good shape," but it's hard to decide what will be best for it.
"Does it mean we can't have ice skating on the lagoon? Does it mean we need to spend more on maintenance?" Rivlin said. "There's just some really difficult decisions that have to be made."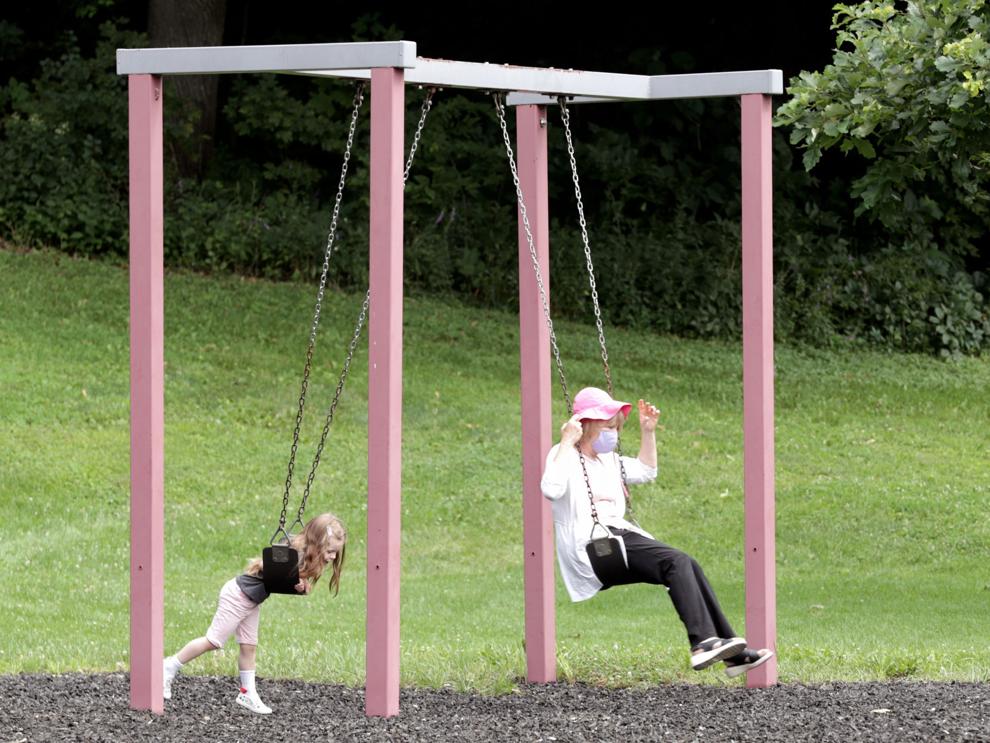 Neighborhood concerns
Although the master plan drafting process is not yet complete, some neighbors have said they already feel unheard.
Lorman was frustrated that a small playground on the northeast side of the park was removed from all three draft concepts. Parks staff also expanded the parking lot by the zoo in draft plans, which would eliminate green space in that area. "Nobody asked for more parking," he said.
Knepp also dislikes parking lots, especially in parks, but said it's "imperative" to plan for increased demands in the future so the neighborhood isn't overrun with street parking.
Another playground — the one with the Old Woman in the Shoe slide — will likely stay put after residents overwhelmingly said they did not want it to move, Knepp said. For other decisions, Parks will provide explanations of what choices were made and why.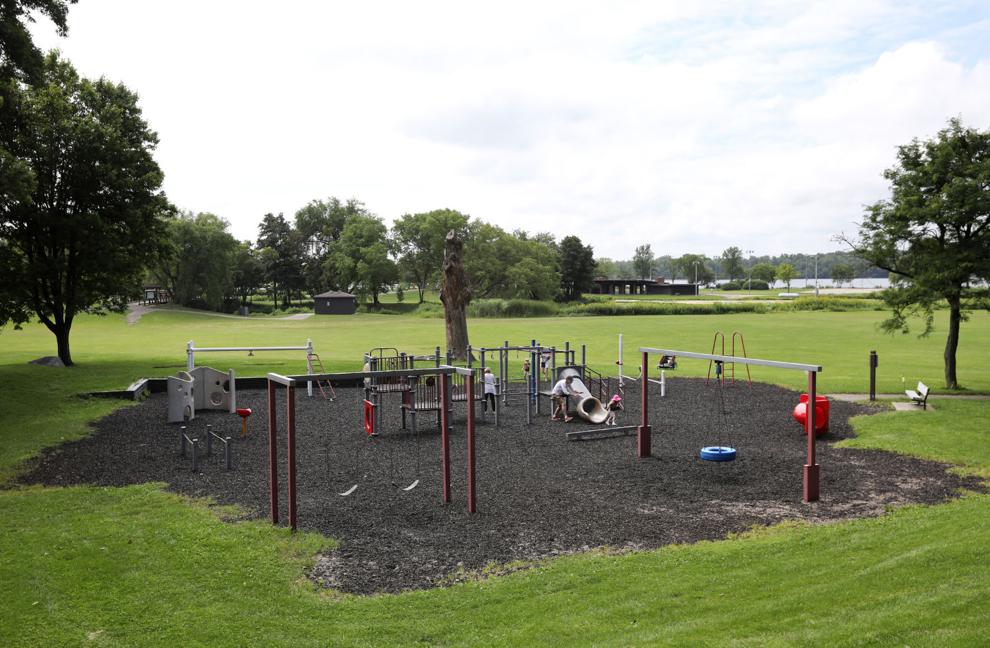 Knepp said he and Parks staff are listening to residents. Parks has received 187 emails and more than 900 responses to an online survey about the plan. Nearly 180 people attended one of the community input meetings.