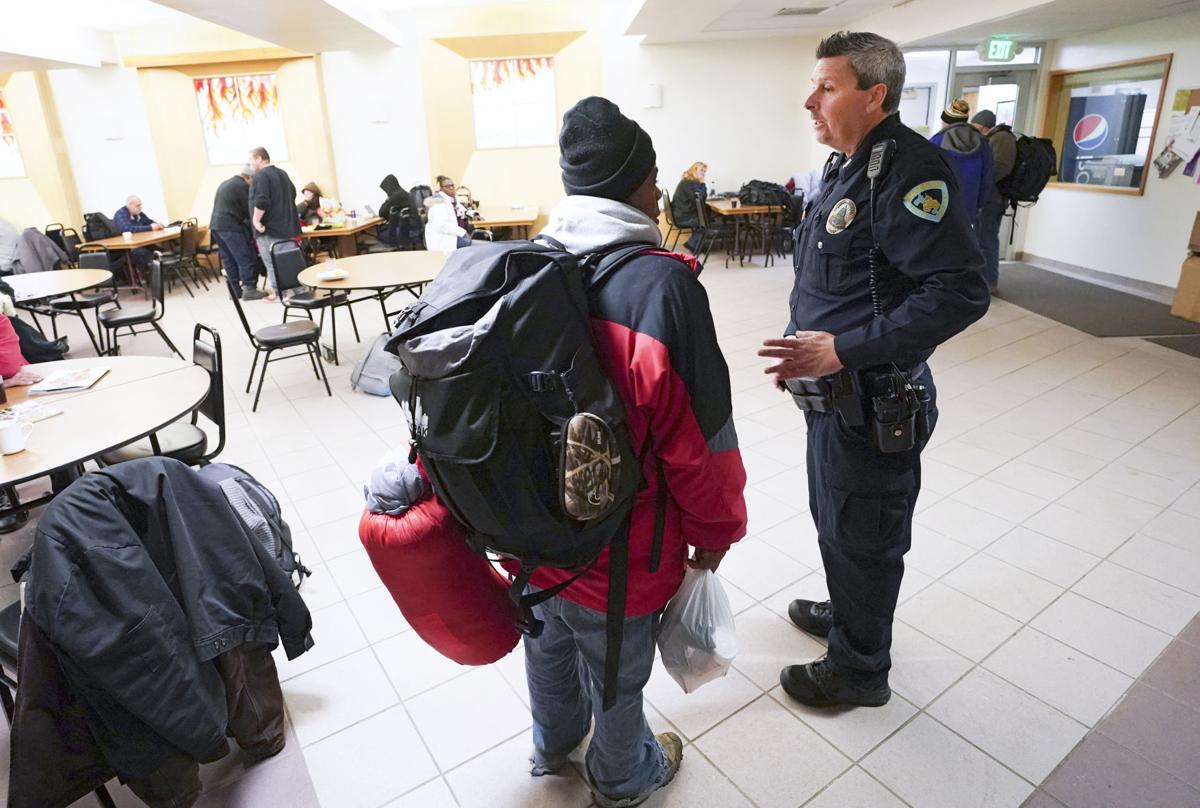 The calls patrol officer Steve MacKesey was getting one recent Tuesday morning in Downtown Madison didn't include any muggings, car thefts, assaults or other standard criminal fare.
He did get a couple of messages on his department-issued flip phone from a homeless man who wanted to know what to expect at a municipal court trial. And he fielded calls during his shift about an ailing elderly man who might be a hoarder but wasn't suspected of committing any crimes.
"This is the role we often find ourselves in," MacKesey said — something akin to a combination case manager, social worker and "sounding board."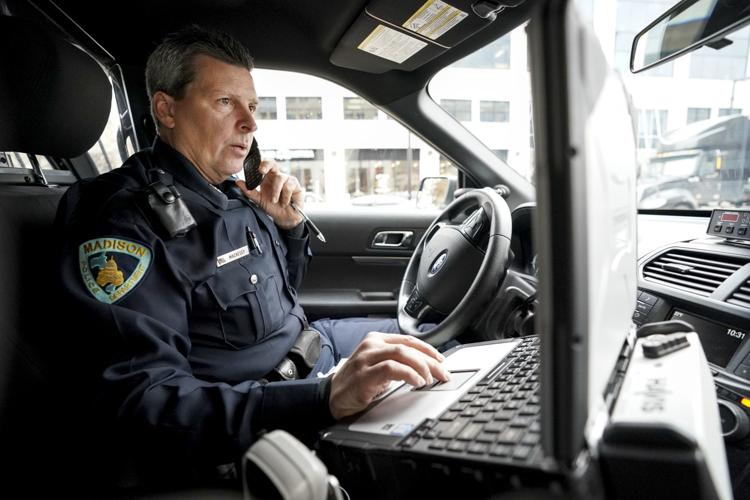 In recent years, Madison policymakers have struggled with how to square calls for more patrol officers with a level of reported crime that is either flat or declining.
Madison police brass point to a staffing study released earlier this year that showed the department is down 31 patrol positions, but over the last two budget cycles, they have been mostly unsuccessful at getting the mayor and City Council to approve hiring significantly more patrol officers.
Meanwhile, local police critics and many on the council question the need to add police at a time when crime rates aren't rising, note the police department takes up the largest chunk of the city's operating budget, and point to other investments in law enforcement, such as expanded mental health training for officers and the launch of an independent police monitor's office.
MacKesey said he can see "both sides" of the staffing-shortage-vs.-lower-crime-rate argument, but also says the job of a patrol officer has changed in the nearly 11 years he's been doing the work, often in a way that makes it more time-consuming.
"There's just a lot more to a lot of the things we do," he said during a ride-along with the Wisconsin State Journal less than two months before he intends to retire after 28 years in public safety work spanning Madison police, the Dane County Sheriff's Office and the Madison Fire Department.
MacKesey said that one of the nice things about patrol work had been not having to follow cases over days or weeks: When the shift is over, it's over.
But he said that's changed in recent years with the advent of video surveillance and other technological advances, and as supervisors have expected patrol officers to take on some of the lower-level cases detectives are too busy to handle.
The explosion in video surveillance and smartphone video can provide powerful pieces of evidence, but it's evidence that requires staff time to comb through in the search for suspects, he said. Tracking credit card thieves requires tracking the purchases they've made with those credit cards electronically.
The city has also implemented a system to tag bags and other belongings left on Downtown sidewalks, typically by those who are homeless. Previously, police would remove the items and it was largely up to the owners to retrieve them. Now they first give 24-hour notices that the items will be moved and, if they are, the city takes photos of them to better identify them later to their owners.
Other changes that have increased the demands on patrol officers' time include an expansion of the instances in which police have to get a warrant to take blood from a drunken-driving suspect. That's resulted in an increase in the time it typically takes to process a drunken-driving charge from about 4.5 hours to 8.8 hours, according to the staffing study.
The study also points to the state's cumbersome system for tracking traffic crashes and the state's decision in 2014 to require adults under emergency detention be taken to Winnebago Mental Health Institute in Oshkosh, an hour and 40 minutes away by car. Until then, police took them to Mendota Mental Health Institute in Madison.
'De facto family'
But for all of those systemic increases in patrol work, much of MacKesey's shift last week was taken up by functions that — in a more perfect world — might be completed by someone other than a patrol officer but which also highlight the community-policing model Madison policymakers and police both point to with pride.
It wasn't the first time the homeless man had called MacKesey to act as a sounding board, for example. And MacKesey said that when it comes to some of the regular homeless people Downtown who have burned many of their personal bridges, police "end up being the de facto family."
You have free articles remaining.
That seemed clear when MacKesey stopped to check in at Bethel Lutheran Church's twice-weekly homeless services center, where one man jokingly bent his ear about lending him $5 so he could go buy some alcohol and another boasted to him that he'd been sober for 72 days.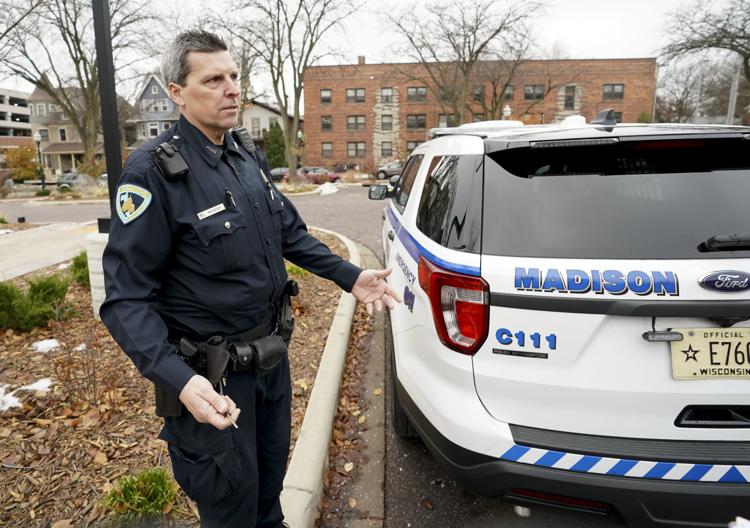 Site co-director Barb Kepler said some of the clients "sit up straighter and behave" when police come around. And police officials have long said it's this kind of proactive work that builds relationships and ultimately leads to less crime but which can't be done if patrol officers are too busy going from call to call.
There was also nothing inherently criminal about the potential hoarder or his home. It just happened that MacKesey had responded to a "check welfare" call at the home two days before and found him semi-conscious in the dining room. The man was in the hospital, but the city's Building Inspection division and city-Dane County public health department wanted MacKesey along when they assessed the man's home later that day.
MacKesey was also dispatched to two walk-in calls at Central District headquarters — where there are already plenty of police officers working. One involved a man who had been the victim of an online financial scam that local police aren't really equipped to investigate. MacKesey gave him information on how to contact an IRS agent.
The other was an elderly man from the town of Madison — which has its own police department — who appeared to have mistaken some bank-related documents as a sign his identity might have been stolen. Before leaving, he shook MacKesey's hand and thanked him warmly for the 10 or 15 minutes MacKesey spent addressing his concerns.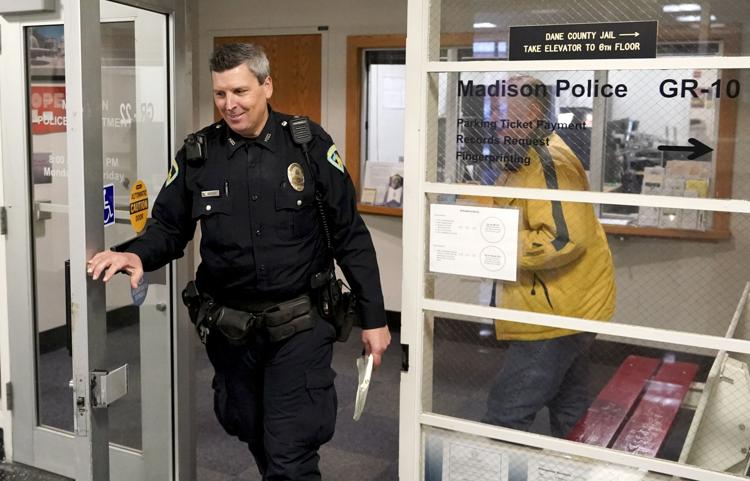 Increased overtime
Increased police overtime and the problems police supervisors have had filling shifts don't appear to be a result of required training or officers taking more time off.
According to figures compiled by police, the average patrol officer spent 180.12 days not working patrol in 2008, but 172.04 days in 2018.
Those figures account for everything from regular days off and vacation, to work days when they are in training or staffing special events, and more. Police say the City Council's decision in January to give employees paid parental leave will likely have an effect on time off of patrol.
MacKesey acknowledges that overall, Madison is a "very safe community" and wonders if, in looking at shortages in patrol, MPD should be asking itself, "What could we use differently that we already have?"
He points to the Madison Addiction Recovery Initiative, which seeks to get addicts into treatment; the Community Outreach and Resource Education team, which seeks to build relationships with youth of color; and the neighborhood officers program as examples of programs that are often effective but rely on the right personnel and supervision. And he questions whether some data-entry or other office-related duties wouldn't better be handled by civilian employees, rather than sworn officers.
"This is supposed to be the basis of what we do," MacKesey said of patrol work. "Wanting to do all these other things sometimes comes at the expense of patrol."
Acting Police Chief Vic Wahl agreed with the need to maintain patrol services and said finding the right balance between patrol and non-patrol assignments is "imprecise."
"The non-patrol positions on MPD have generally not been created in a vacuum," he said. "They usually have had (City) Council endorsement … or have been in response to community feedback."
Ideally, they also reduce patrol workload, he said, and gave the example of a mental health officer who can work with a mentally ill person to get him or her treatment, and in so doing cut down on the amount of time patrol officers spend responding to emergency calls involving the person.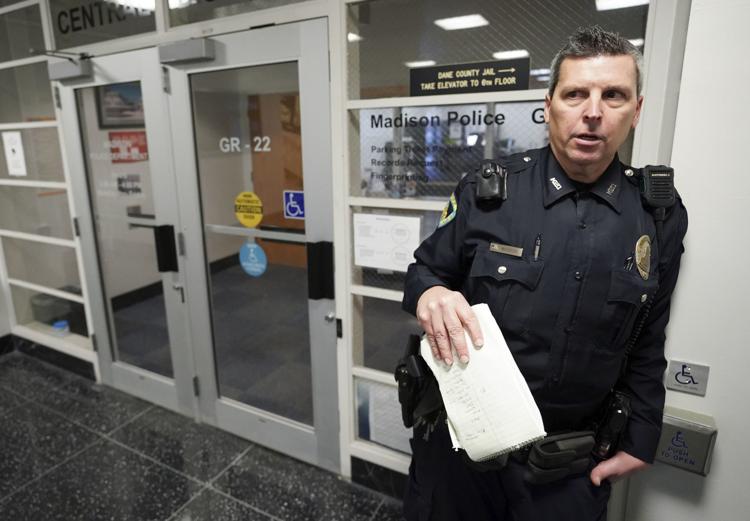 The explosion in video surveillance and smartphone video can provide powerful pieces of evidence, but it's evidence that requires staff time to comb through in the search for suspects.
The explosion in video surveillance and smartphone video can provide powerful pieces of evidence, but it's evidence that requires staff time to comb through in the search for suspects.