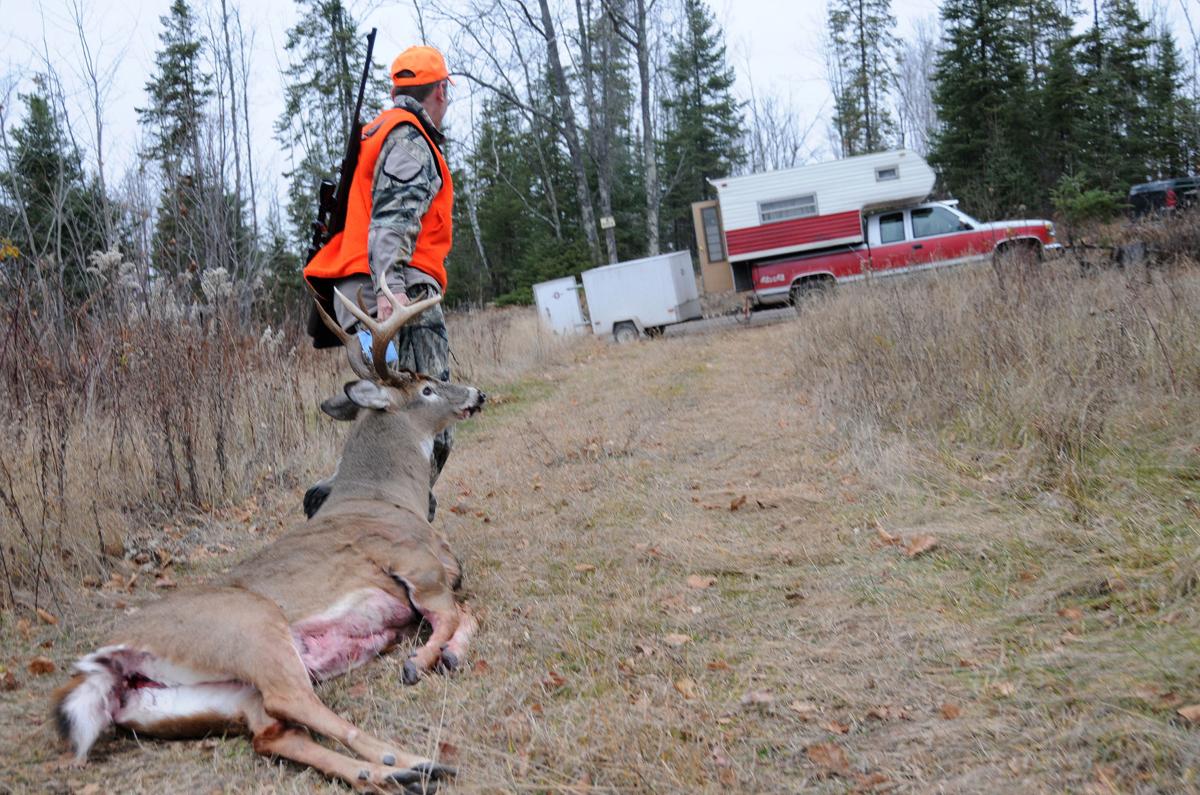 The UW-Madison lab that checks deer carcasses for a deadly brain disease said Monday there may be increased urgency for hunters to test for chronic wasting disease this year based on new scientific research.
Preliminary results of studies released earlier this year in Canada found for the first time CWD could be transmitted to primates.
There still have been no known instances of humans contracting CWD, but hunters should know the new study demonstrates the risk isn't nonexistent, said Keith Poulsen, diagnostic case and outreach coordinator at the Wisconsin Veterinary Diagnostic Laboratory.
"We're sure the risk is pretty low, but it's not zero," Poulsen said. "It would be a mistake to ignore it."
Wisconsin's archery season for deer opens Saturday. The firearms season starts Nov. 18.
CWD is related to incurable illnesses that cause dementia and death in humans. All of the diseases are caused by proteins called prions that can change their characteristics over time, Poulsen said.
CWD's tendency to change and its ability to incubate in some animals for years before symptoms appear are among factors that make eating CWD-tainted meat risky, Poulsen said.
The state Department of Health Services tracks cases of human prion diseases like Creutzfeldt-Jakob and compares them to a registry of people who eat venison, but the agency has said it hasn't found significant correlations.
New red flags
Scientists say they have been obtaining less new data than ever about CWD even as its prevalence reaches new heights in the core outbreak areas in southern Wisconsin and appears in more counties in other parts of the state.
About 40,000 deer tissue samples were tested in 2002, the year the disease was detected in Wisconsin, but the numbers dropped off in 2006 as testing became less convenient amid budget cuts and shifting policies.
Testing hit an all-time low in 2015 as the state switched to an electronic system for registering harvested deer and reduced in-person registration at sites where DNR personnel encouraged hunters to provide samples for testing. The numbers rebounded slightly last year to 6,600 out of more than 200,000 deer killed.
You have free articles remaining.
Poulsen said he and his colleagues were shocked by how little response they heard from the public and how few questions they received from the state Legislature after news organizations in Wisconsin reported on the Canadian studies in June and July.
In April, the Canadian public health system's Health Products and Food Branch issued a five-page risk advisory based on a study begun in 2009 involving exposing macaque monkeys to CWD-infected venison. Three of five macaques tested positive for CWD after being fed meat from infected whitetail deer.
The research was funded by the Alberta Prion Research Institute at the University of Calgary. Peer review of the study hasn't concluded, but the discovery that a primate could be infected caused health officials to issue a statement April 26 emphasizing the potential for risk.
"While extensive disease surveillance in Canada and elsewhere has not provided any direct evidence that CWD has infected humans, the potential for CWD to be transmitted to humans cannot be excluded," Health Canada said. "In exercising precaution, HPFB continues to advocate that the most prudent approach is to consider that CWD has the potential to infect humans."
Staying the course
The Wisconsin Department of Natural Resources and the state Department of Health Services said Monday that they have not changed their advice to hunters.
"We continue to urge hunters to have their harvested deer tested for CWD, and if the results are positive they should follow the guidance from the CDC (U.S. Centers for Disease Control) and the Wisconsin Department of Health Services and not consume the venison," said DNR spokesman Jim Dick.
"DHS will continue to encourage hunters to have deer tested that were harvested from areas of the state where CWD is known to exist," said Health Services spokeswoman Jennifer Miller, referring to DNR deer hunting guidelines.
"DHS will also continue to discourage the consumption of meat from deer harvested anywhere that showed signs of illness; for example, deer that appeared emaciated or that acted abnormally," Miller said.
David Clausen, a retired veterinarian and former Natural Resources Board chairman, has urged the DNR to do more to inform hunters about the new research.
"With thousands of CWD positive carcasses entering the food chain in Wisconsin each year, doesn't DNR and DHS have a responsibility to adequately provide consumers of those carcasses with up-to-date scientific information on potential risks?" Clausen wrote in a May 27 email to agency officials.
The veterinary diagnostic laboratory doesn't routinely issue public statements about CWD risk, but this year after discussions with its board of directors and the DNR, laboratory scientists decided to take a larger role in educating hunters.
In addition to the tests it does for DNR, the laboratory has 10 contracts with other states to test for CWD in wild deer, 15 for deer and other cervids from game farms, five for scrapie disease in sheep and five for mad cow disease in bovine farm animals, Poulsen said.
"DHS will also continue to discourage the consumption of meat from deer harvested anywhere that showed signs of illness; for example, deer that appeared emaciated or that acted abnormally." Jennifer Miller, Wisconsin Department of Health Services spokeswoman