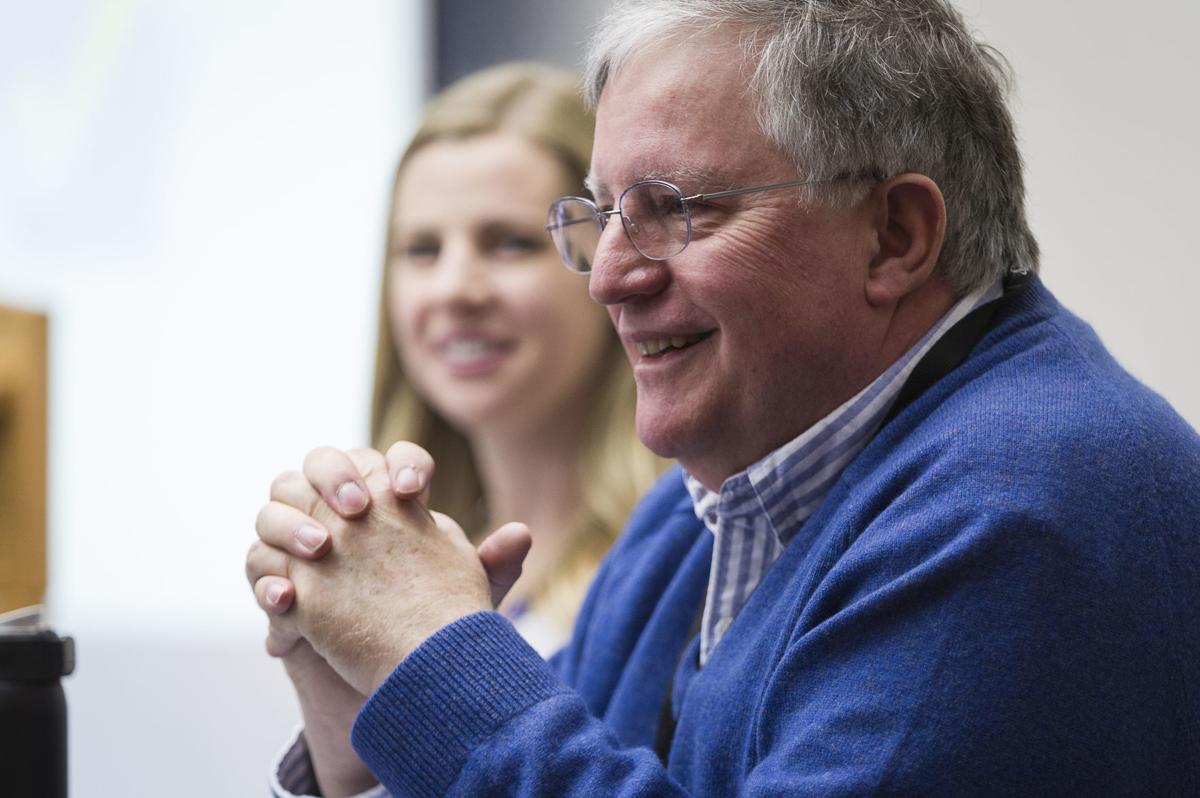 A narrow majority of Wisconsinites oppose impeachment of President Donald Trump, though support has grown since earlier this year, according to the latest Marquette Law School Poll.
The poll, conducted Oct. 13-17 among 799 registered voters, found 51% of respondents said the president should not be impeached and removed from office, while 44% said he should be impeached. The poll has a margin of error of +/-4.2 percentage points.
In addition, the poll, the first since Congress began impeachment inquiry hearings regarding Trump's conduct related to Ukraine, found 49% of respondents said they don't believe there is enough information to support impeachment proceedings, compared with 46% who said there is enough.
House Democrats launched an impeachment inquiry in September focusing on whether Trump abused his presidential powers by attempting to leverage Ukraine to investigate his political opponent, former Vice President Joe Biden, and Biden's son Hunter.
Responses were divided along party lines. Twelve percent of Republicans said there is enough cause for impeachment hearings, while 86% said there is not enough. Among Democratic respondents, 84% said there is enough cause to proceed with impeachment hearings, while only 12% said there is not.
The latest results do, however, show growing support for impeachment hearings among Wisconsin residents surveyed.
The January Marquette Law School Poll found only 33% of respondents felt there was enough cause to begin impeachment hearings, while 59% said they did not. In April, 29% of those surveyed said there was cause for impeachment hearings, while 65% said there was not.
"Clearly, the opinion has changed substantially," poll director Charles Franklin said Wednesday.
Job approval
Forty-six percent of respondents approve of the job Trump is doing as president, while 51% said they disapprove.
Trump's job approval numbers have been relatively consistent all year. He had a 44% approval rating in January, compared with a 52% disapproval rating.
In regard to his handling of foreign policy, 37% of respondents said they approve, while 59% said they disapprove.
In addition, 32% of respondents to the October poll said Trump's foreign policy has helped America's standing in the world, while 58% said he has hurt the nation's standing.
Fifty-two percent of respondents approve of the job Democratic Gov. Tony Evers is doing as governor, while 34% disapprove.
Economy
You have free articles remaining.
As with the last Marquette Law School Poll, Wisconsinites remain optimistic about the economy, but that faith could be wavering.
Of those surveyed, 41% said the economy has gotten better in the past year, while 20% said it has gotten worse and 36% said the economy has stayed the same.
Looking to next year, 25% of respondents said the economy will get better, while 30% said it will get worse and 39% said it will stay the same.
Franklin said trade tariffs and stock market volatility have likely played into growing economic uncertainty among voters.
Since 2012, respondents provided a net negative economic evaluation for the upcoming year during only three polls — all of them conducted this year.
"It does seem undeniable that 2019, throughout the whole year, produced more anxiety and more skepticism about the next year, than we had seen in the previous six years of polling," Franklin said.
2020 projections
When it comes to the 2020 election, the survey found only Biden leading Trump by an amount larger than the poll's margin of error. Vermont Sen. Bernie Sanders and Massachusetts Sen. Elizabeth Warren were in a statistical tie.
Warren and Trump tied in an Aug. 25-29 poll, with both favored by 45%. This month's poll put Warren at 47% and Trump at 46%.
Gaps between Trump and Biden and Sanders fell slightly since the last poll.
In August, respondents gave Biden a 51% to 42% edge over Trump, while Sanders, who won the Democratic primary here in 2016 but was the national runner-up to Hillary Clinton, was favored by 48% of respondents to 44% for Trump.
The October survey found Biden ahead 50% to Trump's 44%, while Sanders received 48% to the president's 46%.
Gun control
In a result similar to that of previous polls, 80% of respondents said they support expanded background checks for gun purchases.
In addition, 81% of respondents support so-called "red-flag laws," which would prohibit the possession of a firearm by those who have been deemed by a judge to be a danger to themselves or another person.
Earlier this week, Evers called for a November special session in an attempt to force the Republican-led Assembly and Senate to vote on expanded background checks and red-flag laws.
However, Senate Majority Leader Scott Fitzgerald, R-Juneau, said he will not call for a vote on the matter, but rather expects to adjourn the Nov. 7 special session immediately after calling it to order.