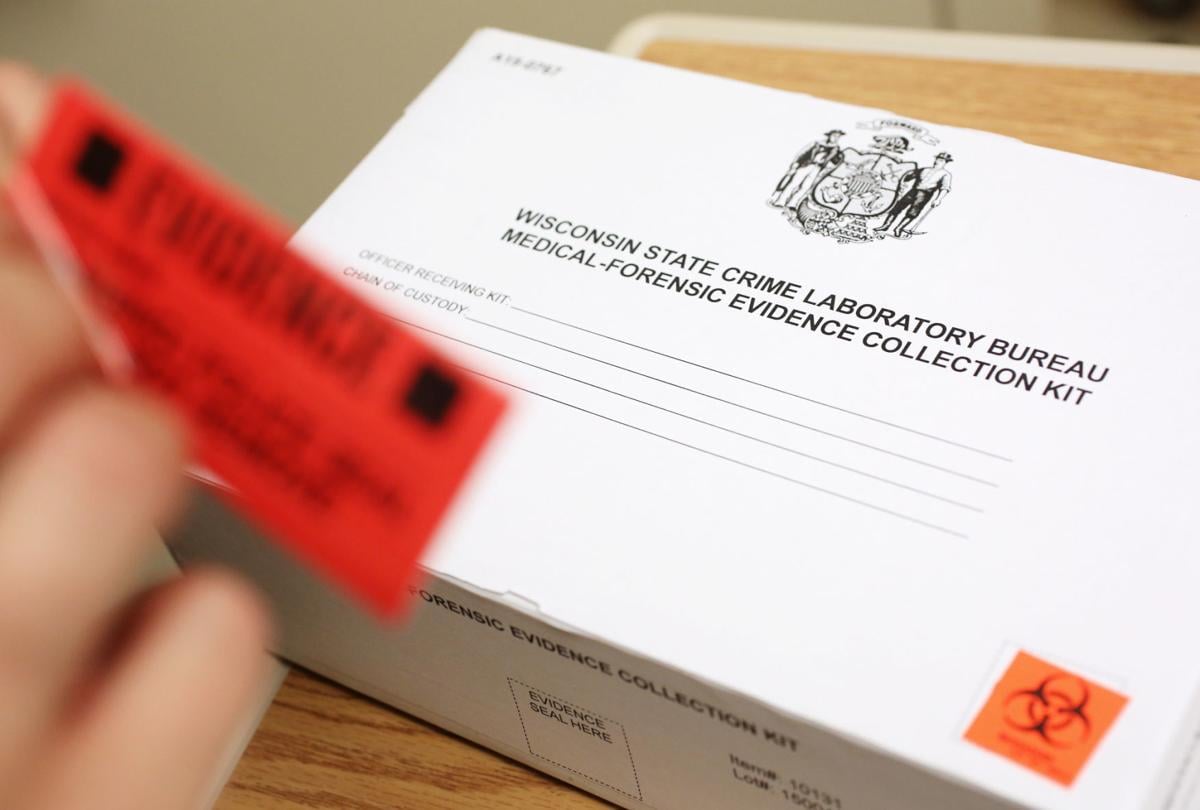 A new Republican proposal to combat a future backlog of sexual assault kits may have dimmed the prospects for the entire effort's success this legislative session.
On Thursday, Rep. David Steffen, who introduced bipartisan sexual assault kit legislation alongside Democratic Attorney General Josh Kaul last year, came out with a new bill to give his fellow Republicans another option to consider as the end of the legislative session nears.
"I look at this as a door number two option for the Assembly," said Steffen, R-Green Bay, who declined to detail what specific concerns the new bill is addressing.
The bill's introduction comes after Rep. Joe Sanfelippo, the chairman of the committee tasked with advancing the bipartisan legislation, expressed opposition to Steffen's first bill and wouldn't commit to a public hearing. Sanfelippo, R-New Berlin, provided a number of reasons objecting to the bill, chiefly that it adds more regulation without doing enough to prevent future backlogs. Kaul said such criticisms were unfounded and that the bill makes great strides in mandating law enforcement agencies comply with new requirements.
That bill had the support of 47 Democrats and 25 Republicans in the state Assembly and Senate, where it already passed, but has stalled in the Assembly.
The new Republican bill, which some Democrats have already criticized as a political stunt, would impose more compressed timelines for processing sexual assault kits.
The bill also includes proposals attractive to Republican voters, targeting immigrants in the country illegally and expanding access to parental choice programs for students. It also would require the Department of Justice to provide reports to the Legislature each year, allow victims to anonymously track their sexual assault kits and provide them the right to have evidence tested within 90 days and be notified 60 days before evidence was destroyed.
Sanfelippo said the requirements in the new bill, which he views as more comprehensive, are key to his support.
"This is a much better bill, comprehensive, and it provides a better way for us to make sure a backlog doesn't occur in the future," Sanfelippo said.
He said he now plans to hold a public hearing on the legislation next week. But the bill threatens to undermine the bipartisan nature of the effort to prevent a future sexual assault kit backlog because it contains added provisions that could prove anathema to Democrats.
"The legislation today is transparently intended to allow Assembly Republicans to pretend to support legislation that can help prevent another backlog, when in reality they are preventing such legislation — AB 214 — from becoming law," Kaul said in a statement. "The Assembly Republicans should end this legislative charade and take up and pass AB 214."
Reps. Chris Taylor and Melissa Sargent, both Madison Democrats, said the new bill has little chance of gaining bipartisan support and puts politics above sexual assault victims. An Evers spokeswoman didn't respond to a request seeking comment on the new legislation. Sanfelippo said those who won't support the bill don't truly want to prevent future backlogs.
Kaul, along with a bipartisan coalition led by Steffen and Sen. Robert Cowles, R-Green Bay, introduced legislation last spring to prevent future backlogs of sexual assault kits by creating the first statutory guidelines in Wisconsin for how to process them.
Languished for years
The DOJ in 2014 first discovered the existence of nearly 7,000 untested sexual assault kits in law enforcement and hospital custody across the state. Sexual assault kits can contain evidence that is crucial to finding sexual predators or freeing the wrongly convicted.
In 2015, the state received $4 million in federal grant funding to test Wisconsin's kits, which began in 2016. Thousands of sexual assault kits dating as far back as the 1980s sat untested on police and hospital shelves in Wisconsin because suspects were already identified, prosecutors thought cases were too weak to continue or victims wouldn't cooperate.
Then-Attorney General Brad Schimel, a Republican, in September 2018 announced the DOJ had finished testing 4,100 kits. Kaul had chided him during the campaign over the issue, arguing the department's testing of the kits took too long. Schimel said it took time to inventory the kits and find private labs to test them.
Under the original bill, health care professionals who collect sexual assault kits would be required to notify a law enforcement agency within 24 hours of collecting the kit if the victim wants to report the assault. If not, the health care professional would be required to submit the kit within 72 hours to the state crime labs for storage for up to 10 years.
For victims who choose to report, the law enforcement agency that receives the kit would be required to submit it to the state crime labs for processing within two weeks. After processing, the state crime labs would send the kits back to law enforcement for storage.
Further requirements
The new bill that Steffen introduced Thursday includes some of the same requirements, but goes further in other areas. For example, for victims who choose not to report sexual assault to law enforcement, a health care professional would have to send the kits to the state crime labs for storage within two business days after collection as opposed to 72 hours under bill Democrats support.
For victims who want to notify law enforcement, law enforcement agencies would be required to collect the kits within 48 hours and send them to the state crime labs for processing between 48 hours and seven days after collecting it. Under the bill supported by Democrats, that window would be up to two weeks.
The new bill would also require the state crime labs to store kits for 50 years for victims who don't consent to analysis, as opposed to 10 years under the bill Kaul supports.
The new bill makes additions in other areas, adding a "bill of rights" for sexual assault victims, folds in data tracking requirements included in a separate bipartisan bill that, along with Steffen's original bill, have already cleared the Senate but not the Assembly.
And it also comes with provisions sure to incense Democrats: Requiring that law enforcement must notify U.S. Immigration and Customs Enforcement of immigrants in the country illegally who are under arrest for sexual assault. Steffen said it's meant to protect immigrant women who are in the country illegally.
It would also allow sexual assault victims access to private school vouchers even if they wouldn't otherwise qualify based on their income. It's a provision meant to allow victims to avoid perpetrators who may be fellow students or teachers, Steffen said.
Get Election 2020 & Politics updates in your inbox!
Keep up on the latest in national and local politics as Election 2020 comes into focus.