Concerns about environmental contamination at the Oscar Mayer site are just one sticking point heading into Tuesday's City Council vote on a sweeping plan that could guide perhaps $300 million of investment to the property and surrounding area.
Over eight months of community outreach, residents on the North and East side have expressed broad support for revitalizing the region. But many say the Oscar Mayer Special Area Plan would bring too much traffic and housing density to the neighborhood and result in the loss of key open space. And they oppose plans to locate a Metro Transit bus garage on the site.
"I'll say this with the slight caveat that we often hear the most from folks who are unhappy, but it seems like, overall, residents are fairly frustrated about the plan, ranging from disappointment to anger," said Abha Thakkar, executive director of the North Side Planning Council. "Overall, I think, there's a sense that the plan was only superficially modified by the community's input, and that, in the end, more powerful interests won out."
Among other things, the plan would preserve roughly half of the Hartmeyer Estate natural area and create a new signaled intersection at Packers Avenue and Coolidge Street.
City Council vice president Syed Abbas, who represents the area, said the plan is "a good tool for economic development, and the North Side needs more economic development."
But, he said, "I stand with the surrounding neighborhood associations and community and fully support preserving all 31 acres of the natural area of Hartmeyer and opening Coolidge Street only to bicycle and pedestrian entry from Packers Avenue."
Mayor Satya Rhodes-Conway said she supports the plan as is, calling it a good balance between competing interests.
"This site has the potential to embody what development should look like in Madison," she said. "I think it's been a very inclusive planning process. I don't know why people feel that's not enough. I think it's balanced. It's a very good document."
Shock, and rebirth
Four and a half years ago, Oscar Mayer's parent company, Kraft Heinz, shook the community in announcing it would close the plant — a fixture on for nearly 100 years — and move its headquarters to Chicago, part of a larger plan to consolidate after the merger of food giants Kraft Foods, of Northfield, Illinois, and H.J Heinz, of Pittsburgh.
Kraft Heinz vacated the site in July 2017 and three months later sold the property to Reich Brothers Holdings, which then partnered with Rabin Worldwide to liquidate the facility's assets and repurpose and redevelop the property.
The city launched a two-phase planning process. The Oscar Mayer Strategic Assessment Committee began meeting in November 2017, soliciting public input and producing a report that was adopted by the council in February 2019.
Then, the city's Planning Division and consultants put together the more detailed plan now before the council, which envisions housing, commercial space, open space, new roads and trails that could bring thousands of new jobs and residents to the 425-acre planning area.
In the meantime, 910 Mayer LLC, made up of Rabin Worldwide and HFZ Reich Holdings, has invested over $13 million into what's called "OM Station," the former Oscar Mayer headquarters that consists of 1.7 million square feet of industrial and office space on the 72-acre property, said Orlee Rabin, principal for industrial assets.
The city's plan calls for a mix of housing types on a new series of streets around a preserved wetland and park, and mixed-use development along North Sherman and Aberg avenues.
The Oscar Mayer site itself would be transformed to a high-density, mixed-use hub that would host multiple companies and bring hundreds, perhaps thousands of jobs with pockets of open space throughout the site.
"A lot of the really interesting architectural elements of the former plant will remain, and elements like those are critical to establishing an authentic and visually interesting place," said Dan McAuliffe, the Planning Division's project manager.
"Active urban plazas on the Oscar Mayer site could host concerts like Jazz at 5 or other events. The park shown on the Hartmeyer property could be a more passive open space, creating the opportunity for people to sit under old-growth oaks or walk on trails surrounding the wetland."
The plan maintains the commercial and industrial corridor along the Packers and Pennsylvania avenue corridors and north of Aberg Avenue.
But it would also make Packers Avenue more pedestrian friendly and completely re-imagines Commercial Avenue from an industrial thoroughfare to a vibrant city street lined on the north side with open spaces where people can gather and on the south with commercial activity, city officials said.
It recommends a mix of building heights — some as high as 12 stories — based on use and type of development.
An internal street grid depends on a new connection between Packers and North Sherman avenues, and the plan recommends an intersection with a traffic light at Packers Avenue and Coolidge Street. The North Transfer Point would be relocated near the new street connection and rail tracks and be integrated with a "multi-modal" facility that would serve cars, bikes, shuttles, buses (and possibly bus rapid transit) and intercity and local rail.
"We are excited to be a part of revitalizing the region and believe in the future of Madison and this iconic site," Rabin said, adding he saw no changes that needed to be made to the plan.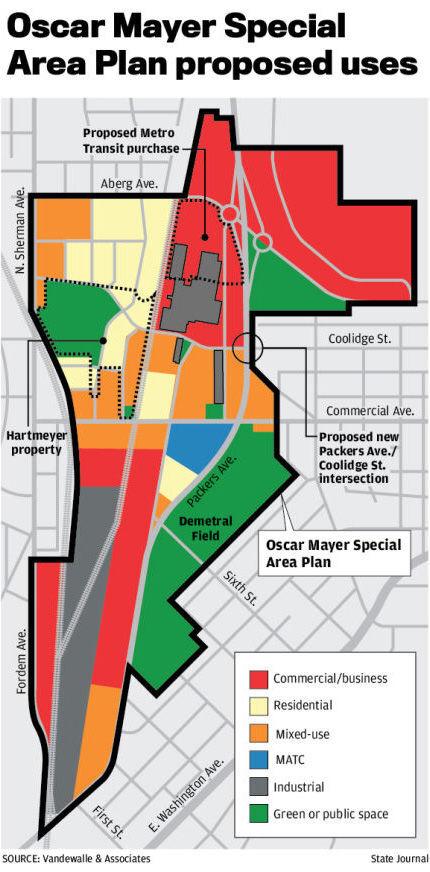 But Lesleigh Luttrell and Renee Walk, co-chairs of the Sherman Neighborhood Association, said the plan needs work. As one of the first things people see when they come into town from the interstate on Highway 30 or the airport, it needs to make a statement about Madison, they said.
"We would like to be in a place right now where we could be more excited about the plan," they said in a statement. "We feel like the requests to change the plan we have made — save all 31 acres of the Hartmeyer natural area, ensure that extensive environmental testing is done, and reconsider placement of the bus barn — are pretty simple in light of the scope of the rest of the plan. But no matter how many people speak up, we can't seem to get the city to listen."
Points of conflictAlthough initial concepts preserved just eight acres of the 31-acre Hartmeyer property as open space, city staff increased that to 14.1 acres after early public and Plan Commission feedback. The plan preserves a 7-acre wetland as well as old growth oak trees on the property, "the maximum amount of open space that staff feels can balance competing needs of accommodating growth in a sustainable way and maintaining open space," according to a staff memo.
Organizations and residents have flooded the city with comments demanding that the entire 31 acres be preserved as wetlands, parkland and a nature preserve.
"The Hartmeyer land has significant biodiversity with keystone species indicating its ecological value in spite of having some invasive plants and no assisted restoration," Abbas said. "This increasingly rare historic urban wetland ecosystem remnant and urban biodiversity refugia should be preserved to the extent possible."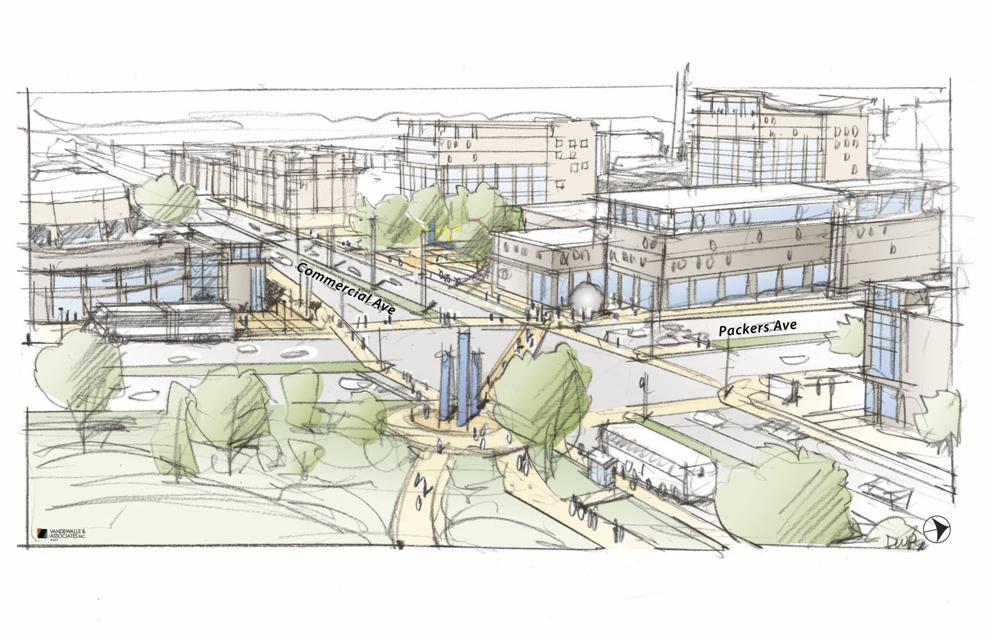 The plan's recommendation to re-establish an intersection at Coolidge Street and Packers Avenue, eliminated long ago, to allow a new connection through the Oscar Mayer property between Packers Avenue to Roth Street and Sherman Avenue is strongly opposed.
Coolidge Street, a sleepy, narrow road lined by modest houses and mature shade trees that passes by Eken Park, is now separated from Packers Avenue by curb and fencing and should not be subject to traffic pouring out of the Oscar Mayer site and Packers Avenue, the Eken Park Neighborhood Association and residents say.
"We see no benefit for our neighborhood by opening up this street," Catie Shannon, co-chair of the Eken Park Neighborhood Association wrote to city officials. "While we are excited and supportive of the Oscar Mayer project, we feel like this is truly getting the project off to a rough start with one of its closest neighbors."
The draft plan reopens the intersection with a design that minimizes non-local traffic using neighborhood streets, McAuliffe said.
Abbas said that's not good enough. "The solution is straightforward. Listen to the residents' voices, and open Coolidge Street only for pedestrians and bicycles. Re-evaluate Packers Avenue for future connections at multiple other locations."
The plan is silent on the city's purchase of buildings and land for a bus garage, but it makes the use allowable. Any city purchase would be a separate action by the council.
"The bus barn was a real slap in the face, especially since the North Side is not likely to see improved transit services for quite some time after other parts of town will," Thakkar said.
"There was a moment here when we could have developed a collective vision for equitable growth — a true commitment to improved quality of life for North Side residents, including jobs, housing and transit," she said. "Instead, it was clear that this process was underfunded, rushed and fairly predictable in its outcomes. The drawings are lovely, but the community is not represented in them."
"Overall, I think, there's a sense that the plan was only superficially modified by the community's input, and that, in the end, more powerful interests won out." Abha Thakkar, executive director of the North Side Planning Council
"Overall, I think, there's a sense that the plan was only superficially modified by the community's input, and that, in the end, more powerful interests won out."

Abha Thakkar, executive director of the North Side Planning Council