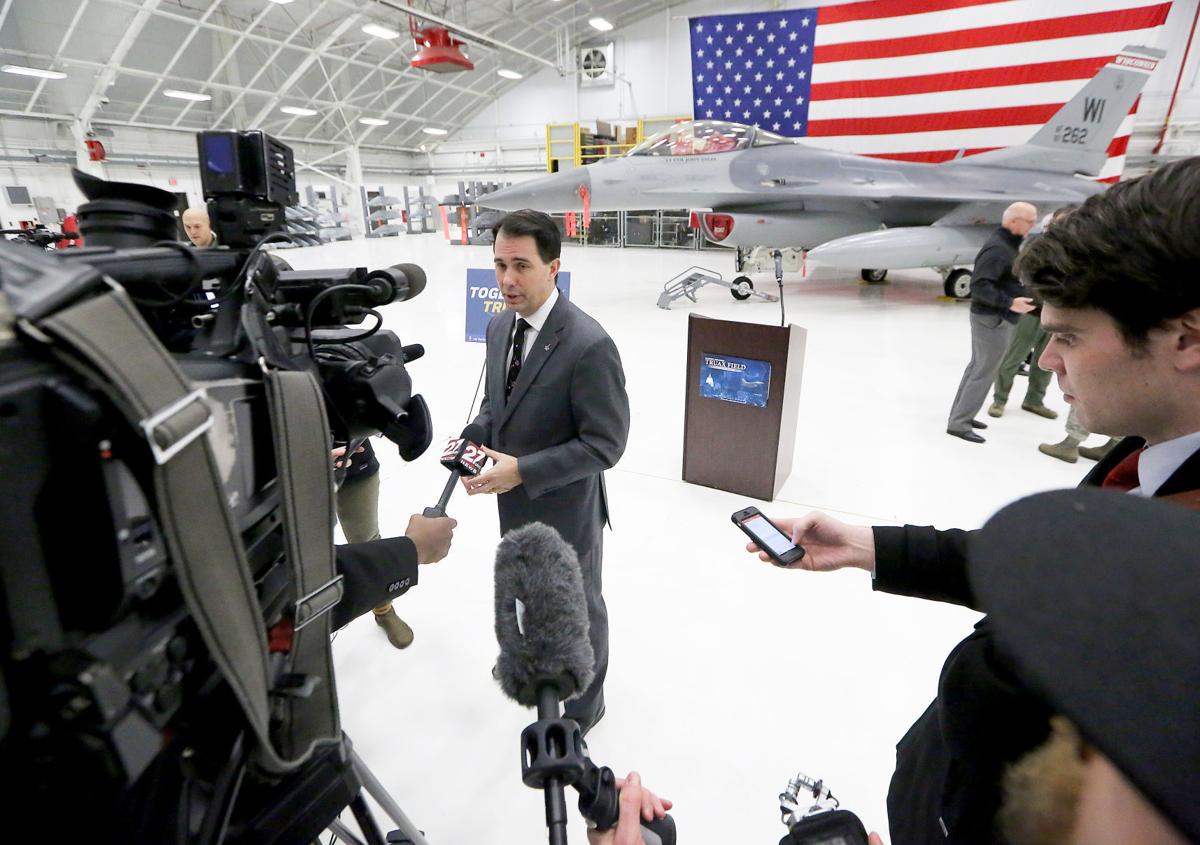 The U.S. Department of Defense could divert up to $8 million from Madison's Truax Field to help fund border barriers that are part of President Donald Trump's national emergency declaration.
Records show the department is considering redirecting funds from a project at Truax Field Air National Guard Base — along with others across the world — to help pay for the construction of a border wall to address what the president and some Republicans are calling a humanitarian crisis.
The department has not yet decided which projects would lose funding.
At risk is $8 million at Truax for the construction of a small-arms firing range. The money is set to be awarded in March 2020.
"We will work within the constraints of whatever budget comes to us," said Joe Trovato, a spokesman for the Wisconsin National Guard. "We don't anticipate any issues with fulfilling our state or federal mission."
A $23 million project to construct "transient training barracks" at Fort McCoy, near Tomah, is also on the list of projects with funding the DOD could tap, but it's unlikely.
A DOD spokesman told the Wisconsin State Journal no military housing, barracks or dormitory projects will be delayed to fund construction along the border.
The Defense Department has not yet decided which segments of the U.S. border will get more barriers, but such a decision will eventually inform which military construction projects would lose funding.
The records indicate the department would not divert funds from construction projects that have already been awarded, nor would it touch projects with award dates in fiscal year 2019.
Gov. Tony Evers and Attorney General Josh Kaul, both Democrats, announced earlier this month they would join a multi-state lawsuit seeking to invalidate Trump's emergency declaration.
The attorneys general in the case argue the emergency declaration violates the U.S. Constitution's separation of powers and that it could redirect funding away from Wisconsin and other states to pay for the wall.
The emergency declaration the president made last month aims to redirect $8 billion in federal funds to build a wall at the U.S.-Mexico border.
State's senators
U.S. Sens. Ron Johnson, R-Oshkosh, and Tammy Baldwin, D-Madison, recently ended up on opposite sides on the question of whether Congress should overturn Trump's emergency declaration, which many on the left have called a manufactured crisis.
Johnson voted against a bill that would have nullified the emergency declaration, while Baldwin and 12 Republican senators voted in favor. Trump vetoed the measure Friday, his first use of the veto pen.
Baldwin in a statement argued there isn't a factual basis for the president to declare a national emergency and said it's wrong to take billions of dollars from the military to pay for the wall.
"This is clear misuse of funding appropriated by Congress, and the president should not be diverting investments in military readiness because it will make us less safe," Baldwin said.
Johnson, also in a statement, said funding for the border wall is necessary and that the impact on military projects would be minimal.
"We are facing a growing humanitarian crisis, which is why I voted to take steps to secure the border and have urged the president and my colleagues to fix our broken immigration system that incentivizes people making a very dangerous journey and break(ing) our laws," Johnson said. "If Democrats in Congress do their job and work with Republicans to pass appropriation bills on time, all construction projects should proceed on schedule."
Department of Defense documents show that if Congress enacts the 2020 budget on time as requested, no military construction project would be delayed or canceled.
Hope for makeup
White House Chief of Staff Mick Mulvaney, downplaying the effect on military construction projects, told CBS' "Face the Nation" that military construction funds are authorized to be spent over a five-year period and only funds that are not obligated to be spent this year will be put toward the wall. Both the Fort McCoy and Truax projects fall into that category.
"Congress will pass another appropriation this year, next year, so that ultimately none of the programs would be impacted," Mulvaney said.
Trump's annual budget, deemed dead on arrival by Democrats, requests $8.6 billion for wall funding and another $3.6 billion to backfill military construction funds proposed to be diverted.