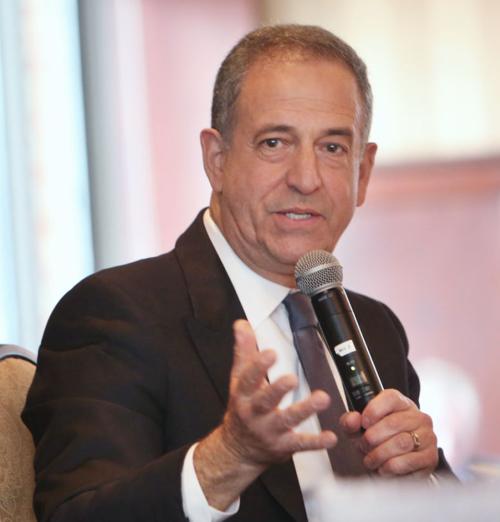 The political arm of U.S. Senate Democrats is delaying the launch of its advertising in Wisconsin's U.S. Senate race, billing it as a show of confidence that Democrat Russ Feingold will best Republican Sen. Ron Johnson on Nov. 8.
Not everyone is writing off the race, though. A new super PAC on Wednesday announced a six-figure ad buy that slams Feingold for voting to allow partial-birth abortion.
Lauren Passalacqua, a spokeswoman for the Democratic Senatorial Campaign Committee, confirmed Wednesday that it is canceling the first week of a multi-week advertising blitz in Wisconsin. DSCC officials say the committee's independent expenditure arm had planned to air TV ads in Wisconsin starting in early October, but that start date now is being delayed.
"Feingold is running an incredibly strong campaign focused on the best interests of Wisconsin families," Passalacqua said. "We feel confident about our chances here."
Heading into the campaign, the Johnson-Feingold race had been seen as one of about a half-dozen that would decide which party controls the U.S. Senate in 2017.
Since then, polls consistently have shown Feingold leading the race. He led Johnson 44 percent to 39 percent in the latest Marquette law School poll, with Libertarian Phil Anderson getting 7 percent.
The Johnson campaign downplayed the significance of the DSCC decision, saying in a statement that "this race remains as tight as ever."
The super PAC airing the anti-Feingold TV ads is Reform Wisconsin Fund. The ads blast Feingold for abortion votes he cast during his three terms in the U.S. Senate from 1993 to 2011.
"Russ Feingold voted eight times to allow partial-birth abortions as late as the ninth month of pregnancy. Unimaginable? That's Russ Feingold," the ad's narrator says.
Reform Wisconsin Fund spokesman Chris Martin said the ad buy is about $365,000 for its first week and will air in the Milwaukee, Green Bay, Wausau and Eau Claire-La Crosse media markets.
Reform Wisconsin Fund, created earlier this month, is a separate entity from the similarly named Reform America Fund, which rolled out ads earlier this month hammering Democratic presidential nominee Hillary Clinton. The funds share the same spokesman in Martin and treasurer in Lorri Pickens and are registered to the same address in Black Creek.