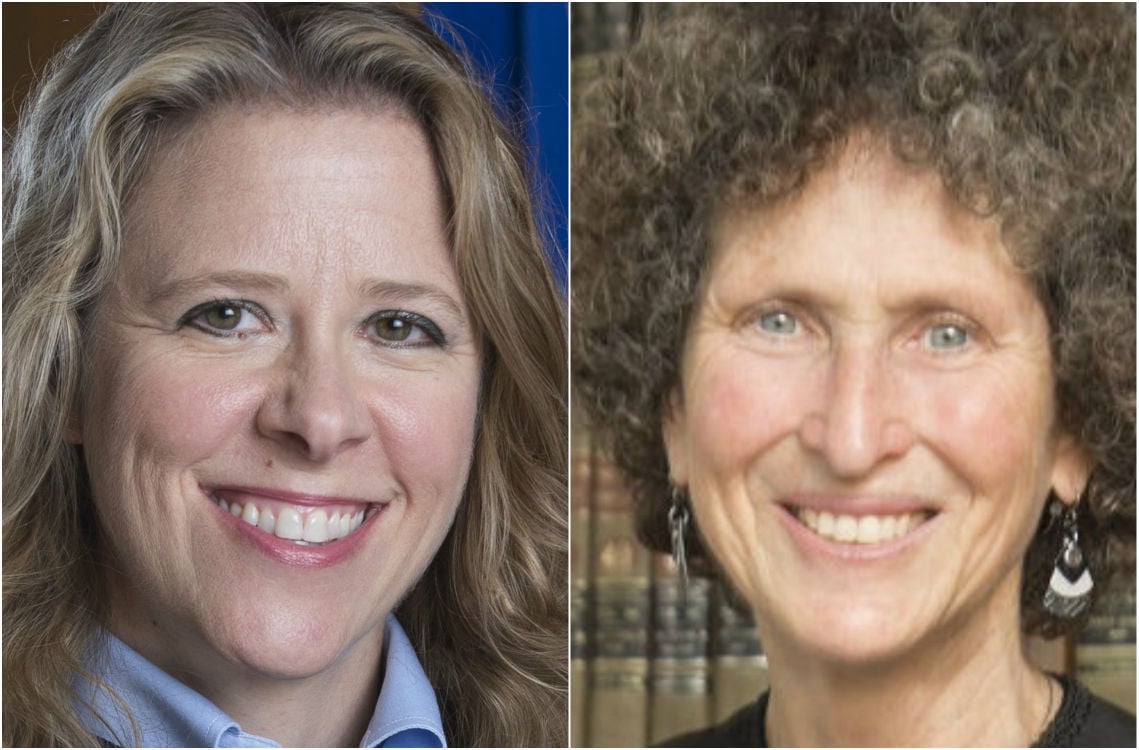 Last Tuesday's primary results for a seat on the Supreme Court should serve as a wake up call for conservatives, whose preferred candidate, Justice Rebecca Bradley, now finds herself in a closer race with Appeals Court Judge Joanne Kloppenburg than many had predicted, political strategists say.
After an outside conservative group spent hundreds of thousands of dollars on advertisements promoting Bradley, she received 45 percent of Tuesday's vote in a three-way primary, 2 percentage points ahead of Kloppenburg. The two defeated Milwaukee County Judge Joe Donald, who drew 12 percent.
Voters return to the polls April 5, the same day as Wisconsin's presidential primary, which could balloon turnout from Tuesday's small showing, and after outside interest groups will likely spend hundreds of thousands on behalf of both campaigns.
"The good thing about primaries is it tests your organization — (Bradley's campaign) got a wake-up call and realized they need some work in certain areas," said Bill McCoshen, a Republican strategist and lobbyist.
Republicans say the race comes down to name recognition. Bradley has been in office only since October, when she was appointed by Gov. Scott Walker to fill the vacancy left by the death of Justice N. Patrick Crooks. Kloppenburg, meanwhile, ran in a highly scrutinized race in 2011 against Justice David Prosser.
"(Bradley's) not as well known as she and her supporters may have thought. And they're going to have to spend a lot of time and money over the next seven weeks not only introducing her but drawing a contrast with Judge Kloppenburg," said McCoshen.
"Kloppenburg's probably got higher name ID because she's already run statewide, and that race got more media attention than just about any Supreme Court race in Wisconsin history, so she's got some residual name ID whereas Justice Bradley really doesn't."
Democrats say Bradley also is being hurt by her ties to Walker, who previously appointed her to the Milwaukee County bench (2012) and then to the District 1 Court of Appeals (2015) .
Walker's approval rating among Wisconsin voters is 38 percent, according to the latest Marquette Law School Poll.
"The Republicans can't underestimate how bad Scott Walker is a drag on his allies," said Sachin Chheda, a Democratic strategist who worked on Donald's campaign.
"The ultimate question in this contest is probably going to come down to, 'Is Gov. Walker an 800-pound anvil around the neck of Judge Bradley or something less than that?'" said Democratic strategist Joe Zepecki, who was spokesman for Madison School Board member Mary Burke's unsuccessful challenge to Walker in 2014.
But McCoshen said the campaigns in the 2011 race between Prosser and Kloppenburg "made it all about Scott Walker," and Prosser prevailed.
The Supreme Court race is officially nonpartisan, but jurists and candidates typically split along ideological lines.
Bradley said in an interview she was pleased with the primary results. She said she's committed to "continue the positive campaign" she started with, "focused on my qualifications."
She said she doesn't expect Walker to be a factor in her race.
"I don't think that the voters are very focused on the fact that Gov. Walker appointed me to the Supreme Court," Bradley said. "I think people understand he was fulfilling his constitutional duties."
Kloppenburg campaign manager Melissa Mulliken said the primary results say "clearly that voters want an independent judiciary and not one dominated by special interests, partisan politics and Scott Walker."
Mulliken said Kloppenburg was not available for an interview.
The 2011 race that pitted Kloppenburg against Prosser months after Walker signed the Act 10 collective bargaining law was considered a referendum on Walker.
Republican strategist Mark Graul said the race won't be affected by Walker's standing among Wisconsin voters.
"I think the election will revolve around Justice Bradley and Judge Kloppenburg — I don't think it will have anything to do with external people," said Graul, who worked on the campaigns of current justices Annette Ziegler in 2007 and Michael Gableman in 2008.
Graul said that typically the candidate with the most support from law enforcement prevails, and he characterized that candidate as Bradley.
He said it's tough to predict what will happen in April, since the electorate will likely be significantly different given heavy interest in the presidential primary.
Presidential turnout
The April 5 election falls on the same day as Wisconsin's presidential primary, which will pump up turnout, although it's unclear in whose favor.
"The (turnout) in April will likely be twice the size and could even be bigger than that if these presidential campaigns are still rocking and rolling at that time," Graul said.
If GOP frontrunner Donald Trump does well on Super Tuesday March 1, Zepecki said, enthusiasm among Republicans for voting in Wisconsin's primary may wane, and vice versa if one of the Democratic candidates makes big gains between now and April.
McCoshen said he expects turnout to be larger for Republicans than Democrats, especially if Trump is still the party's frontrunner, a scenario that could draw new voters.
"So far in the presidential primaries the energy has been on the Republican side," he said. "Wisconsin will be competitive in both races. They will not be decided by the time they get here, but I still expect to be there more energy and excitement on the Republican side that should certainly help (Bradley)."
But Chheda said turnout will depend largely on whether one or both parties' presidential primaries are still competitive.
McCoshen said he expects hundreds of thousands of dollars to be spent on behalf of the candidates by heavy spenders like Wisconsin Manufacturers & Commerce, which has supported conservatives for the court, and the Greater Wisconsin Committee, which has supported liberals.
The Wisconsin Alliance for Reform, a conservative group that has run thinly veiled campaign ads to boost Bradley's candidacy, is so far the only outside group to spend heavily on the race. Chheda said groups interested in spending on behalf of Kloppenburg "needed to see something to decide to make the investment."
"I think they saw what they needed to see," he said. "I think it's hard to argue that it's not worth trying, when (Kloppenburg) overperformed and Bradley underperformed."