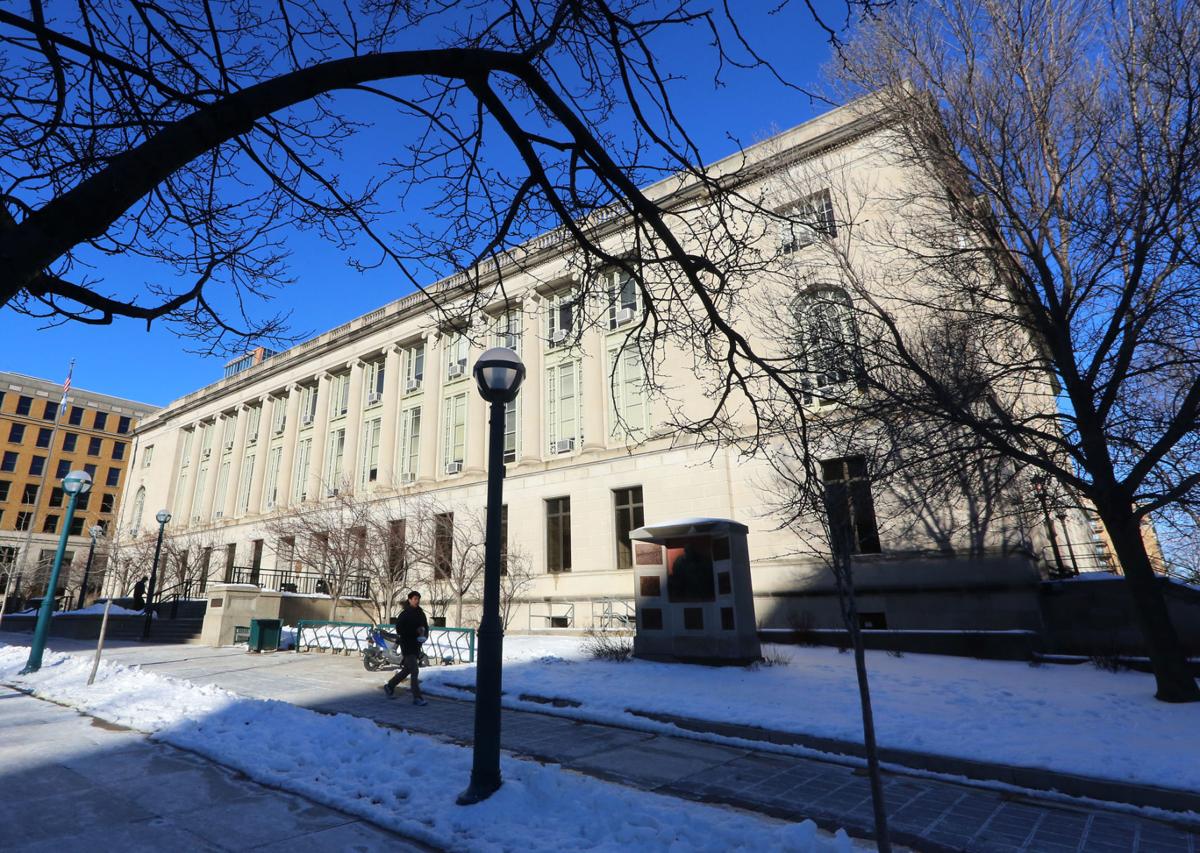 The two-year, $30 million renovation of the Madison Municipal Building will be delayed and could be scaled back after bids from two general contractors came in as much as nearly 50 percent higher than expected for construction.
City officials said Friday that they plan to rebid the project next month after the city's Board of Public Works on Feb. 8 rejected a $29.6 million bid from Miron Construction and a $32 million bid from Tri-North Builders.
The city had budgeted $20 million for the construction phase of the project, while $10 million has been earmarked for design fees, city staff time and environmental remediation projects, including asbestos removal.
It's unclear how long the project will be delayed but in November, nearly 200 city staff and a half dozen offices were moved out of the building into leased space at various Downtown locations. A delay in the renovation will likely mean more lease costs for the city.
Mayor Paul Soglin said late Friday that engineers are researching options that could include scaling back some aspects of the work but the project will need to be rebid.
"I had hoped the bidding piece of the project was behind us," Soglin said. "Obviously, we've got a lot of work to do to close the gap. It will take staff time to do it."
Soglin said the delay would not impact the adjacent $170 million Judge Doyle Square project, which will include a 250-room hotel, retail and commercial space, housing and more than 1,000 parking spots on blocks that now hold the Madison Municipal Building and Government East parking garage.
The Municipal Building, located across Martin Luther King Jr. Boulevard from the City-County Building, was constructed in the 1920s and purchased by the city in 1979.
Engineers say that most of the exterior limestone is in good condition, and the structure is sound, but the building has major maintenance problems and wasn't designed for its current use.
They say the boilers, cooler, chilling tower, fire alarm system, main electrical service and upper-floor wiring are beyond life expectancy and there is no sprinkler system.
The Municipal Building is home to key city services including planning, the Community Development Authority, Community and Economic Development divisions, building inspection, real estate, traffic engineering and zoning.
City Council President Mike Verveer, 4th District, said Soglin plans to have a meeting next week to discuss the project and consider options, one of which could be breaking up the renovation into smaller projects to encourage more contractors to bid without taking on so much risk.
"I was bracing for bad news knowing that we didn't really have much interest from general contractors," Verveer said. "It means the project is delayed and time is money, unfortunately."
Bryan Cooper, an engineer and architect for the city's Department of Engineering, said if the city puts the project out to bid in March, it could have an accepted bid in April but the city won't accept a bid that isn't at, or very close to $20 million.
"That's kind of the limit we can go to," Cooper said.
City officials said there were several reasons for the higher bids, including a shortage of companies that can do the work required, combined with Madison's hot construction market that has kept contractors busy on commercial and residential projects throughout the county and beyond. In addition, the city's desire to restore the building to its original design also added to the cost.
Roofing bids were $500,000 higher than expected, but the biggest increase came from mason restoration and historic window restorations that were $4 million over what the engineering bid had estimated.
"There are not a lot of folks who do that kind of work and there is a lot of that work being done around the world," Cooper said. "So people see this as an item that they could handle, but at a cost obviously."
One way to reduce costs while still meeting preservation requirements is to repair, rather than replace, most of the windows, Cooper said. A minimal approach would include only replacing broken windows or windows altered by air conditioners, he said.
"I think by repairing a lot of those other windows, we aren't going against the grain of preservation goals," Cooper said.
Verveer said while it's unclear how long the renovation could be delayed, he is hopeful it will be only a few months.