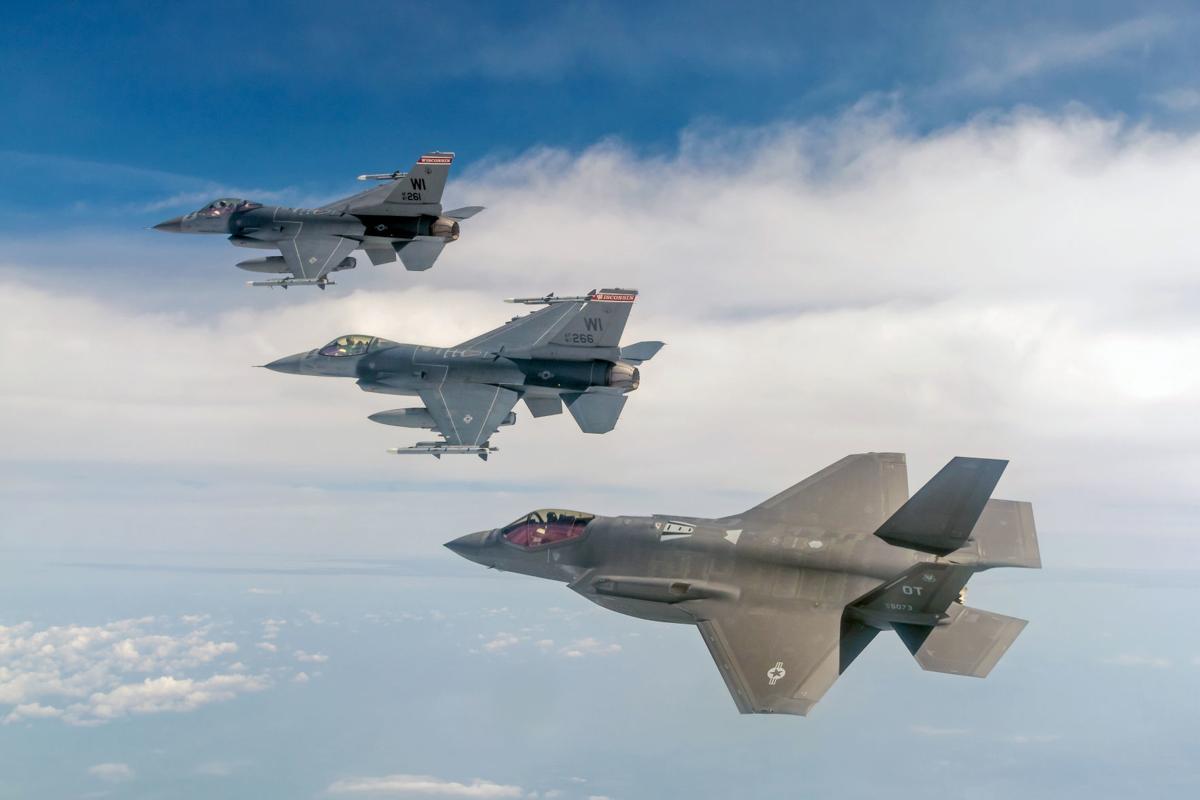 More than 500 mobile homes and low-income housing units located near Truax Field likely will not be eligible for soundproofing if a new fighter jet program comes to field and brings heightened noise with it, according to an analysis by the city of Madison released Tuesday.
The base at Truax Field, located at the Dane County Regional Airport, is one of two preferred sites for a squadron of 20 F-35 jets that could create dozens of jobs, but also noise levels at around 65-70 decibels -- about as loud as a vacuum cleaner -- for more than 1,000 nearby households.
In a document released Tuesday, city staff from the Department of Planning and Community and Economic Development analyze an impact study from the Air Force, and highlight several areas of impact where the Air Force missed key details.
City staff do not take a position on the fighter jet program, but point out limitations of getting federal funding for soundproofing homes and argued that the Air Force "understated" the impact on low-income communities and people of color in its study.
Some homes and businesses affected by noise could be eligible for grants from the Federal Aviation Administration to improve noise insulation, according to the Air Force's draft environmental impact study. But the study acknowledges that there is no guarantee sound mitigation will happen.
And according to Tuesday's analysis, as many as 500 homes may not be eligible at all.
To get federal funding for noise mitigation, homes would need to be located within a specified area where noise exposure levels will be at 65 decibels or more. Any house outside of that zone -- even those right next to the dividing line -- would not be able to receive grants for soundproofing.
Just outside of the zone are several low-income housing communities, including Truax Park Apartments and 36 townhomes owned by the Community Development Authority, according to the city. The Truax Park apartments have 195 income-restricted units.
"While these areas will experience virtually identical noise exposure as residents who live on the contour line, they will not be eligible for federal sound mitigation funding through the Noise Compatibility Program," the city analysis states.
An additional 312 mobile homes located just west of the airport and inside of the 65 decibel zone would also "presumably not" be eligible for soundproofing, according to the city.
You have free articles remaining.
While the noise from the F-35 jets would render the mobile homes on Packers Avenue "incompatible for residential use," the city's analysis says FAA funding would only be available for permanent structures.
"It appears the FAA considers mobile homes non-permanent structures and therefore does not allow soundproofing as a mitigation option," the analysis states.
Although the mobile homes would likely not receive funding support for soundproofing, the city notes that "incompatible (for residential use) does not mean uninhabitable."
In addition to sound mitigation being limited, city staff argue that the Air Force understated the disproportionate impact sound would have on communities of color.
Staff said the Air Force's impact study focused only on areas west of the airport -- and generally outside of the 65 decibel zone -- as having higher percentages of people of color.
For instance, in two areas just west of the 65 decibel zone, around 50% of the population are people of color, versus 26% for the city of Madison, according to the city's analysis.
But the main chunk of people inside of the impacted zone still have higher minority populations at 28.8% and 43.9% for two areas that fall within the zone.
"While the EIS (environmental impact study) acknowledges it has a disproportional impact on persons of color, its methodology results in this issue being understated," city staff said.
The Air Force announced in December 2017 that Truax was one of two preferred sites for the new jets — Montgomery, Alabama's Dannelly Field is the other. Eighteen bases total had been in the running.
Meetings about the F-35 jets will be held Wednesday at 5:30 p.m. in the Sherman Middle School cafeteria and Thursday at 5 p.m. in the Alliant Energy Center Exhibition Hall.