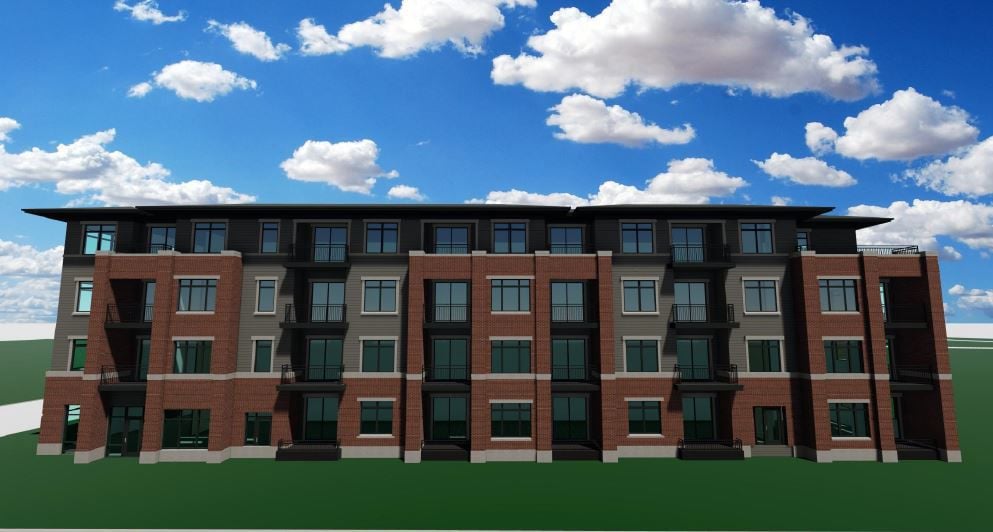 A developer is proposing two projects that would deliver a combined 134 housing units to Madison's North Side, mostly for low-income seniors, but the neighborhood is concerned about the cumulative effect of several plans for the area.
Alf McConnell, a general partner in the projects and president of Evanston, Illinois-based Liberty Mortgage and Development Co., is proposing a $13.5 million, four-story project that would include first-floor commercial space and 64 senior units at 1814 Packers Ave. About 54 units would be for people making up to 30%, 50% or 60% of Dane County's median income, which is $80,400 for a family of two.
The building would have one- and two-bedroom units, exercise and community rooms, and other amenities, with 48 underground and 16 surface parking spaces. The vacant site was once a Hertz rental car lot.
McConnell is also proposing a $15.5 million project, at 1825 and 1837 Aberg Ave., which would include first-floor commercial space and 63 senior housing units in a four-story main building, and a separate two-story building with seven townhouses for families. The development would also be a mix of low-income and market-rate units.
The main building would include one- and two-bedroom units with 50 underground parking spaces, 13 surface spaces and seven garages for the townhouses. An office building on the site would be demolished.
"I have a partiality towards Madison," said McConnell, who earned bachelor's and graduate degrees at UW-Madison. "There's a need for affordable housing in this area. I also have a partiality toward seniors."
McConnell said he intends to seek city and county financial support, as well as Wisconsin Housing and Economic Development Authority tax credits for the affordable units. "It's the only way to make the numbers work," he said.
He hopes to begin construction in the spring of 2021 and complete the buildings in a year.
The Aberg Avenue project would be next door to MSP Real Estate's proposed $25 million complex at 121 Huxley St. That development would include a four-story building with commercial space and 50 mostly low-income apartments, and another four-story building with about 61 mostly low-income senior units.
You have free articles remaining.
The city has already approved $1.7 million from its Affordable Housing Fund for the MSP project, and the county has approved about $1.2 million. Some 94 of the 111 units would be for people making up to 60% of the county median income, including 23 for people making up to 30% of median income and 43 for those making up to 50%.
MSP also intends to seek low-income housing tax credits from WHEDA. It must get conditional use approval from the city, with consideration by the Plan Commission set for Jan. 27.
The neighborhood has applauded MSP for transparency and outreach, but it has concerns that McConnell is seeking to move fast in an area where a lot could be happening, said Renee Walk, co-chair of the Sherman Neighborhood Association.
"There's a general concern that there's a lot of affordable housing being proposed for a very tight area," she said. "We don't want to be against development. We just want to understand what's happening. We have a lot going on in our neighborhood."
There's also a concern about the three projects adding a lot of commercial space. "We're not hurting for open commercial space," she said.
Neighbors have generally had a more favorable initial reaction to the Packers Avenue project, with more concern about the Aberg Avenue proposal, said Ald. Syed Abbas, whose 12th District includes the sites. He has not taken a position on the proposals.
Abbas said he has heard from residents who like the idea of building on the vacant lot on Packers Avenue and from seniors who want to downsize and are attracted to new low-cost housing that would let them remain on the North Side.
But residents are concerned about the Aberg Avenue project because it would be next to the larger MSP project and quickly add density to an area that already experiences significant traffic and other challenges, Abbas said. "They want to see how the MSP project goes first," he said.