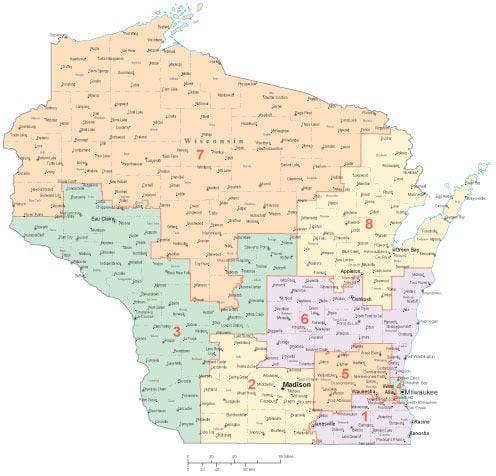 If current trends hold, Wisconsin within the next two decades could experience the first population decline in at least a generation, prompting myriad economic and political consequences.
That comes as the fertility rate for women in their childbearing years has fallen to the lowest level since 2002, prompting concerns Wisconsin within the next decade could see an unprecedented natural population decline, in which the number of deaths in the state exceeds births.
It's unclear whether a natural population decline is certain to lead to a loss in Wisconsin's total numeric population, which stood at about 5.7 million after the 2010 U.S. Census.
But because Wisconsin already faces difficulty attracting immigrants and new residents, the state is at risk of seeing its total population fall if more out-of-state residents and immigrants don't move into the state.
A population decline could have significant implications for economic growth, Wisconsin's political representation and revenue for key state programs.
David Egan-Robertson, a demographer for UW-Madison's Applied Population Laboratory, estimates Wisconsin may see deaths overtake births by the early 2030s.
At that point, international migration into the state might become the most important determinant of whether Wisconsin loses or gains population, because population gain from out-of-state residents is virtually canceled out by Wisconsinites leaving the state.
Net migration into Wisconsin has been erratic in recent years. For example, the state saw a net migration loss of 6,090 people in 2015, while it experienced a net gain of 7,040 residents in 2018.
"Eventually, Wisconsin will reach that point where none of our population change can be attributed to that natural increase (in population)," Egan-Robertson said.
According to Forward Analytics, Wisconsin's falling birth rate can be attributed to a couple of major factors, including fewer babies born to teenage mothers and young people delaying childbirth.
There's a chance Wisconsin's declining birth rate could reverse course if it turns out millennials are simply delaying childbirth until their 30s, rather than having fewer children.
Political consequences
A decline in the state's population could have significant political consequences.
Wisconsin's eight U.S. House seats might not be on the chopping block for 2020, but the state could be at risk of losing a seat after the 2030 Census, said David Canon, a UW-Madison political science professor who studies redistricting.
Every decade after the census, the U.S. Constitution requires the nation's 435 House seats to be reallocated to account for any fluctuations in population.
Congress since the early 1940s has used the same mathematical formula to distribute congressional seats among the states.
The last time Wisconsin lost a congressional seat was after the 2000 Census, when the state lost one of its nine House seats despite 9.6% growth in the state's population during the 1990s. Despite the gains, Wisconsin was unable to keep up with the dizzying growth in the South and West.
The state maintained eight seats after the 2010 Census.
"The fact that Minnesota was ahead of us on this list to me probably indicates we're safe for 2020," Canon said.
But after 2030, Canon said, Wisconsin could certainly be at risk of losing a congressional seat, especially if the influx of new residents into the state fails to make up for a possible natural population decline.
After 2020, the states at risk of losing a congressional seat are California, Illinois, Michigan, Minnesota, New York, Ohio, Pennsylvania, Rhode Island and West Virginia.
The states that could gain a seat after 2020 are: Arizona, Colorado, Florida, Montana, North Carolina, Oregon and Texas.
Economic, policy implications
If Wisconsin ends up losing population, the economic and policy fallout could be mixed.
Dale Knapp, who leads Forward Analytics, said a declining population could slow economic growth in Wisconsin and lead growing companies to expand elsewhere.
"You're going to see less economic activity than you would if the population was growing," Knapp said, adding that a declining population could worsen already significant labor shortages across the state.
Wisconsin's workforce woes may be also be heightened by an increasingly aging population in need of services Wisconsin's workforce may have trouble providing.
But while slow population growth might be bad news for employers, Knapp said the potentially positive consequence for workers is higher wages.
"You have more competition for workers, and what you end up seeing is rising wages," Knapp said.
Fewer people in the state could also lead to fewer tax dollars down the road, meaning Wisconsin might be faced with choosing whether to increase taxes or cut services.
That's because while fewer people might mean less demand for state-supported services, fixed costs can often remain the same or increase with inflation.
Jon Peacock, director of the liberal Wisconsin Budget Project, said a possible population decline won't have adverse consequences for most state programs if spending on those programs decreases proportional to the population decline.
But Peacock said the revenue decline stemming from a population decline could be felt disproportionately in rural areas of the state, where cost cutting cannot keep pace with declining revenue, particularly in schools.
That could prompt cash-strapped districts to close their doors, he said.