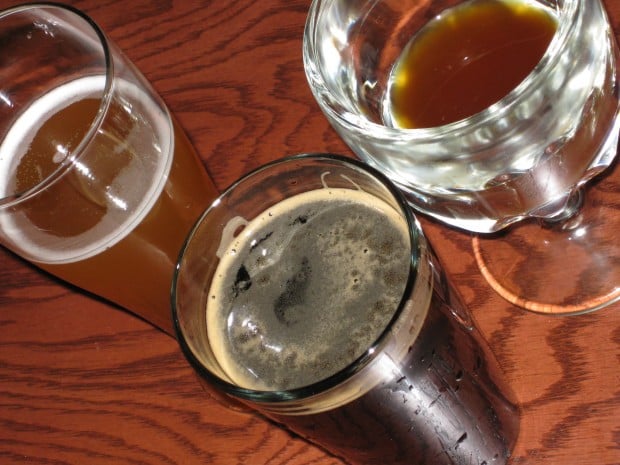 Fake ID users beware: Bar or store owners could sue you for $1,000 if you try to trick them into selling you alcohol.
Under a bill with bipartisan support in the state Legislature, drinkers under 21 or their parents could be sued if they misrepresent their age to get alcohol.
The measure, Assembly Bill 61, is patterned after the so-called "brown jug" law in Alaska, said sponsor Rep. Andre Jacque, R-DePere. Sen. Rick Gudex, R-Fond du Lac, is sponsoring the companion Senate Bill 46.
Jacque said underage drinkers who enter a building with a required sign warning underage drinkers about the possibility of a lawsuit and who try to illegally buy alcohol could be sued by the proprietor for $1,000.
The new penalty would be on top of municipal underage drinking tickets, which can range from $250 to $1,000, depending on the number of violations, he said.
"The law serves the dual purpose of deterrence and punishment, promotes supervigilance (and) discourages minors from coming in the door to make the purchase in the first place," Jacque told the Assembly Committee on State Affairs.
Jacque called underage drinking a "tremendous public health concern in Wisconsin." He cited federal statistics that say 20 percent of Wisconsin's young people ages 12 to 20 reported binge drinking in the previous month.
Alaska's law, passed in 2001, has "dramatically improved" ID checking among businesses that sell alcohol, Jacque said.
Tavern owners testifying at a hearing last week at the Capitol said the law would help them turn the tables on underage drinkers who pose a danger to their liquor licenses. Purveyors can face hundreds of dollars in fines and possible loss of their right to sell alcohol if caught selling to underage customers.
Pat Purtell, owner of Terry's Bar in Oshkosh, told lawmakers he has collected as many as 300 fake IDs in less than six months, but police never followed through on his requests to investigate underage drinkers.
You have free articles remaining.
"The bottom line is, the system is broke the way it is now," said Purtell, who has run bars for 40 years. "It is a battle every single day to keep these kids out. I mean, they're breaking the laws ... Please understand, I don't want to serve them."
Democrats on the committee said they like the measure but were concerned about the provision allowing for "reasonable attorneys' fees" to be charged. Rep. Robb Kahl, D-Monona, said the costs to young adults — and their parents if they're 17 or younger — could be thousands of dollars if attorneys' fees are included.
Jacque agreed to reconsider the issue of attorneys' fees as the proposal moves through the Legislature, saying it is "not the primary thrust" of the bill.
The main group pushing the legislation is the Tavern League of Wisconsin, which has advocated for similar bills that have fallen short of passage in recent sessions.
"Over the years I have testified on many legislative bills, and I can honestly say this is the first time I have testified where it is a no-brainer," said Pete Madland, the Tavern League's executive director. "I cannot imagine anyone, (except) maybe some underage people ... opposing this bill."
Health First Wisconsin, which works to prevent alcohol abuse, did register in opposition to Assembly Bill 61. The group's executive director, Maureen Busalacchi, said in a statement that it could provide a "financial incentive to licensed premises owners, almost rewarding them for allowing underage drinking to occur that their establishment."
But Madland said owners would not jeopardize their liquor licenses for the chance of making money by entrapping underage drinkers.
A group of UW-Madison students eating lunch at the Memorial Union on Monday said the proposed penalty was too harsh, especially for students struggling to pay tuition and other expenses.
Margot Peterson, a 19-year-old freshman from Whitefish Bay, said underage drinking tickets, which can cost hundreds of dollars, already deter those under 21 from hitting the bars — but only after they're caught.
"Our friends who've gotten tickets, they just don't go to bars anymore," Peterson said.
Just putting a sign on the front door probably wouldn't cut it, she said, adding, "It is a matter of following through and actually suing."
The measure would not be a complete ban on underage drinking. It would not change the existing state law that allows children under 21 who are accompanied by a parent to consume alcohol.