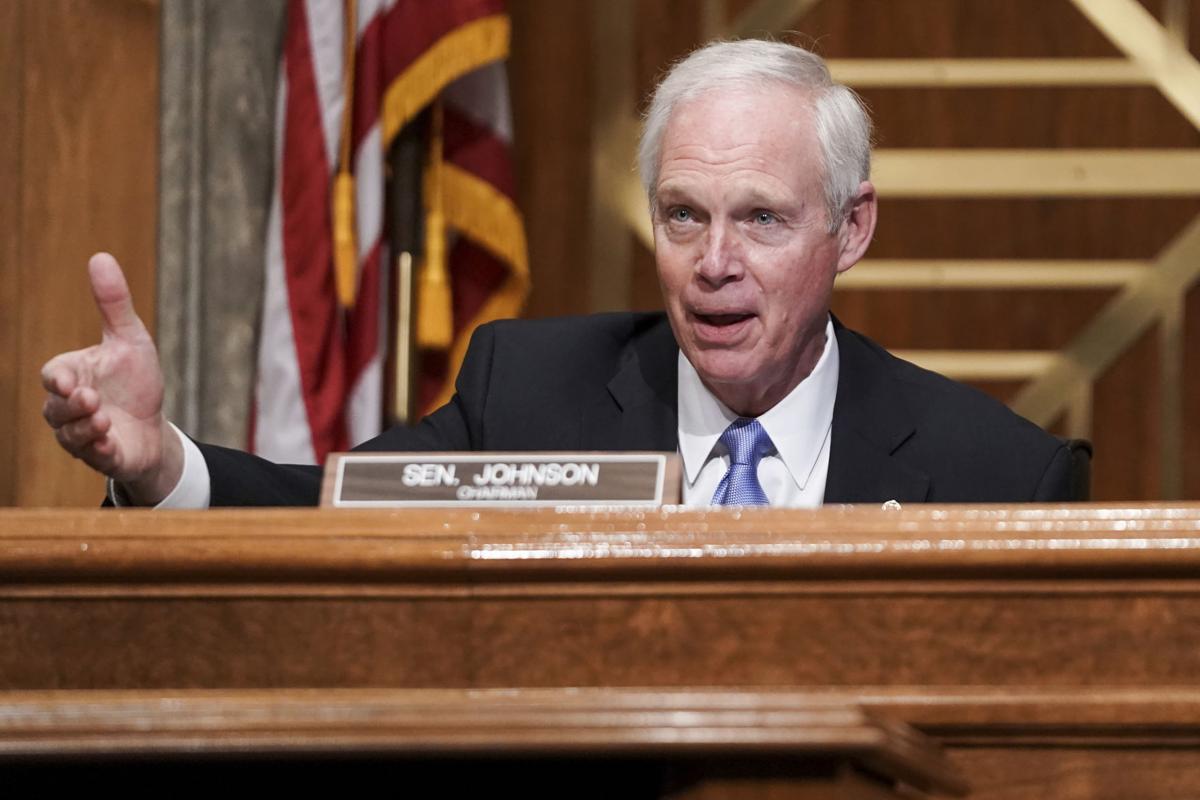 WAUSAU — The Minocqua Brewing Co.'s Super PAC has raised more than $50,000 as part of its effort to oust U.S. Sen. Ron Johnson and U.S. Rep. Tom Tiffany because they challenged the election of Democrat Joe Biden.
The brewery has already paid for billboards throughout the region calling on the two Republicans to resign, the Wausau Pilot & Review reported. Two billboards on Highway 29 near Wausau and a third placed on Highway 51 near Tomahawk show photos of the two lawmakers with the words "They Must Resign" in large red lettering.
The company, owned by Stevens Point native Kirk Bangstad, announced the launch of a Super PAC just before the riot at the U.S. Capitol. In a Jan. 4 post announcing the Super PAC, Bangstad called lawmakers who backed Trump's false claims that he won the election "traitors to our country."
The brewery said it will also donate 5% of all profits to the Super PAC. The group is also targeting state Rep. Rob Swearingen, R-Rhinelander, for his opposition to Gov. Tony Evers' efforts to combat the COVID-19 pandemic.
All three Republicans are up for reelection in 2022.
---
Your letters to the editor: Sen. Ron Johnson sounds like Joe McCarthy
Your letters to the editor: Sen. Ron Johnson sounds like Joe McCarthy
Sen. Johnson sounds like Joe McCarthy -- Dennis Anderson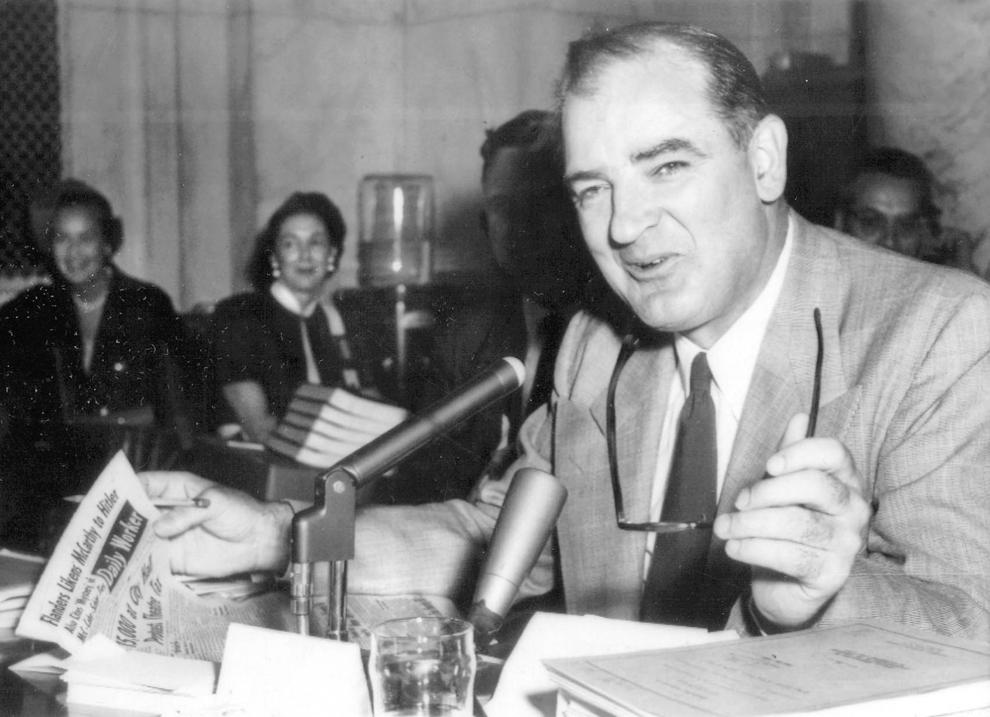 Shades of 1950: Join me in Mr. Peabody's WABAC (or Wayback) machine.
On Feb. 9, 1950, in a speech in Wheeling, West Virginia, Wisconsin's very own U.S. Sen. Joseph McCarthy said, "I have here in my hand a list of 205 [State Department employees] that were known to the secretary of state as being members of the Communist Party and who nevertheless are still working and shaping the policy of the State Department." The number of commies he claimed to have identified varied from speech to speech and interview to interview, but there were a lot of 'em.
Fast forward to Nov. 18, 2019. Another Wisconsin senator, Ron Johnson, R-Oshkosh, pens a letter to his Republican colleagues in the House stating that he believed "A significant number of bureaucrats and staff members within the executive branch have never accepted President Trump as legitimate and resent his unorthodox style and his intrusion onto their 'turf.'" They are engaged, says the senator, in an "ongoing effort to sabotage his policies and, if possible, remove him from office."
Substitute "never Trumper" or "deep state" for "communist" in McCarthy's rant, and you've got yourself a match.
The historical company you keep is significant.
Can Evers function without email? -- Chuck Friedrichs
Regarding the story about WITI-TV (Ch. 6) requesting a day of email from Gov. Tony Evers, I do not find the governor's resistance to releasing the records alarming. What I do find alarming is that Gov. Evers has an extraordinary day if he writes one email a day.
How can anyone working in the state's highest office communicate -- let alone survive -- not using email. For the past 20 years, email has been an incredibly efficient way to get more work done in a hour than what used to take a week.
Does this 68-year-old man still write postal letters or have his staff compose his communication? My gosh, I hope he did not bring a rotary phone to the office and have the IT department help him check voicemails in the process.
All kidding aside, his quote of "If I do one email a day, that's an extraordinary day" is what I find most extraordinary about the continuing story.
Chuck Friedrichs, Madison
Abortion ignores the right to life -- Ron Dobie
"Abortion rights are under siege," declares Annie Laurie Gaylor in her Nov. 12 column "Overturn state law banning abortion." She goes on to preach, "No liberty is more primary than the right to control one's own body, fertility and family size — and thereby one's own destiny." Pretty impassioned rhetoric.
Liberty is, of course, enshrined in our nation's founding documents, the famous line being "life, liberty and the pursuit of happiness" found in the Declaration of Independence. Jefferson declared these rights to be "unalienable" or unable to be repealed by human laws.
Yet Gaylor overlooks that first right -- life -- to demand the liberty of enabling death through abortion. The pro-abortion crowd could be deemed an anti-life movement as they continue to abrogate the formerly unalienable right to life to foster their own bizarre sense of "liberty."
Offenses are clearly impeachable -- Bill Bessire
Should a president of the United States be impeached and convicted for witness tampering, stonewalling subpoenas, and asking a foreign leader to dig up dirt on a political opponent in exchange for aid? Of course.
It doesn't matter if the president has a last name of Trump, Obama, Bush or Clinton.
Bill Bessire, Sun Prairie
Wind power can help rural areas -- Jeff Rich
In the State Journal's Nov. 3 article "Winds of Change," the town of Forest in St. Croix County declared victory over the stalled Highland Wind project. But the situation can be better described as a loss.
Today's wind turbine technology is an inexpensive way to produce electricity because the fuel is free. Wisconsin imports roughly $14 billion of coal, oil and gas annually, sending investment and potential jobs out of state. Wind, solar and geothermal energy offer financial opportunities for rural communities at a time when agricultural landowners are suffering.
Wind power also has significant public health benefits. Pollutants from coal-fired electricity have been linked to asthma, respiratory death, cancers, reproductive issues and other human diseases. The health care community is overwhelmingly supportive of clean energy due to these concerns and the health impacts of climate change.
Organizations such as the American Lung Association and Practice Greenhealth, whose members include many U.S. health systems, all support clean, renewable technologies. For example, Wisconsin's own Gundersen Health System developed and co-owns the Cashton Greens Wind Farm with Organic Valley. 
Wind power development can be a victory for many rural communities in Wisconsin, as it has been in other states, and provide a brighter path toward the future.