Dane County Executive Joe Parisi will include $18 million for continued flood relief and future flood prevention efforts in his 2019 budget proposal, expected to be released next week.
Half of that, or $9 million, would be used to buy land prone to water runoff that would then be restored to prairie, which has better absorption capability.
Farmers and landowners also would receive funds in a county pilot program to plant portions of their land with prairie grasses that keep more soil in place and retain more water.
And municipalities would be able to apply for money from the county's Urban Water Quality Grant Program for stormwater control projects such as retention ponds.
Parisi and other Dane County officials announced the overall plan Tuesday. It will include funds for recovery from the devastating rains Aug. 20 that resulted in extensive flooding, current and future lake-level management and new practices to encourage storm water absorption and detention moving forward.
"You can't really pick out any one piece of it and solve the problem. It has to be a comprehensive package," Parisi said.
Assistance for private property and businesses that flooded hasn't been added to the upcoming proposed budget as the county continues to work with the Federal Emergency Management Agency, which could provide aid in the form of loans.
Municipalities whose parks and trails were ravaged by the downpour could receive a matching grant from a $1 million fund to repair those lands, Parisi said.
Parisi said the county needs to invest in rain mitigation for future heavy rains, which he said are inevitable with the current effects of climate change.
"We used to talk about 100-year rains," Parisi said. "Today, we experience 1,000-year rains, and we don't experience them every 1,000 years."
More than $300,000 would be spent on sandbagging machines, pumps and flood barriers to stop rising water in the future from overrunning businesses, homes and roadways.
To relieve the lingering threat of flooding along the Yahara River chain of lakes, the county hopes to double down on efforts to speed up water flow from the lakes. Lakes Mendota, Monona, Waubesa and Kegonsa have consistently risen above state-mandated maximums over the past several years because of blockages and choke points in the narrow Yahara River.
The county plans to study the current flow in real time, create simulations of different rain events and find choke points in the river that could then be addressed.
"There are too many choke points hampering our efforts to move water out of our system efficiently," Parisi said.
One area of study would be the boundary between lakes Monona and Waubesa. Lake Monona, a month after the Aug. 20 storm, is 8 inches higher than downstream Lake Waubesa, even though there is not a dam between the two.
County Board Chairwoman Sharon Corrigan introduced a resolution last week that would create an advisory group of experts to make recommendations on how the county can move forward, which would be due at the end of January. Board commissions would then work with the public to set policy recommendations by the end of March.
In the weeks after the Aug. 20 storm, the county's 11 aquatic plant harvesters have removed hundreds of dump-truck loads of weeds from the river, Land and Water Resources Assistant Director John Reimer told the County Board last week, more than doubling the speed of water flow.
Two more harvesters would be bought for the county's fleet as well as a hydraulic crane, which could be mounted to an existing barge to lift larger and heavier debris blocking the flow of water.
The significant growth of Dane County's population and subsequent developments have increased the amount of water running off asphalt into the lakes instead of being absorbed into the ground. With more land being paved over, Corrigan said, municipalities are less prepared for heavy rainfall.
"We also know that communities need to be resilient, and the kind of adversity we are going to be facing of increased precipitation" will continue, Corrigan said.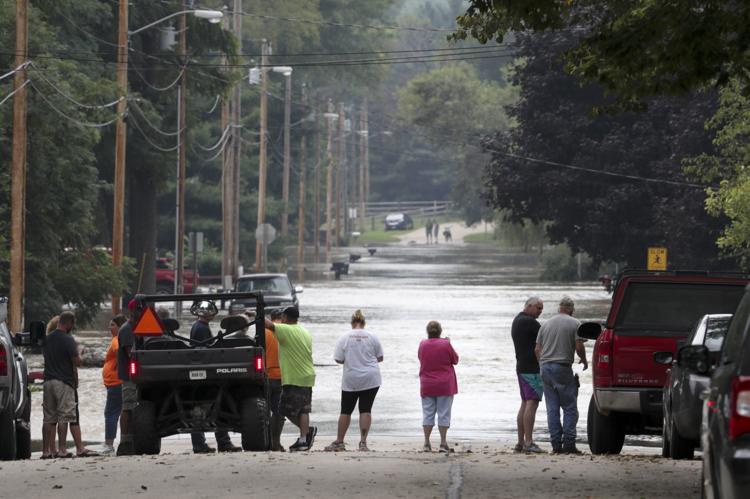 In preparation for another flood, the county would fund the purchase of another air boat for the Dane County Sheriff's Office to use for water rescues and a web-based communication system for 911 calls if the 911 center's phone lines are overwhelmed.
A fund would also be created to find emergency housing for people with special needs who may be displaced by flooding.
"We have to evolve with the evolving climate and do what we can to mitigate that damage, to prevent the damage and to be prepared to respond to situations like this," Parisi said. "It's the world that we live in now."