As Middleton continues to grow, the city has received more requests for hangar space at its small airport just west of Madison, prompting it to study potential expansion options.
The city hasn't committed to expanding the Middleton Municipal Airport, assistant planning director Mark Opitz said, but it is working with consultant Mead & Hunt to examine what, if any, expansion options are feasible or necessary along with how to finance it and address potential noise or environmental problems.
The Airport Master Plan Advisory Committee was created to help devise guidelines for development of the site over the next 20 years. The Federal Aviation Administration requires a master plan to be created if changes are to be made at an airport, Opitz said.
The committee includes city officials as well as representatives from the towns of Middleton and Springfield, a Friends of Pheasant Branch Conservancy member and business leaders. The committee will present a master plan recommendation next year to the Airport Commission and the City Council. The city would not be required to implement each of the improvements or additions.
The city doesn't expect the airport to grow significantly, Opitz said, and it will still likely serve mainly small aircraft like single-engine planes.
"We don't want to have an airport that is geared toward larger-sized aircraft," Opitz said. "Nobody wants to change the character of the airport."
But that doesn't mean the airport won't be noisier if an expansion is recommended, Opitz said. More hangar space would lead to more airplanes and more flights.
Mark Warshauer, a representative of Friends of Pheasant Branch Conservancy who is on the master plan committee, said no environmental concerns have been raised yet, but the group is monitoring the process. Warshauer said planning is still in the early phases with plenty of time for study and public input.
You have free articles remaining.
Register for more free articles
Stay logged in to skip the surveys
"This is not a land grab or an environmental disaster waiting to happen," Warshauer said.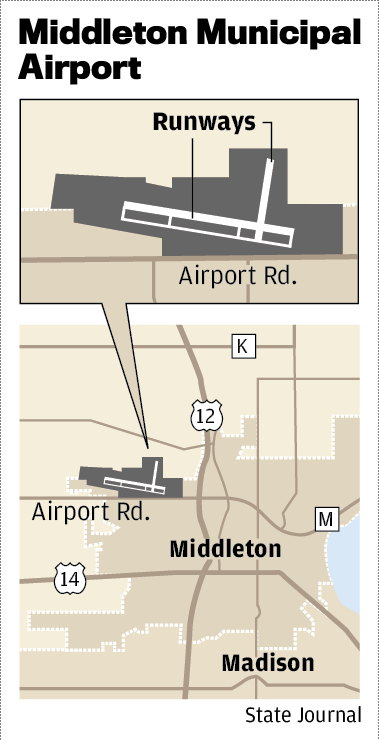 The city bought and took over operations at what was then called Morey Airport about 20 years ago. The airport was reconstructed in 2004 to realign and extend the runway and add hangar space. The result included building the 4,000-foot runway and shorter cross-wind runway, but no master plan had been created.
Since then, there has been significant growth both of the city of Middleton and in use of the airport. City officials said there have been regular requests for hangar space that they've had to deny because there isn't room.
In 2018, there were 94 aircraft — single-engine planes, small and mid-sized jets, multi-engine planes and helicopters — based at the Middleton Airport.
"There's a concern in the community … that there will be commercial jets," Opitz said. "That's absolutely not going to happen. Delta and United won't be flying here."
Any expansion of the airport would likely require another reconfiguration of the runway, and the city could have to buy adjacent land to construct more hangars, Mead & Hunt said.
Over the past 15 years, the airport has seen between 40,000 and 48,000 flights annually. While the number of flights has remained fairly steady over the past few years and on the low range of annual flights, requests to store airplanes have increased.