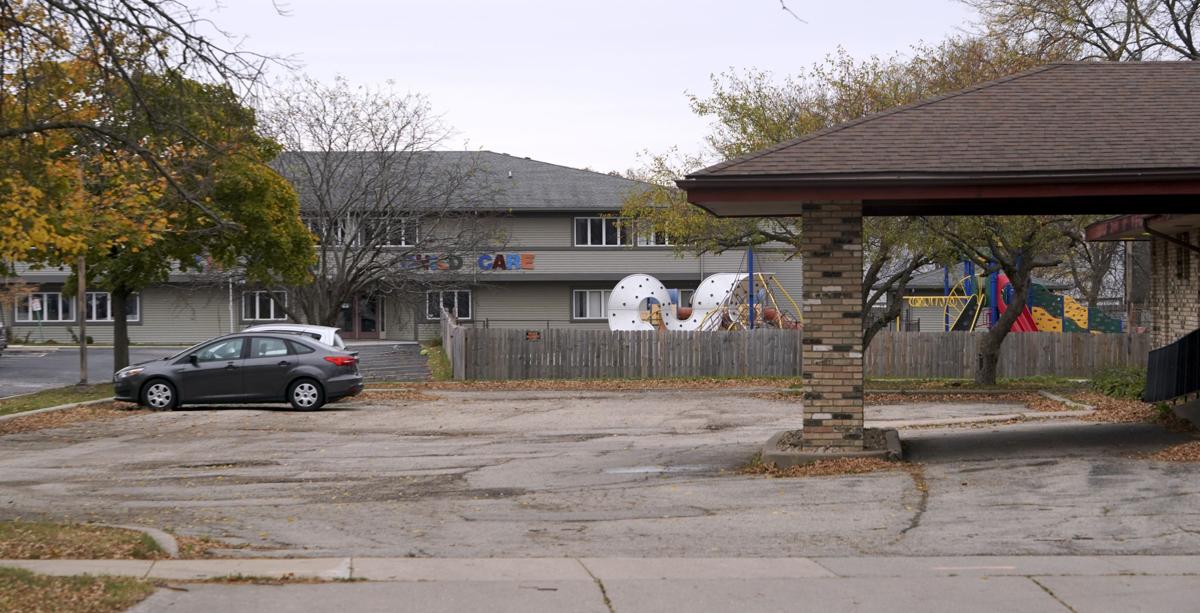 A proposal by Mayor Satya Rhodes-Conway and Dane County Executive Joe Parisi to buy a former child care center and perhaps adjacent property on the Far East Side for a new men's emergency homeless shelter is getting a positive reaction but also questions about operations and services.
"The city has worked very hard since the pandemic to locate a new site for the men's shelter," said Karla Thennes, executive director of Porchlight Inc., which operated the men's shelter system from cramped church basements Downtown for 35 years before the COVID-19 pandemic forced a temporary move in March to Warner Park Community Recreation Center on the North Side. "We are very grateful."
At a press conference Tuesday, Rhodes-Conway and Parisi formally announced the intent to buy a vacant, two-story, 22,584-square-foot day care center on a two-acre parcel at 4111 East Towne Blvd. and possible purchase of an adjacent parcel with a smaller building on a half-acre at 4101 East Towne Blvd., which could create a large single site where partners could develop a permanent, purpose-built shelter, a day resource center, pay-to-stay beds and/or low-cost housing.
Rhodes-Conway is proposing to increase the Community Development Division's 2020 capital budget by $3 million in borrowing, with $1.3 million for the purchase of the child care property and the rest for architectural and engineering services and holding costs. The proposal will require a 15-vote supermajority on the 20-member City Council.
"Our ultimate goal is to develop a purpose-built shelter facility to support single homeless men," the mayor said. "Our aim is to provide more than a place to sleep. It is to offer a fuller range of supports that can lead its users to more stable, long-term housing."
Parisi, who has recommended the county contribute another $3 million for the initiative, lauded the partnership.
"By teaming with the city of Madison and other partners we are making this community's strongest investment yet in night sheltering services," he said.
Ald. Samba Baldeh, 17th District, who represents the area, attended the press conference but didn't speak. Later, he backed acquisition of the site but said he's getting questions from businesses in the area who wants more information. There are no residences near the site, he said.
The city and county can learn from experiences at Warner Park, Thennes said.
"The North Side neighbors have been great and welcoming," she said. "We are on Zoom calls bi-monthly with the North Side alders and police chief, and they too are very pleased with how the past seven months have gone. The larger space has allowed us to do nightly health assessments on each guest before they enter shelter and for proper physical distancing once inside. Once at Warner, we eliminated the 90-night yearly limit for guests and opened a separate room with cots for guests experiencing mental health symptoms or intoxication."
But the city can't use Warner Park as a temporary shelter indefinitely, and the initial phase of the new project — converting the child care center to an interim homeless shelter — won't be completed for 12 to 18 months, so the partners are exploring short-term options, Rhodes-Conway and Parisi said.
"Hopefully, we'll be able to announce something soon," the mayor said.
For the longer term, the Far East Side property provides a building that can be fairly quickly converted to use as an overnight shelter and a site large enough to accommodate a broader array of services, they said.
"If you would have asked me eight months ago if we could have a permanent shelter for men not Downtown I would have said no," Thennes said. "But after being at Warner Park, I think it is possible. The Far East Side location is very close to bus routes and employment opportunities for the guests."
Next, the task is to consult and build on conversations that have already begun regarding the scope of services to be provided, Rhodes-Conway and Parisi said. Those talks and decisions will determine the scale and design of a new facility, they said.