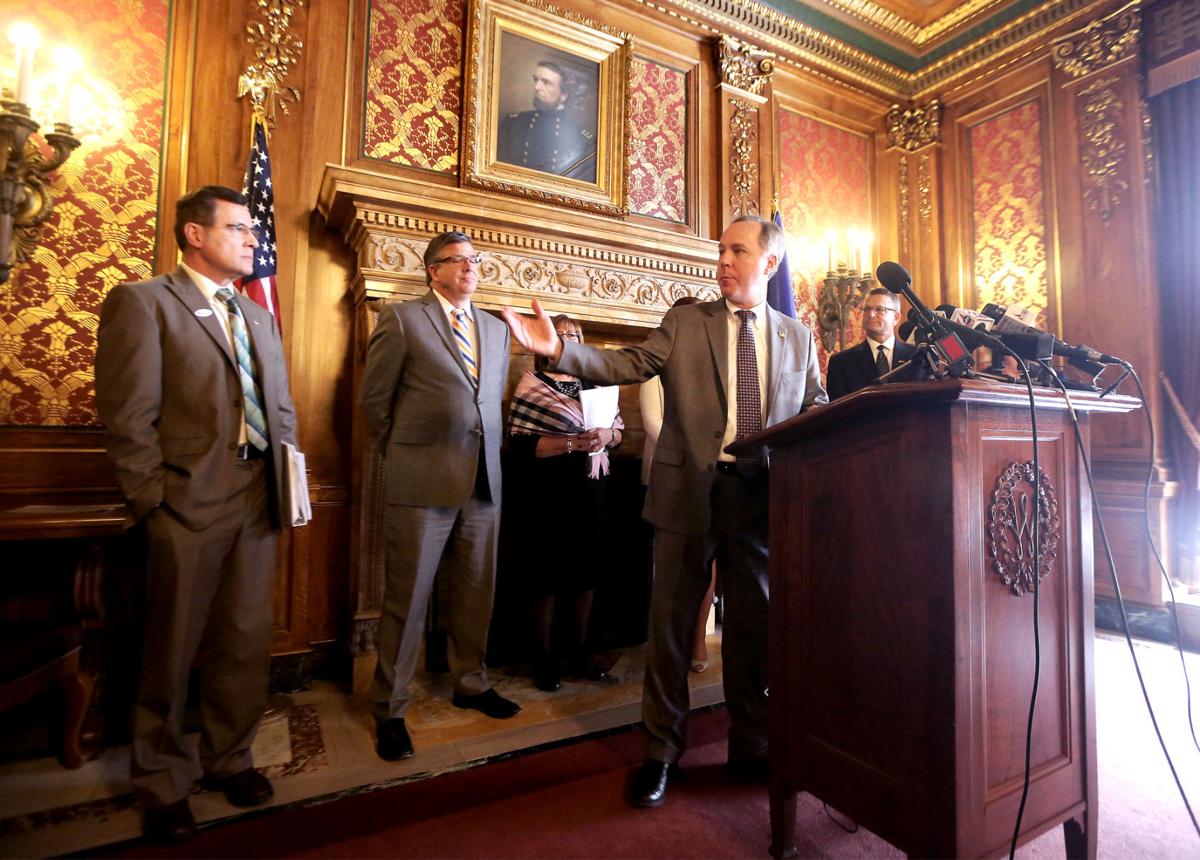 Republican lawmakers have passed more than 125 measures since 2011 restricting the authority of local government, according to the state's nonpartisan budget agency.
Over the past three legislative sessions, since the GOP gained control of the Legislature, lawmakers have enacted 128 provisions that represent unfunded mandates or restrict the decision-making power of local governments, according to a May 16 memo released by the nonpartisan Legislative Fiscal Bureau at the request of Assistant Assembly Minority Leader Katrina Shankland, D-Stevens Point.
Shankland said in a statement that of the 128 provisions, 80 were passed without Democratic lawmakers' support.
"From restricting county shoreland zoning ordinances passed by county boards, to banning municipal governments from passing container ordinances that make sense for the well-being of their community, legislative Republicans repeatedly used their majority in a blatant government overreach," said Shankland.
Republicans pointed out that some of the bills were co-sponsored or backed by Democrats, including Shankland.
Tom Evenson, a spokesman for Gov. Scott Walker, said some of the measures Shankland criticized resulted in lower taxes.
"Rep. Shankland considers tax relief a limit on local control," Evenson said in an email. "If Rep. Shankland believes we should be increasing taxes on Wisconsin citizens then we fundamentally disagree. We should be lowering the cost of living and doing business in Wisconsin, not increasing it."
Evenson also said Act 10, Walker's signature 2011 legislation curtailing collective bargaining for most public employees "was arguably the greatest measure taken to empower local governments in at least a generation."
The memo, released Thursday, includes a complete list of the measures passed during the 2015-16 legislative session.
A preliminary list was released by the LFB in February.
Included on the list are revenue limit restrictions passed during the 2011-12 legislative session, a measure that prohibits local governments from enforcing a residency requirement for its public employees in 2013-14, and in 2015-16, easing restrictions on development on buildings or homes in a shoreland setback area and requiring all high school seniors to pass a civics test to graduate.
While some of the bills on the list received co-sponsorship or votes from Democratic lawmakers, including Shankland, Shankland aide Mike VanDenHeuvel said Shankland is focusing her criticism on the fact that the majority of measures passed did not receive any Democratic votes in favor.
Assembly Speaker Robin Vos, R-Rochester, said in February that Republicans — typically champions of less government and autonomy of local governments — still hold those values as priorities but that "once in a while a statewide standard makes more sense."