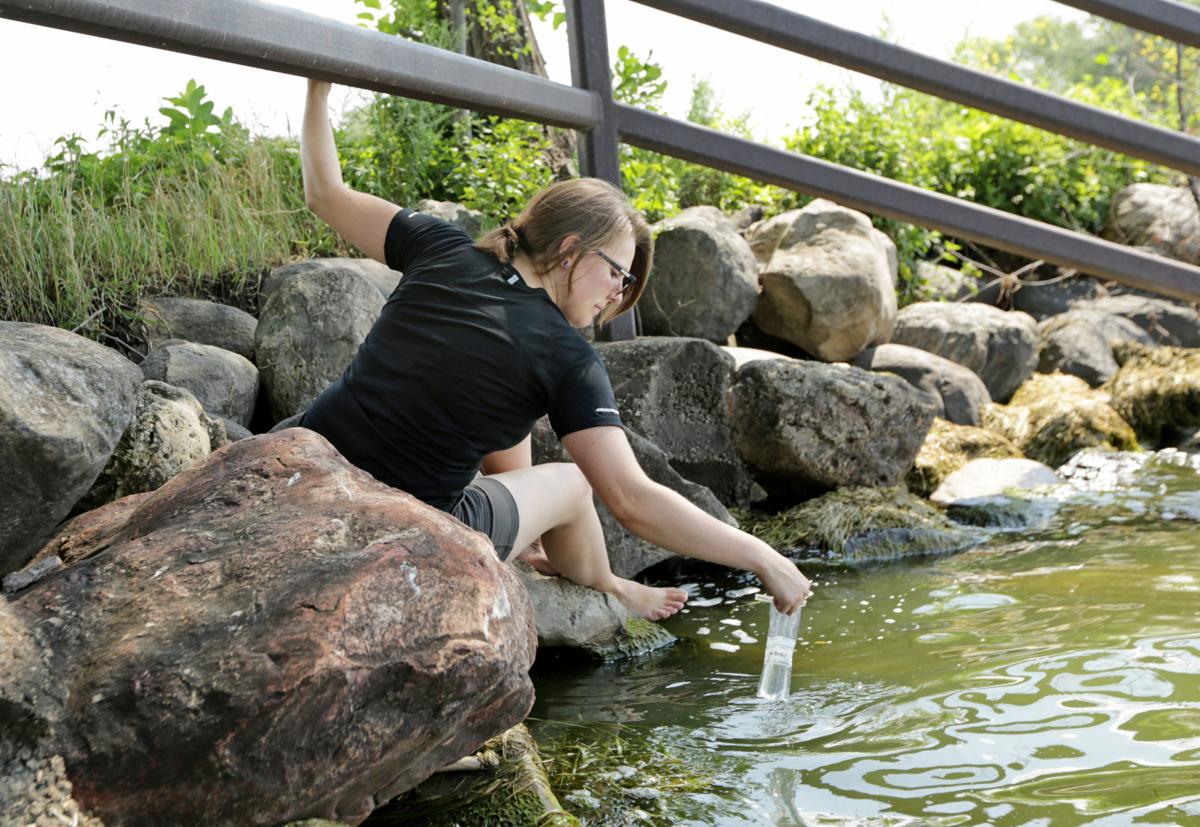 Wisconsin is stepping up efforts to stay ahead of the soupy, blue-green blooms of bacteria that threaten the health of swimmers, boaters and pets.
The change in state policy comes as farm runoff and weather conditions this year created two major blooms and several smaller ones in Dane County lakes that forced a record number of beach closings.
"The two blooms were very widespread among the Yahara lakes," said Kirsti Sorsa, a public health program manager for Public Health Madison and Dane County. "This summer so far has had almost double the number of cyanobacteria beach closure days compared to last summer at the same time."
Harmful algal blooms are increasing nationally in both frequency and severity, prompting the U.S. Centers for Disease Control and Prevention to encourage states to track related illnesses.
Wisconsin this summer made it mandatory for medical personnel to report illnesses suspected of being caused by exposure to floating colonies of cyanobacteria.
The tiny organisms are usually referred to as blue-green algae. Unnaturally large colonies that pose health risks can flare up for days at a time in hundreds of lakes around the state.
Hundreds of strains of cyanobacteria are hazardous in high concentrations. They release an array of toxins that can cause digestive, respiratory and neurological sickness along with skin rashes.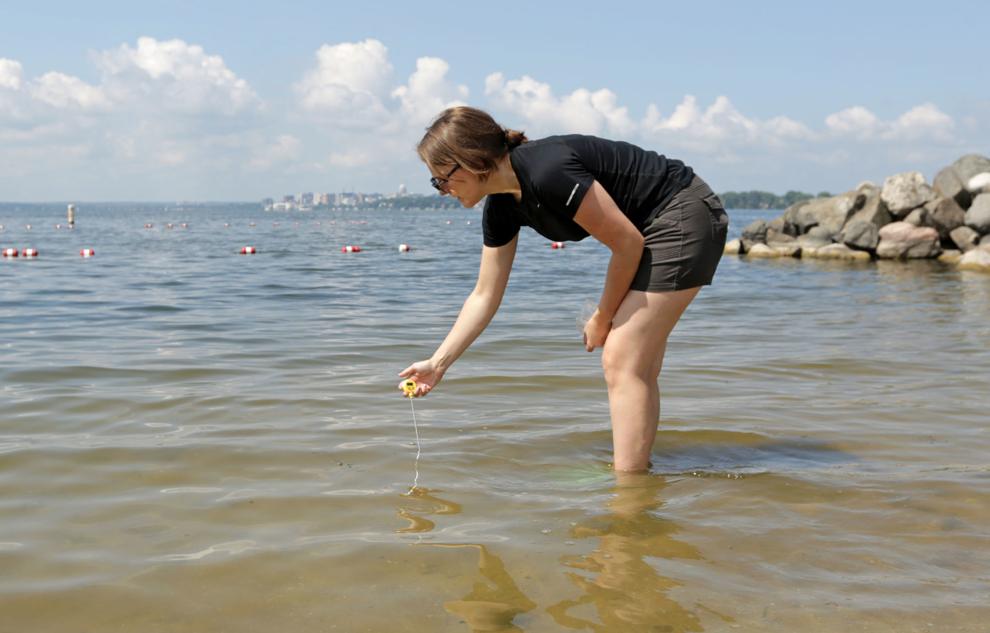 Low levels of exposure usually aren't life-threatening for healthy adults. But bacterial algae blooms are considered an emerging health hazard that needs more study.
Mandatory reporting of illnesses will give public health experts a better idea of how many people are being sickened and where the worst problems are, said Jennifer Miller, a spokeswoman for the state Department of Health Services.
"Timely recognition and reporting of suspected cases of cyanobacterial poisoning will also enable public health professionals to investigate and intervene at the site of exposure to prevent additional exposures and illnesses," Miller said.
The new reporting requirement took effect July 1 as part of a state administrative rule that had been in the works for more than a year.
Bad year for beaches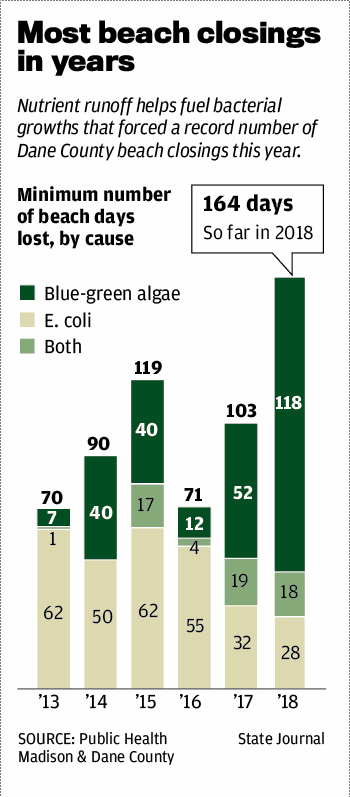 The state health department doesn't track beach closings, but the DNR tracked blooms in several water bodies in 2004 and 2005 and concluded more research was needed on the organisms' behavior and on the effectiveness of runoff controls in preventing outbreaks.
In July the DNR created an email address — DNRHABS@wisconsin.gov — for the public to report outbreaks of blue-green algae. The agency is laying plans to learn more by using satellite imagery and a web-based system for the public, said spokesman Jim Dick.
"A lake may experience bloom conditions in downwind areas, while water in upwind locations is perfectly clear," Dick said. "Blooms can be ephemeral as well. For these reasons, it is challenging to monitor blooms."
This year in Dane County, by early August beaches had been closed for over 160 days — more than any summer since at least 2007.
Public Health Madison and Dane County said high levels of blue-green algae were the biggest problem, along with e. coli — another hazardous bacteria that grows in response to nutrient pollution.
This year, five illnesses suspected of being caused by bacterial algae in Dane County were reported by medical personnel and others to the state, said Sarah Mattes, spokeswoman for the Dane County health department.
Mattes said she didn't have details about the severity of the illnesses because they were reported directly to the state.
The state health services spokeswoman said between 10 and 40 illnesses in humans and animals were reported to the state annually from 2009 to 2017, when the state was asking for reports but they weren't mandatory.
The reports are a fraction of actual medical problems caused by bacterial algae, but public health professionals aren't able to estimate the true number of cases, Miller said.
The number of reports rise and fall most years depending on the number of blue-green algae blooms in lakes and public awareness that certain symptoms may be caused by the bacteria, she said.
Liver, neurological harm
Cyanobacteria have been around for millions of years. They are native to Wisconsin lakes. Problems arise when rain washes unnatural levels of the nutrient phosphorus off developed land and into lakes and streams.
On hot, calm days the over-fertilized organisms reproduce rapidly. Multitudes rise toward the water's surface where they can die and form a foul-smelling scum. Die-offs can rob water of so much oxygen that fish are killed.
Swallowing contaminated water can cause a variety of illnesses. Symptoms can be similar to severe stomach flu. Skin contact can lead to rashes. And the toxins can be inhaled from the spray of speedboats, putting water-skiers at risk. Certain cyanobacteria toxins can afflict the liver and neurological systems.
Dangers are greatest for children and pets because of their small size and the likelihood they may drink lake water. In a study by the U.S. Centers for Disease Control and Prevention, 13 states reported illness in 67 dogs from 2007 to 2011. Over half of the dogs died.
Before 2018 in Dane County, about a dozen other cases were recorded in the last 10 years, six of them in 2008, a year with heavy rains and bad algal blooms, Mattes said.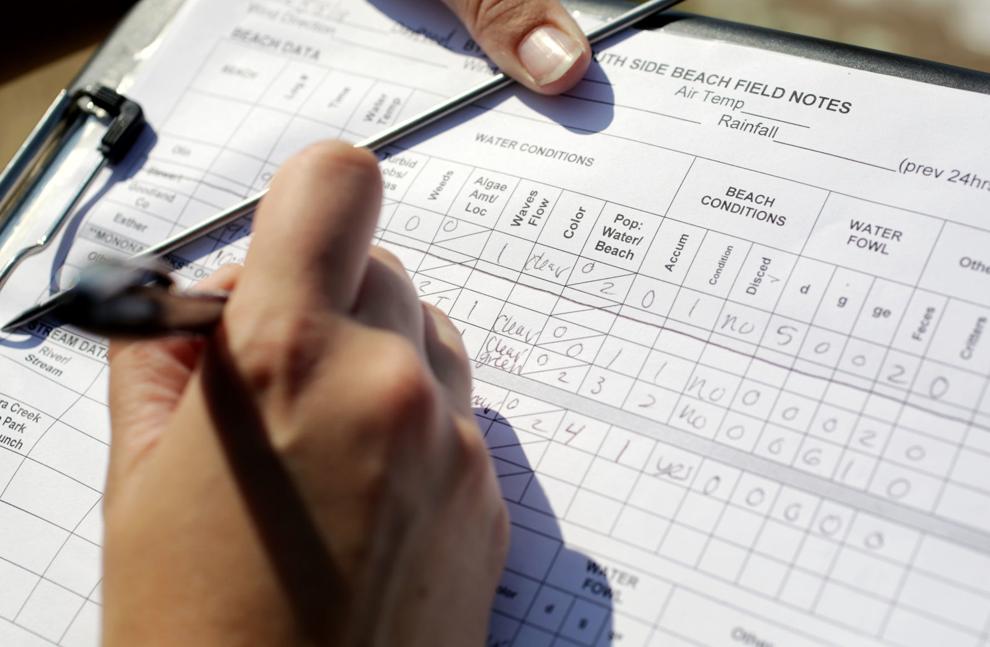 That year, a man developed a full-body rash after wading neck deep in Lake Waubesa; a woman had nausea, stomach cramps, difficulty breathing and a rash after swimming near the Memorial Union; and another person reported respiratory problems after being in Lake Mendota.
That year, 10 waterskiers had eye problems and asthma-like symptoms after skiing through an algal bloom in Lake Wisconsin, according to a Public Health Madison and Dane County report.
The only recorded death in the U.S. came in 2002. A Cottage Grove teen-ager died after he swallowed bacteria-laden water from a pond at a golf facility. Dane Rogers and three friends jumped in the water to cool off. Two days later, Rogers vomited, went into shock, passed out and suffered a seizure before his heart failed. A coroner blamed blue-green algae. One of the friends had severe diarrhea but survived.
Phosphorus to blame
Roughly another 1.1 million pounds are being added each year, as additional commercial fertilizer and manure is applied to fields, said UW-Madison agronomist Eric Booth.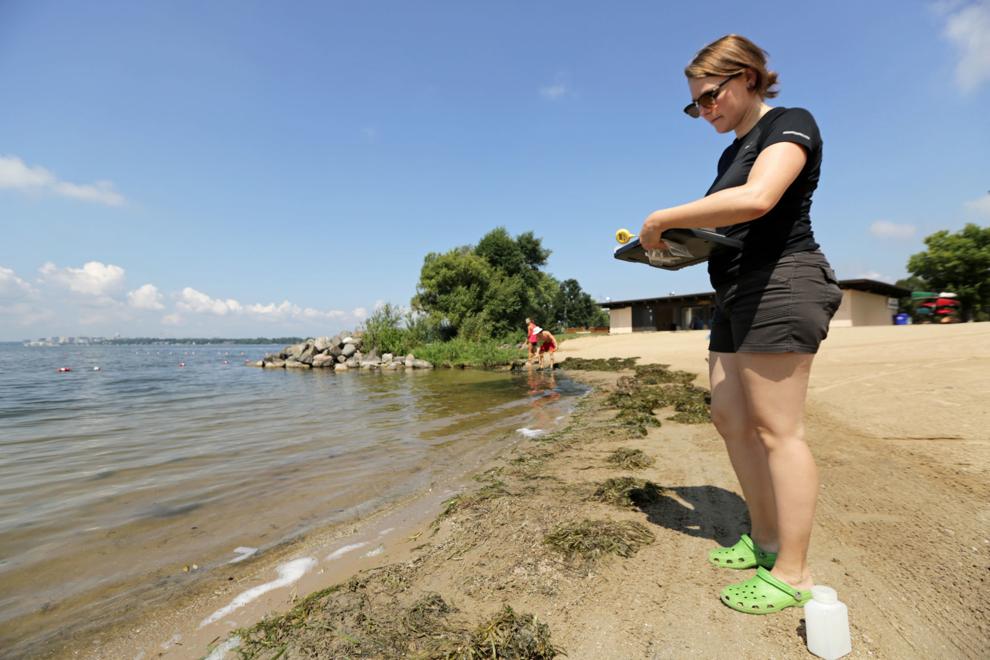 More than 900 lakes and stream reaches are listed as "impaired" by the nutrient.
In the Lake Mendota watershed, practices used by farmers and operators of growing animal feedlots should have reduced phosphorus runoff into the lake.
But on average, about 77,000 pounds of the nutrient have flowed through the lakes tributaries annually since the 1980s, according to an analysis of U.S. Geological Survey stream monitoring stations.