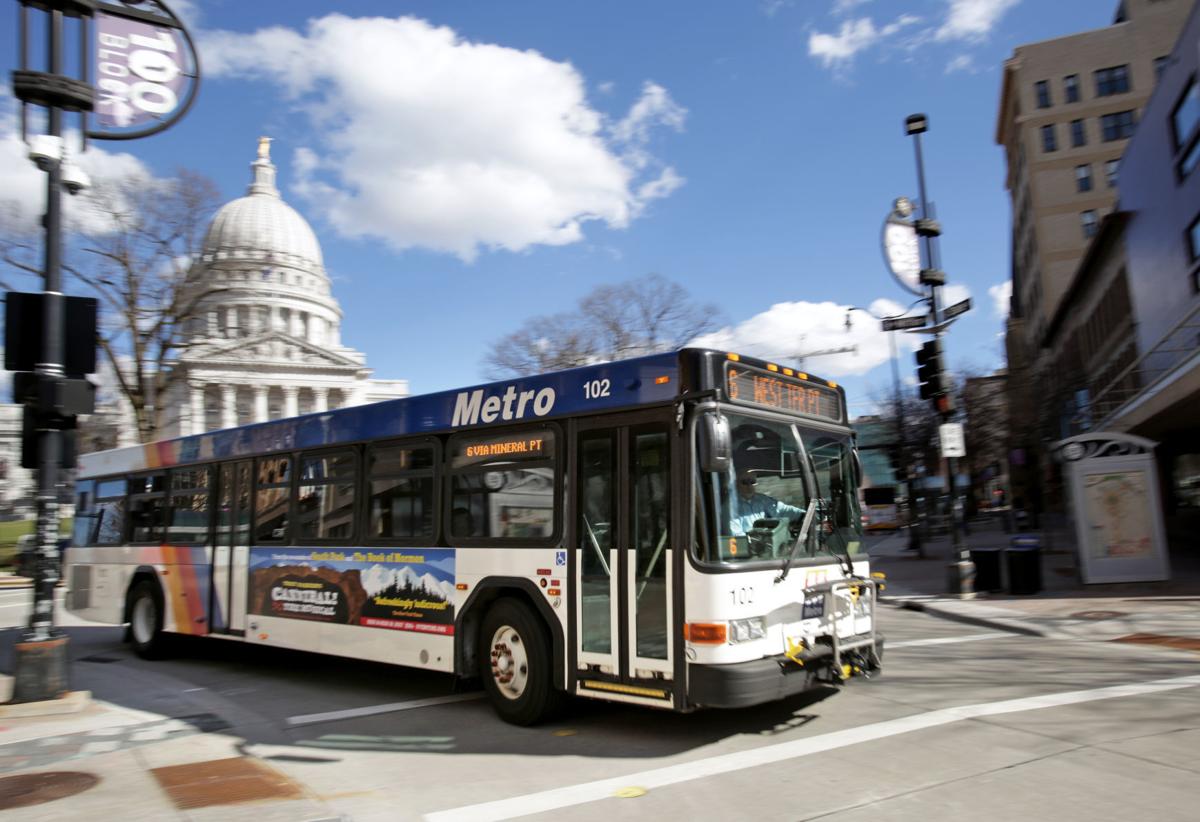 After vowing to "take a look at everything," Madison Mayor Satya Rhodes-Conway on Tuesday proposed $170.6 million in new spending in a capital budget for 2020 that moves up the timeline for Bus Rapid Transit, increases spending for low-cost housing and changes the timing for some big projects.
Rhodes-Conway, who took office in April, used a new approach in crafting the budget that ultimately accelerates the implementation of Bus Rapid Transit and more quickly improves and expands Metro Transit facilities than envisioned under former Mayor Paul Soglin, with a goal of reaching 18 million annual riders, far above the record 15.2 million set in 2015.
"We need to build on success and grow a modern transit system that is regional, fast and reliable," Rhodes-Conway said. "Our beautiful Isthmus must not be turned into a superhighway."
The mayor would deliver $1 million annually for a new "land banking" program to acquire parcels that can be used for low-cost housing and other neighborhood-supporting developments, and would boost the city's Affordable Housing Fund, initially expanded under Soglin, by $500,000 annually to $5 million a year.
"Housing is a basic need for everyone," she said.
The proposed budget continues support for the $13 million Madison Public Market being planned for the East Side, but shifts $7 million in local funding to proceeds from a tax incremental financing (TIF) district in the area.
It moves a $17 million Reindahl Imagination Center on the North Side, envisioned for 2022 in the current, nonbinding, five-year Capital Improvement Plan, to a new category called the "horizon list," which includes projects that are not yet ready to be in the new five-year plan. Those projects now have no specific timeline.
With more information, the Imagination Center — a collaboration of the library and Parks Division — and 12 other programs or projects placed on the list can be considered in a future Capital Improvement Plan process, she said.
Other major initiatives shifted from the current Capital Improvement Plan to the longer-term list include the Fire Station No. 6 remodel and Fire Station No. 10 renovations, totaling $10.8 million; the expansion of Hill Creek Park and a new Northeast Park, totaling $5.75 million; the Police Department's North District renovation, $16.5 million; a police property and evidence complex, $21.7 million; and the Streets Division's $40 million Far West Public Works Facility.
"Think of it as truth in budgeting," Rhodes-Conway said.
Ald. Paul Skidmore, 9th District, the council's leading advocate for public safety spending, said he supports the police and fire department projects but understands the mayor's interest in planning, containing borrowing and moving projects to the horizon list. "I'm saying I can live with it," he said.
City Council President Shiva Bidar was optimistic.
"The executive capital budget's overarching priorities — equity, sustainability, affordable housing, improved transit system, lower general debt obligation — are ones that (council members) also feel strongly about," she said. "Now it is time for the City Council to do the detailed and intentional work of carefully analyzing the proposed executive capital budget to better understand how each project aligns with our individual and collective priorities. I expect this year's budget deliberations to be collegial and collaborative."
Rhodes-Conway's proposed capital budget comes after years of increased borrowing and rising debt payments that now account for 17.5% of the city's 2019 operating budget, far above the unofficial target of 12.5%. The 2020 debt payments would be 17.1% of spending and remain under 17% through 2026. Under the current five-year plan, the percentage would have peaked at 18.1% in 2021 and 2023.
"It's not easy," she said. "There are a lot of competing needs."
In announcing her priorities in late April, the mayor instructed managers to focus capital requests on items that promote low-cost housing, public transportation, responding to climate change and advancing racial equity.
Funding requests, she said then, should be tied to the city's new comprehensive plan, called "Imagine Madison," which lays out long-term approaches to land use, transportation, neighborhoods, housing and more. She also asked managers to use data to better understand problems and how capital investments will solve those problems.
"My priorities for our great city are clear," Rhodes-Conway said. "I am committed to doing this work through the dual lenses of equity and sustainability. I am committed to doing it in a fiscally responsible way."
The mayor's $170.6 million in new capital spending is far below the $214.3 million for new projects in 2019. Her $96.6 million in proposed borrowing is $31.2 million less than the $127.8 million in authorized borrowing for the current year. Capital budgets, however, can fluctuate dramatically depending on big projects and outside resources.
The capital budget seems to pale compared to the total $347.7 million plan adopted by the City Council for 2019. But that's because the budget is being presented differently. The mayor's total reflects only new spending. Re-authorizations — previously budgeted but unspent funds — are carried forward and not reflected in the total for 2020. Those will be presented as part of the city's overall borrowing resolution that the council will consider on Sept. 17.
A big change from the current Capital Improvement Plan is moving up planning and initial development of Bus Rapid Transit, or BRT, from 2024 to 2020-23. BRT is a high-frequency, high-capacity, limited-stop service that would run on city streets or dedicated lanes.
The budget would deliver $3.5 million for BRT planning in 2020 and another $124.5 million, partially supported with federal money, for design and construction of an initial east-west corridor through 2023. It would advance funding of a satellite bus facility, critical for implementation of BRT because the city now lacks the space to store the new elongated buses, from 2023 to 2020-21.
Rhodes-Conway said she recognizes the Public Market's capacity to support businesses and cultivate entrepreneurship but changes the local funding sources in a way that provides money for other priorities. She would now get $7 million in local public funding from the TIF district and increase private contributions by $500,000. Meanwhile, she would channel a previously envisioned $1.2 million in borrowing, $1.65 million for closing TIF districts, and a $4.65 million transfer from the general fund to BRT and low-cost housing.
The mayor also would increase the amount of the city's energy generated from renewable sources by 33% in 2020; increase spending on flood-mitigation projects; and continue buying electric vehicles for the city's fleet, including three electric buses next year. But she moves future envisioned electric bus purchases to the longer-term horizon list until a cost-benefit analysis is completed.
She continues funding for a program that provides grants and training to cooperatives focused on job training but puts off investing in an Equity Business Initiative to support entrepreneurship and business development among communities historically facing barriers until further analysis and community outreach is done.
"This budget takes major strides to connect city services to outcomes that residents expect under the auspices of our comprehensive plan, Imagine Madison," city finance director David Schmiedicke said. "To meet these priorities, some hard choices needed to be made: parks, bike paths, street projects and facilities projects delayed or deferred; a better approach on funding the Public Market, including a requirement for more private support; and other measures."
On Oct. 1, the mayor will offer an operating budget for 2020.
Closing a gap
Preliminary estimates show the city, which has a $332.1 million operating budget for 2019, will collect $9.5 million in new revenue but also see a $19 million increase in spending, leaving a roughly $9.5 million shortfall to be closed for next year. The mayor has already provided instructions for managers requiring that they provide a base scenario to continue services with alternative budgets that would increase and decrease by 2.5%.
The council will make final budget decisions the week of Nov. 12.
Get Election 2020 & Politics updates in your inbox!
Keep up on the latest in national and local politics as Election 2020 comes into focus.