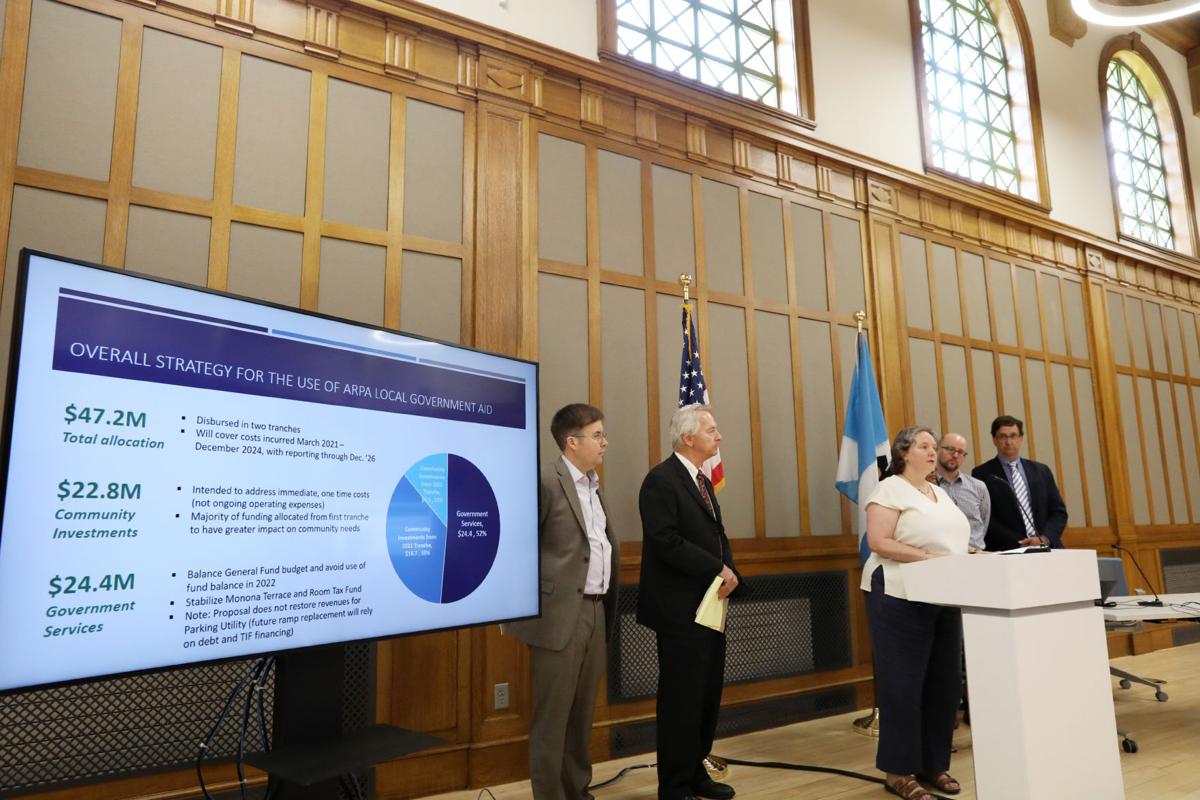 With the city battered by the COVID-19 pandemic, Mayor Satya Rhodes-Conway is proposing to use $47.2 million in federal stimulus funds to subsidize the cost of housing for poor people, combat homelessness, promote efforts aimed at preventing violence and stimulate economic development and other services.
The federal money, which represents Madison's share of the American Rescue Plan Act signed by President Joe Biden earlier this year, is intended to be a one-time investment over several years to respond to the pandemic, address related economic fallout and provide for an equitable recovery.
"The COVID pandemic disrupted everything and put strain on people and businesses throughout the city in countless ways, and this federal support allows the city to alleviate some of that strain and help Madisonians recover," Rhodes-Conway said Friday in announcing the administration's plan for the money. "We expect the impacts to continue well into the future."
Under the mayor's proposal, $22.8 million would be used to address immediate, one-time costs, while the remaining $24.4 million would go toward maintaining government services and balancing the city's general fund budget, including restoring the budget for Monona Terrace and programs funded by revenue from the hotel room tax, which fell precipitously during the pandemic.
Specifically, the mayor is proposing to spend the $22.8 million for:
Violence prevention and youth engagement: $2.58 million.
Combatting homelessness, including purchasing the Salvation Army of Dane County's Darbo-Worthington site on the East Side, support for homeless people staying outdoors, a men's emergency shelter and an endowment for homelessness operating funds: $8.65 million.
Subsidized housing, including converting hotels to housing, a youth-centered housing project to help those aging out of the foster care system and a tenant damage fund to get rental units back in service faster: $6.65 million.
Emerging needs, including services to undocumented residents, connections to basic services, and education about PFAS contamination: $1 million.
Economic development, including expansion of a small-business equity and recovery program, retail building improvement grants and aid to the Public Market Foundation while its East Side site is used as a temporary homeless men's shelter: $3.91 million.
The city would buy the Salvation Army's site, 3030 Darbo Drive, to help the nonprofit finance its planned redevelopment with a homeless shelter, housing and more on the 600 block of East Washington Avenue, likely lease the space back to the Salvation Army for the short term, and then possibly use the Darbo Drive site as a neighborhood center in the long term, city community development director Jim O'Keefe said.
The city has studied the conversion of hotels for housing for very low-income people in other places and is exploring options here, O'Keefe said.
"With this funding, we can help secure a variety of types of shelter and housing for those who need it, help residents meet their basic needs, bring summer jobs back for our youth and help businesses and business districts recover," Rhodes-Conway said.
Details on spending the $24.4 million to maintain government services will come at a later date.
The mayor said she consulted all members of the City Council before making her proposals. "I'm hoping they'll see their priorities reflected in this list and we'll be able to move it forward," she said.
Council President Syed Abbas and Vice President Arvina Martin could not be reached.
Immediate needs
Some of the spending would happen sooner than later.
The mayor has introduced a resolution to amend the 2021 operating budget by $5 million to begin spending some of the money on immediate needs, including $2 million to support homeless people, $700,000 for services to undocumented residents, $465,000 for summer youth employment and $400,000 each for emergency rental assistance and Public Market Foundation support.
The resolution also would amend the 2021 capital budget by $3.26 million to begin spending money for immediate needs, including $2 million for a homeless men's shelter, $615,000 for expanding a small-business equity and recovery program, $500,000 for the retail building improvement grant program and $150,000 for a solar project by Occupy Madison.
The city, which has a $349.5 million operating budget for 2021, projects $346.5 million in revenue but $364.4 million in expenses to continue services and meet commitments in 2022, leaving an $18 million shortfall for 2022, city finance director David Schmiedicke said.
One-time measures
More than half of the gap is due to one-time measures used to balance the pandemic-ravaged 2021 budget, including using an unprecedented $8 million from the city's rainy day fund and $1.2 million in one-time compensation reductions, temporary delays in filling vacant positions and other short-term strategies, Schmiedicke said.
The $47.2 million in federal support will help make the city's budget situation less dire but doesn't solve all the problems, he said. The funding can cover costs — including making up for revenue losses — from March 3, 2020, through Dec. 31, 2024, he said.
Under federal rules, the money can go to containing and mitigating COVID-19, mental health needs, premium pay for essential workers who have been responding to the pandemic, and addressing lost revenue such as that from the tourism and hospitality sector.
The federal relief money can't be used to replenish the city's rainy day fund or pay off the city's debt.
The mayor's initial resolution, which proposes spending $8.3 million of the $22.8 million in longer-term investments, will be considered by the Finance Committee on Monday and the full council on July 6, Schmiedicke said. The remaining $14.5 million will be covered by future resolutions or in the 2022 budget, he said.
A proposal for spending the remaining $24.4 million to maintain government services will happen either in midyear or end-of-year spending resolutions, and in the 2022 budget, he said.
On Aug. 31, the mayor will propose a capital budget for 2022, and on Oct. 5, she will propose an operating budget for next year. Both proposals will be considered by the Finance Committee with final decisions by the City Council the week of Nov. 8.
Reset, restart: Madison-area businesses embrace new reality
To survive, business owners know they need to be prepared for what's next. It's safe to say most weren't prepared for the cataclysm of the last year. Yet, most adapted. From reducing hours and adding curbside pickup or outdoor seating to changing product lines, finding new suppliers and moving their operations online, companies reinvented themselves. Some of those changes were temporary; others will alter the face of Madison's business community for years to come.