Mayor Paul Soglin is demanding answers on how the recent sharp decline in the stock value of Exact Sciences will affect the proposed $200 million Judge Doyle Square project, where the company would be a key tenant.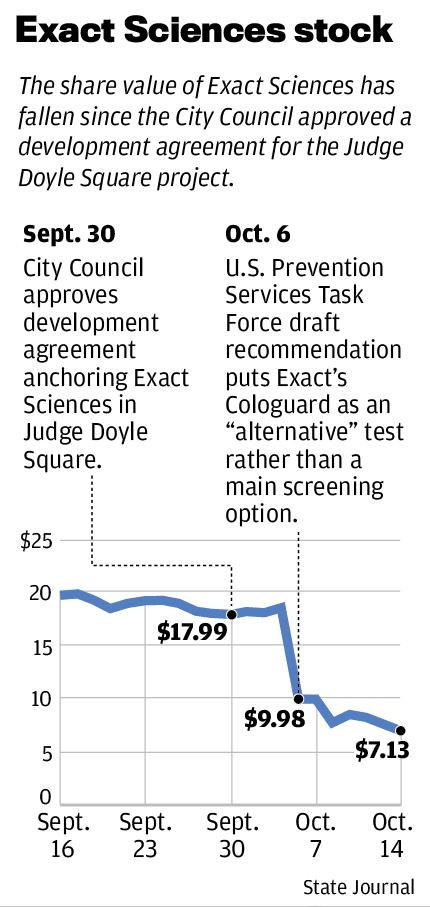 A week ago, the U.S. Prevention Services Task Force issued draft recommendations on Exact Sciences' Cologuard screening test for colon cancer that triggered a large drop in the value of the company's stock. Valued at $18.53 on Oct. 5, Exact Sciences' stock dropped to $8.50 by the end of that week. It closed Wednesday at $7.13.
Soglin, Exact Sciences and JDS Development all voiced confidence in the fast-tracked project on Wednesday afternoon, but the mayor's letter is the first indication that questions about the company could lead to a different sequencing or changes to the redevelopment. A delay also presents an opportunity to address some city concerns and improve the project.
"It may change the sequencing of construction," Soglin said. "It may change the size and dimensions of various components."
The project is just beginning a review process for design and other planning elements.
JDS, made up of the Hammes Co. and Majestic Realty, has proposed a 250,000-square-foot headquarters for Exact Sciences and 107,000 square feet of expansion space, a 216-room hotel for Monona Terrace, commercial space, a bicycle center and 1,250 parking spaces on blocks that now hold the Madison Municipal Building and Government East parking garage.
On Sept. 30, at 3:15 a.m., the City Council voted 12-6 to approve an agreement with JDS. The redevelopment relies on $46.7 million in public investment, including a $12 million grant to Exact Sciences to help it create at least 400 jobs Downtown.
The mayor on Wednesday morning wrote a detailed letter to Exact Sciences CEO Kevin Conroy and Hammes President Robert Dunn with a series of questions on the federal draft recommendations and recent decline in stock value. He asked for answers by Oct. 28.
When the draft recommendations were announced, Soglin said it was "premature" to draw any conclusions and that the city would get better information in coming weeks. He said he's now had a chance to talk to the city's negotiating team for the project, staff and City Council members, and wants to look at Exact Sciences' rate of growth and how it relates to the timing of occupancy of the redevelopment.
Conroy said, "We remain very confident about the long-term success we will have with Cologuard. Our confidence is independent of the draft guidelines by USPSTF. This is a really strong business. (But) I think the mayor and the council are asking the right questions about a very important project."
Exact Sciences, which has offices at University Research Park and a new lab in the Novation Campus off Rimrock Road in the town of Madison, pushed a fast-paced negotiation on the development agreement in order to break ground in December and have new corporate offices ready by mid-2017. The company expanded to another building at the research park in recent weeks.
It's now important for the city, JDS and Exact Sciences to "come together and see what works best for everybody," Exact Sciences spokesman J.P. Fielder said.
"Given the magnitude of the project, and the obvious issues that came forward last week, I expect the city to be careful and cautious about the project, just as we are," Dunn said.
JDS is "very confident and committed to seeing the vision through for Judge Doyle Square" but is looking at different sequencing and other adjustments, Dunn said. The overall program — amount of office space, parking spaces and hotel — will remain the same, he said. The project's private investors and lenders remain committed, Dunn said.
The city is making a decision that will have a profound impact for a century or more and must get it right, Soglin said. If it takes some more months, "that's acceptable," he said.
During deliberations, city officials voiced concern that Exact Sciences' pacing needs meant the project would have only one floor of underground parking on the Municipal Building block so the office building could be built more quickly and open on time. That meant more above-ground parking across the street and a smaller-than-hoped-for hotel atop it with construction not starting until at least mid-2017.
"All things we're looking at," Dunn said. "We've got three or four schemes we're studying right now."
"If there's a pause, there's an opportunity to improve the project," Conroy said, declining to discuss details. A delay in the city process could be "possibly months ... certainly not years."
Dunn said the project should still move forward on an ambitious schedule, even if it's sequenced differently. "We don't want to lose time here," he added. "We need to keep things moving."
The federal task force's draft report, which had updated guidelines for colorectal cancer screening, did not include Cologuard among top options. The report named Exact's noninvasive, DNA-based stool test as an alternative test, useful in "select clinical circumstances," not as one of the main screening tests suggested.
"I've concluded, in talking to our staff, that this will likely slow down the rate of growth of their workforce," Soglin said.
Conroy said it will take the task force four to six months to issue final recommendations and that there is a chance the panel will adjust its guidelines. "Cologuard is the only FDA-approved test with a guarantee behind it," he said, adding that Exact Sciences will continue its aggressive rollout of Cologuard because physicians and patients want it.
Specifically, Soglin wants to know:
What the federal decision means to the Exact Sciences model for Cologuard.
Whether Exact Sciences plans to appeal the federal decision.
What impact the federal decision has on Exact Sciences' plans to locate its headquarters and research facility at Judge Doyle Square, including the timing and scale of Exact Sciences' plans, the number of jobs to be created and any possible changes to the development agreement.
What sort of process is needed to re-examine the transaction and how long would it take.
Whether funding partners or lenders said they intend to reconsider or bow out of the project.
Whether JDS would reconfigure the Judge Doyle Square proposal. That includes where buildings might be placed on the project's two blocks, the size and location of the parking garage, the size of the hotel and when parts of the project would be built. Soglin said he also wants to know of any effects on total development cost, the cost of public parking, guarantees on public investments and projected property taxes.
Exact Sciences will answer the mayor's questions to the best of its ability under federal Securities and Exchange Commission disclosure rules, Conroy said.
"This has to be something that has a very positive impact on the city of Madison," he said.
Dunn agreed. "I think they'll be pleased with the response," he said.
Under the development agreement approved on Sept. 30, the city investment includes $12 million for job creation by Exact Sciences, $13.9 million for land acquisition and $20.8 million for 650 private parking spaces. The city is using $20.3 million to build 600 public and city vehicle parking spaces and a bicycle center. JDS would spend $44.4 million and borrow $89.3 million.
Exact Sciences will guarantee the $12 million grant with a commitment to create and retain jobs and provide protection in the event of a relocation. JDS must guarantee $20.8 million in property taxes for the parking garage. The city's investment for land has no guarantee.
Ald. David Ahrens, 15th District, the leading council critic of the project who has accused the city of failing to do due diligence in researching Exact Sciences, said the mayor's letter is "better late than never." He said he hopes it was sent to lenders, too, and that responses are based on realistic assumptions rather than best-case scenarios.