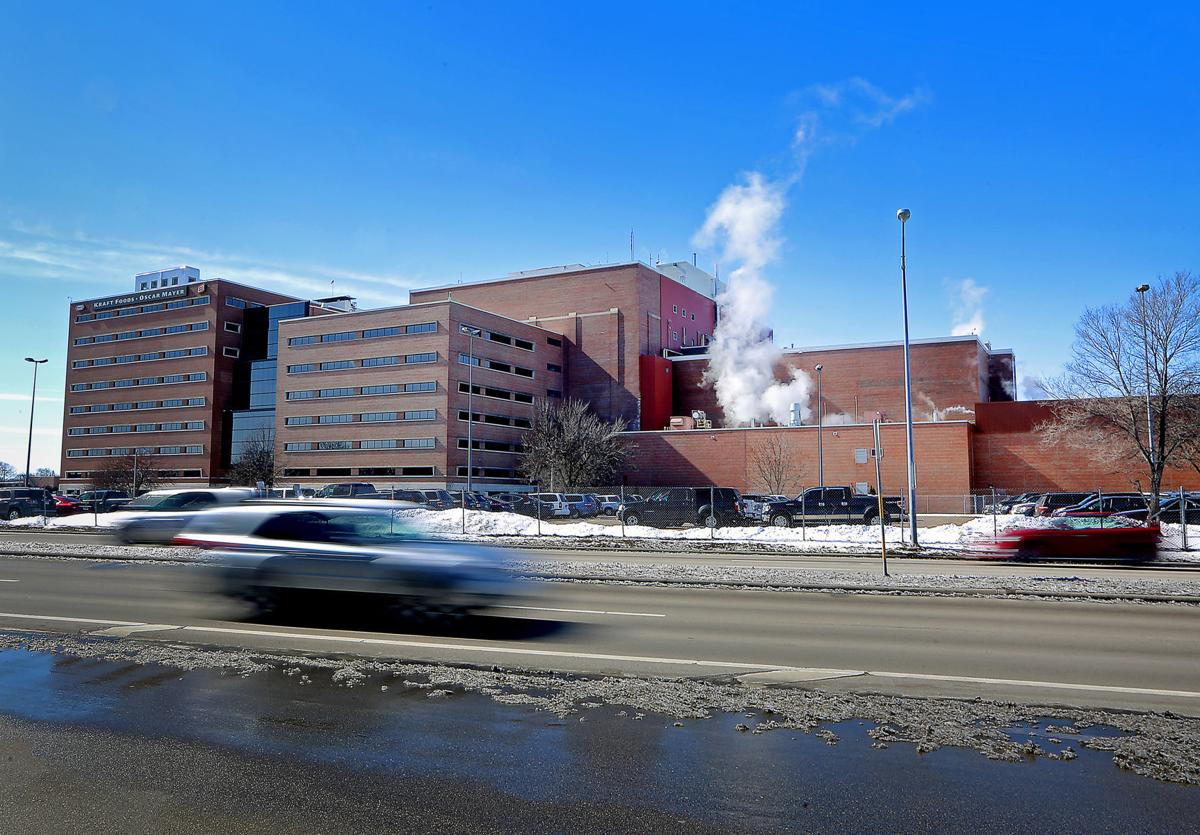 Madison Mayor Paul Soglin said Thursday he is recommending Taiwanese electronics manufacturing giant Foxconn take over the shuttered Oscar Mayer site or either of two undeveloped sites on the city's edges for what is believed to be a possible medical-related facility.
Foxconn is proposing a $10 billion liquid crystal display plant in southeastern Wisconsin that could eventually employ 13,000 people at an average salary of $53,000 a year. The company also is considering expanding its Wisconsin presence to the Dane County area, officials have confirmed.
A proposal distributed last week by the Madison Region Economic Partnership (MadREP) said an unnamed company is seeking to invest about $505 million in a 20-acre undeveloped site to build a 700,000-square-foot manufacturing facility that could employ as many as 650 people in its first five years of operation.
While the MadREP email identified the company only as "Project Varsity," Soglin told a news conference he received a call from MadREP last Thursday suggesting he submit sites for a Foxconn project matching those figures.
Soglin said he is recommending the Oscar Mayer site even though it is not on undeveloped land, as Foxconn has requested, because it has easy access to the airport, Interstate, rail and bus lines and plenty of power and water.
"We think this is part of the need to rethink the location of jobs and the consumption of farmland," Soglin said. "Putting in a facility that employs this many people right in the heart of all these resources. ... That makes sense rather than chewing up 40, 80, 100 acres of farmland."
The mayor said he would be willing to consider offering tax incremental financing for a potential Foxconn project, but he said the city will not give away the property.
"We have absolutely no intention, at any location, to waive any environmental regulations," Soglin said. "Secondly, we are not at all interested in participating in a race to the bottom in regards to competing with financial incentives that are not viable for this community."
Soglin criticized the state's offer of $3 billion in incentives to woo Foxconn to southeastern Wisconsin. Considering the potential size of the payroll and number of jobs created, the offer is "so over the top," he said. "I'm fearful if that becomes the standard for job creation in Wisconsin, the whole state will suffer."
Soglin said an incentive package of $600 million to $1.2 billion would be "more in line with national standards."
Soglin, who has said he is considering running for governor, said Thursday that he'll announce his decision after Labor Day. Alec Zimmerman, a spokesman for the Republican Party of Wisconsin, could not immediately be reached to respond to Soglin's comments about the state's incentive package.
New hope for site?
The mayor said he has not been contacted either by Foxconn or state officials about a Dane County site. He said he suggested the Oscar Mayer site with the approval of parent company Kraft Heinz, even though it already is working with a possible buyer, Reich Brothers Holdings, a company that buys closed factories and sells their assets.
Ald. Larry Palm, who represents the Oscar Mayer area, said he is hesitant about Foxconn's Dane County proposal since it's not clear yet what the company may make here or what kind of arrangement it will seek.
"If Foxconn really has the intent to build a 20-acre site and would be willing to overlook their own greenfield requirement, then I'd like to consider it," Palm said. At the same time, though, "if we just are going after every offer out there, we could get ourselves very tired in these sprints."
Oscar Mayer had its headquarters in Madison from 1919 to 2016, producing hot dogs and lunch meats and, in its early years, slaughtering animals. At its peak, 4,000 employees worked there. Production ended in late June.
The plant encompasses 1.7 million square feet of manufacturing and warehouse space on a 72-acre site at 910 Mayer Ave.
Soglin said last December that it would likely cost $10 million to $12 million to demolish the buildings, remove the materials and prepare the grounds for cleanup. No estimate has been made public on the cost of environmental remediation, but Soglin also said if a developer came forward, the city would apply for federal brownfield cleanup funds.
Madison Ald. Mark Clear, District 19, said city officials are just now gathering input from the neighborhood about what would be best for the site, but the process could move more quickly if a company like Foxconn expresses interest.
"If somebody is interested in it, whether it's Foxconn or anything like (it), we ought to seriously look at it," Clear said.
Interest in med tech
Lisa Johnson, CEO of BioForward, the Madison-based organization representing Wisconsin's biohealth industry, said Thursday she has been working with Foxconn's medical group for several weeks.
"It certainly appears that they are focused on precision medicine, from prevention to treatment. That is why I've been helping direct them to certain companies ... and experts within the university," she said.
Johnson said Capio Biosciences is one of the companies she introduced to Foxconn representatives. Capio moved to Madison from Chicago in January. The company's technology identifies cancer cells in the bloodstream by taking blood samples known as "liquid biopsies."
Johnson credited the Wisconsin Economic Development Corp., the state's quasi-public business development agency, for providing "the right leadership. ... They were the connectors; they made sure they brought in the right parties to support Foxconn's medical group," she said.
Foxconn founder and CEO Terry Gou has pledged significant financial support for improved cancer research. His first wife died of breast cancer and his younger brother died of leukemia.
Soglin would not identify the other two Madison sites he has recommended. One is believed to be University Research Park 2, at Junction Road and Highway M on the Far West Side. Its roads and utility connections were installed several years ago, yet the site, which is about 370 acres, remains empty.
Neighboring communities also have expressed an interest. Fitchburg Mayor Jason Gonzalez said Foxconn officials have toured sites in Fitchburg. He said he submitted three potential locations, and said he thinks the plant might make wearable devices that monitor vital signs or exercise activity, such as Apple watches or Fitbits.
Verona director of planning and development Adam Sayre would not comment on the name of the company seeking sites but said Verona has submitted a proposal for Project Varsity as well. Sayre would not specify the location but said the city has undeveloped land in Verona Technology Park and the Liberty Business Park, both at the southeast edge of Verona, at Highways PB and M.
"We do have land available to accommodate a request of that size," Sayre said.
Middleton city administrator Mike Davis said Middleton would not have room for a one-story manufacturing facility that would take up 700,000 square feet on 20 acres but he said, "If indeed Foxconn is interested in an office or technology center on many levels, Middleton would be a possibility, as would Madison and the other surrounding communities."