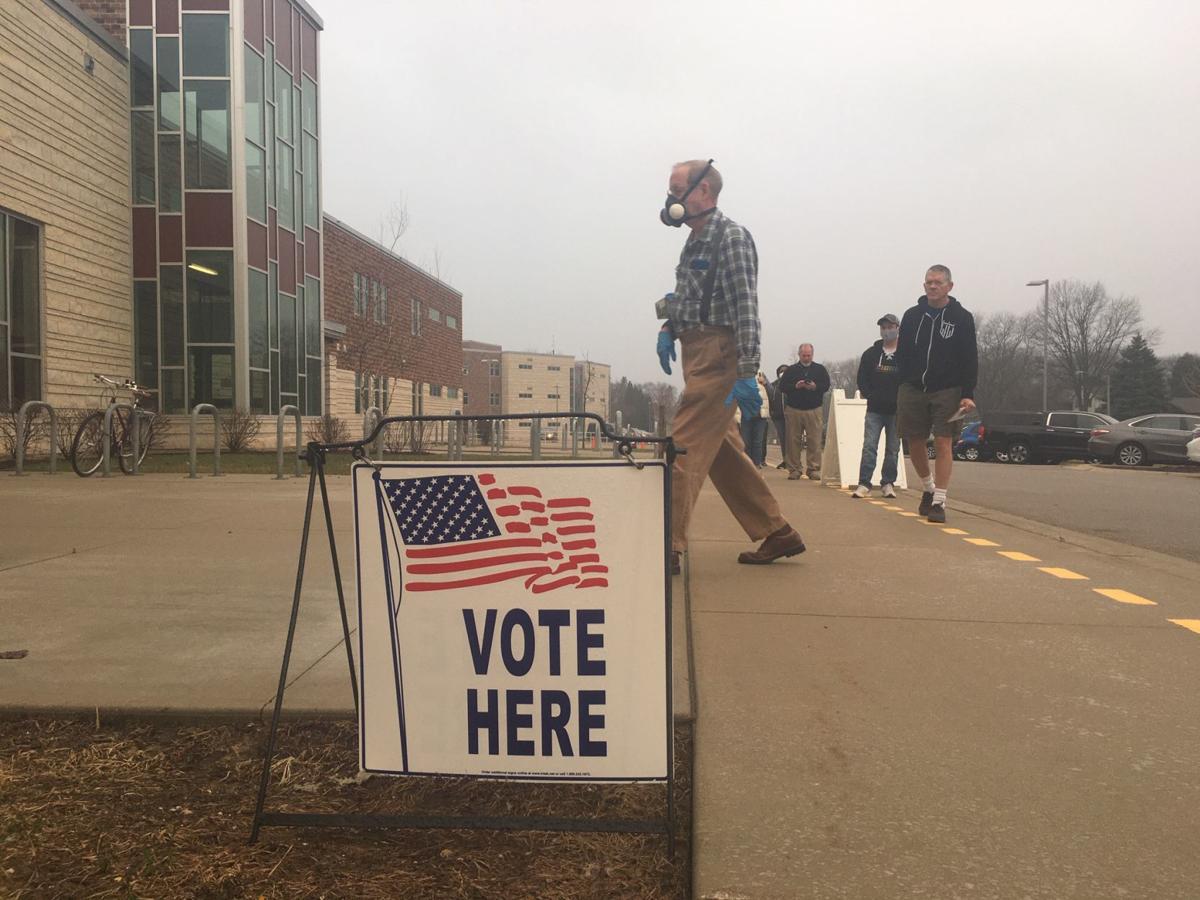 MIDDLETON — Many wore masks, lines were virtually non-existent and an unprecedented amount of absentee ballots meant there was little congestion at Kromrey Middle School in the midst of the COVID-19 coronavirus pandemic.
About 30 people were in line Tuesday when the polls opened at 7 a.m. but even though all four of the city's polling places were set up in the school's gym, the line moved quickly. By 7:45 a.m. only four people could be seen voting in the cavernous facility that is normally used for dodge ball, games of horse and calisthenics.
In the 2016 spring election, a total of about 8,500 people voted. But for this year's election, over 8,000 absentee ballots had been returned to the city clerk's office by Monday night, according to Mike Davis, the city's administrator.
"It's a bit surreal," said Davis, who spent the morning directing those who had voted to an exit door. "It's not where we should be at this point. Ideally we could have had an election that was done completely by absentee ballot but we're doing as we've been told by the state legislature."
City officials had first considered using Middleton High School but with a major construction project underway at the school, their second choice was Kromrey, located just north of Pheasant Branch Conservancy and across Donna Drive from the former home of former U.S. Senator Russ Feingold.
All poll workers, which included about 10 city employees who were filling in for those who chose not to work out of health considerations, wore masks. About half of those voting wore face coverings. Some were surgical masks while others wore scarves or construction masks. 
The gymnasium, however, allowed each of the four polling stations and the voting booths to be spread out with each station having a table for those with a last name from A to L and another for M to Z. Those who had in the past had voted at St. Luke's had their station on the gym's north side near the front entrance. It, along with the St. Bernards polling station, courthouse/police department station and the Middleton School District's Service Center, were all marked with sandwich boards with the gym's basketball rims and backboards raised.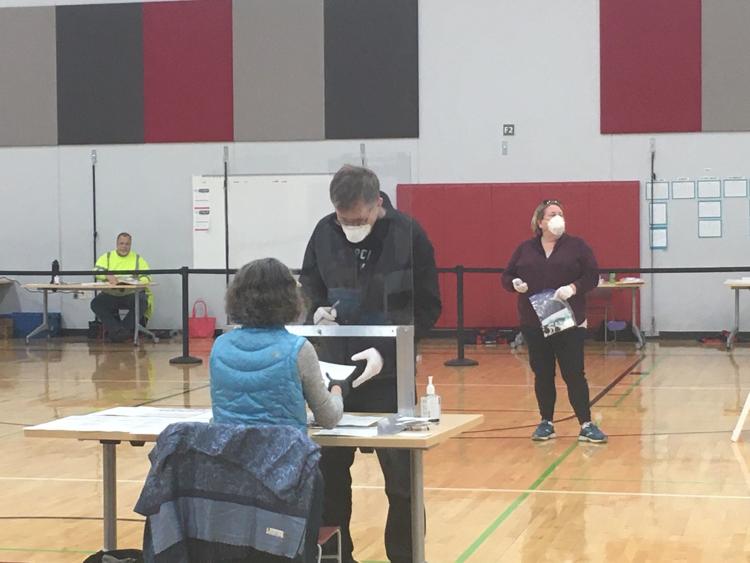 Tuesday's controversial vote, came after Gov. Tony Evers used an executive order Monday to move the election to June 9. However, the State Supreme Court over ruled the decision. It was followed by the U.S. Supreme Court that ruled Monday that absentee ballots postmarked after Tuesday could not be counted.
"I'm really angry about the Wisconsin Supreme Court decision and the U.S. Supreme Court decision," said Steve Milanowski, 66, who normally votes in the court room at the Middleton courthouse building down the street. "It's really terrible that they did not allow extension or a reschedule."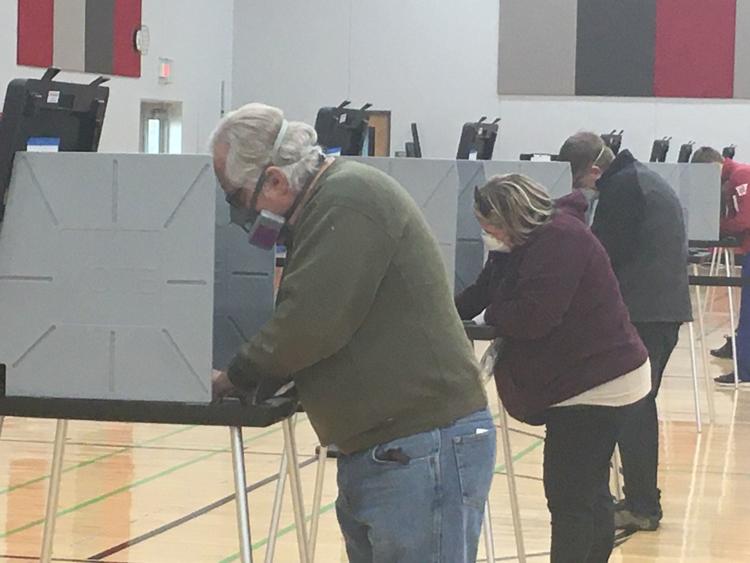 Taylor Sutherland, 26, voted Tuesday for the first time in Middleton after moving to the city from Rice Lake in far northern Wisconsin. He wore a black scarf around his face as he slid his paper ballot into the electronic machine just beyond the voting booths of the St. Bernards' polling station.
"I'd have preferred if there would have been a (mail-in) ballot," Sutherland said. "I just felt it was important to do this in light of our current situation."
Get Government & Politics updates in your inbox!
Stay up-to-date on the latest in local and national government and political topics with our newsletter.