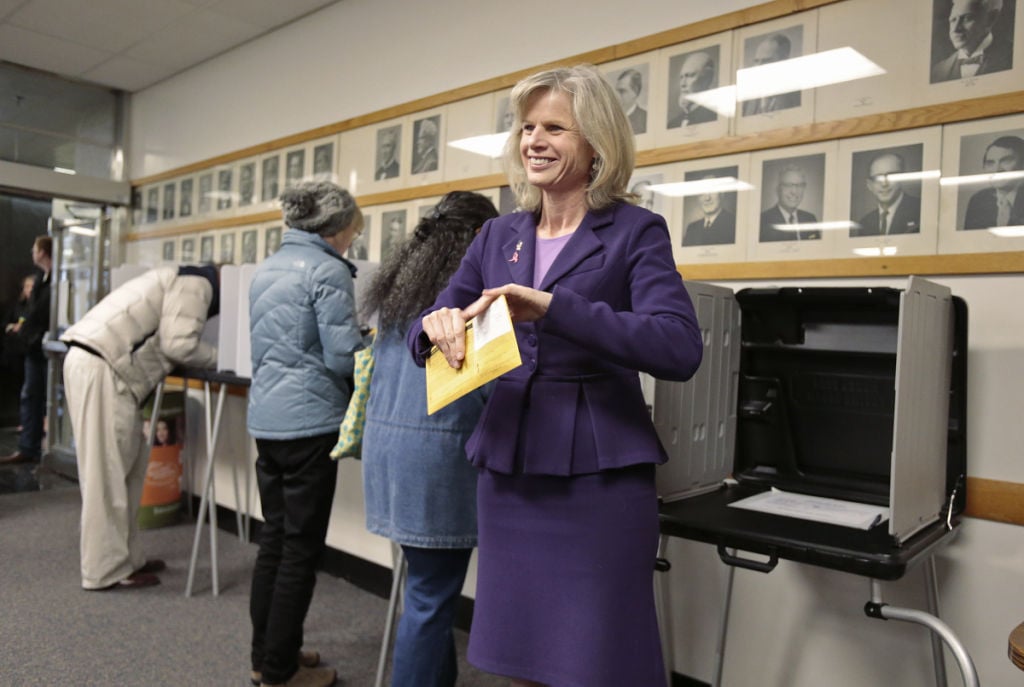 Mary Burke faces a key vote on the Madison School Board on Monday a week before the gubernatorial election: whether or not to back a $454 million budget that raises taxes and delivers a 1 percent base pay raise to teachers.
Burke, challenging incumbent Gov. Scott Walker in a tight race, declined Tuesday to say how she'd vote. But she pointed out to reporters that she voted against a preliminary version of the budget that included a smaller tax increase than the final proposal to be voted on Monday.
"We did have a preliminary budget earlier that had a similar type of tax increase and I voted against it because I thought it wasn't being as responsible as we need to be to the taxpayers in Madison," Burke said Tuesday before casting an early ballot for the Nov. 4 election. "Certainly that issue will come up Monday night."
If she backs the budget, she risks giving ammunition to Walker and other Republicans in a race that is going down to the wire.
"There will be pressure for Burke to vote against any tax increase," said Barry Burden, a political science professor at UW-Madison. "She has already displayed a tendency to resist revenue increases while on the board, so voting against the latest one would show consistency. It is also less likely to draw attention and criticism than a vote in favor."
David Wegge, founder of the St. Norbert College Strategic Research Institute, said her vote Monday will not likely have much of an effect on voters — especially if she votes against the budget. If she votes for it, Republicans could portray her as a "tax and spend liberal" in a television ad, he said.
"I don't think people up here in the Fox Valley area are really going to know what's going on in Madison unless advertising comes out of it on the Republican side," Wegge said.
You have free articles remaining.
The final budget the board will take up Monday includes a 4.2 percent increase in the district's property tax levy — up from the 2 percent increase in the preliminary budget that Burke voted against in June.
Instead of a $54 increase for the average Madison homeowner included in the preliminary budget, the impact of the proposed tax increase will be more like $100 if the final budget is approved as proposed.
Asked whether she'll vote against the budget, she said, "You'll have to wait and see on Monday."
Burke and Walker are tied among likely voters in the most recent Marquette Law School Poll.
In June, Burke was one of three board members who voted against the budget. Burke said then she could not support the size of the property tax increase included in the budget along with $10 million in more spending over last year's budget.
Board members T.J. Mertz and Michael Flores also voted against the preliminary budget.
Burke was elected to the board in 2012. Of the five votes she has taken on district budgets, she has approved two, and rejected three, which were cast after she was considering a run for governor.
Before her first vote to approve the 2012-13 preliminary budget, she warned the board of the impact of the 5 percent tax levy increase would have on future district budgets.