Congressman Mark Pocan's support for abolishing the nation's immigration-enforcement agency helped elevate the proposal — but also put some fellow Democrats, including U.S. Sen. Tammy Baldwin, on the spot as they seek re-election.
Baldwin, D-Madison, said Monday that she doesn't agree with Pocan, who succeeded her representing the Madison area in the U.S. House.
"We should not abolish ICE, but we need to make sure they're focusing on their highest priority — targeting violent criminals and drug traffickers, not families and refugees," Baldwin said of the Immigration and Customs Enforcement agency.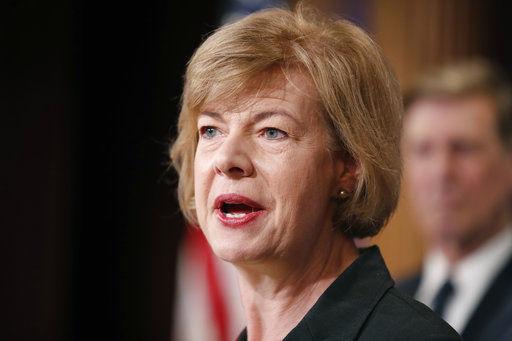 Pocan drew national headlines last month in saying he would introduce legislation to abolish ICE. His plan also would create a commission to advise how to replace ICE or transfer its duties to other agencies.
Speaking to Wisconsin reporters Monday, Pocan said ICE must go because its reputation has been tarnished by the directives of President Donald Trump. Pocan said ICE "has to be able to get confidence of the communities they go into."
But he said that can't happen now because ICE is viewed as "the president's deportation force."
"The agency can't operate like they need to because the brand has been broken by the president's directives to them," Pocan said.
The call to abolish ICE initially gained traction amid reports of the Trump administration's policy that resulted in mass separation of migrant families coming into the United States illegally. Pocan's bill would be an attempt to put that rallying cry into policy.
Now some nationally prominent Democrats are backing it or similar measures — including U.S. Sens. Elizabeth Warren of Massachusetts and Kirsten Gillibrand of New York, both seen as presidential contenders in 2020, and Alexandria Ocasio-Cortez, who won a New York congressional primary last month in an upset.
Others, such as Senate Minority Leader Chuck Schumer of New York, have pointedly declined to embrace the proposal, saying ICE must be reformed but not eliminated.
The plan has drawn a strong backlash from conservatives who said it shows Democrats aren't serious about enforcing U.S. immigration laws. The Republicans seeking to challenge Baldwin's re-election bid this fall have pressed her to take a stand on the issue.
Republican U.S. Senate candidate Leah Vukmir, a Brookfield state senator, said in a statement last week that Pocan's plan would be "effectively eliminating our border."
"I will not stay quiet and let (Baldwin) hide her extreme agenda from the people of Wisconsin. We need to stop criminals and the flow of illegal drugs at the border," Vukmir said.
The other leading Republican vying to face Baldwin this fall, Delafield businessman Kevin Nicholson, tweeted last week that calls to abolish ICE are "abhorrent."
"ICE officers should be lauded and praised for their brave efforts to keep our borders safe," the tweet said.
Pocan, who represents south-central Wisconsin, including Dane County, said his proposal is "something that's coming from the grassroots." It came after Pocan and other Democratic members of Congress toured federal facilities near the Mexico border in response to the Trump administration's family-separation policy.
Pocan said he does not favor open borders, as some critics of his proposal have claimed, noting that border protection is overseen not by ICE but by the U.S. Border Patrol.
He also said he's open to a broader discussion about the future of ICE that would not result in its elimination.
"Whether people are saying reform it or they're saying abolish it, what we're all saying is right now, ICE is being misused by the president in a way that makes it unable to function as it needs to," Pocan said.