Sixteen-year-old Stephanie Trask stood before the massive crowd gathered at the steps of the state Capitol Saturday and spoke about leaving for school each morning with the fear that she might not make it home again.
Mass shootings, even in schools, are not shocking to Trask — they've become a devastating norm to the Madison Memorial High School junior who's never known a time when active shooter drills weren't conducted in schools. In an effort to combat that, she joined thousands of people in Madison, and millions of others at "sibling marches" across the nation, seeking stricter gun laws.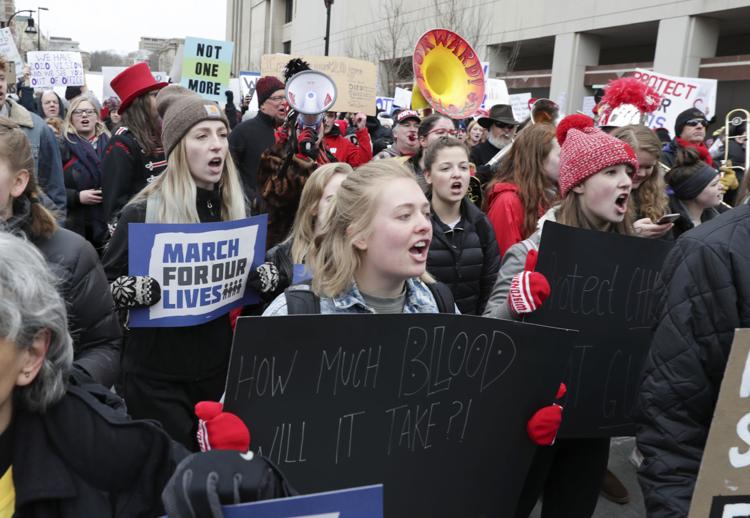 About 2,500 people participated in Madison's March for Our Lives, according to a police estimate.
March for Our Lives is a continuation of the gun control movement inspired by student activists and survivors of the high school shooting in Parkland, Florida, where 17 students and faculty were killed Feb. 14. Thousands of Madison students joined about 1 million others across the country for a school walkout less than two weeks ago in support of school safety and gun control, and some organizers of that march also led the charge for the march Saturday.
The size of the crowd was unexpected, said Trask, whose biggest fear was that no one would come.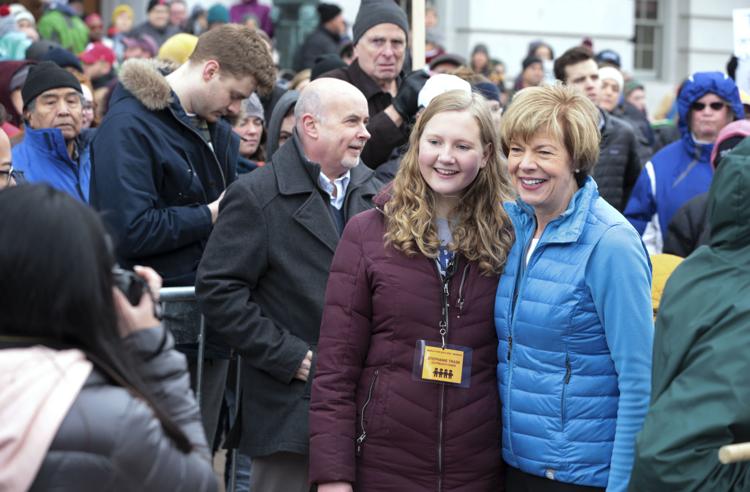 "I was asking people to come out for me, and I didn't even know them," Trask said.
A sea of support
As the first of the marchers reached the top of the Capitol's steps, they could see the length of State Street filled with supporters still moving toward the rally.
Speakers at the rally said the way to make people safer in America is to enact "common sense" gun laws, such as banning high-capacity magazines, requiring background checks for all gun purchases and raising the legal age to buy a gun.
"My peers are dying because of poor gun ownership laws," said 15-year-old marcher Gia Hailu.
A student at Youth Initiative High School in Viroqua, Hailu reflected on the age of the Florida high school victims, many of whom were close to her age.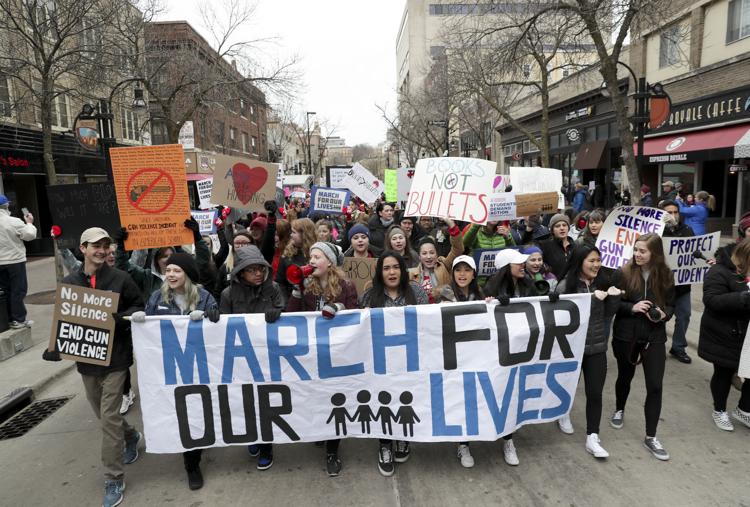 "Those kids never thought they would not see the next day," she said.
Jaeda Coleman, 15, said she was amazed by the turnout of her peers who were "not just sitting in the classroom and letting things happen."
At the podium on the Capitol steps, Trask begged adults in the crowd to cast their ballots for gun law reformers since she cannot vote yet herself.
"I want to be nervous about doing a presentation in front of my class, not thousands of people," Trask said.
'Not one more'
Many of the other organizers are also high school students who still have years before they can vote in an election. Those organizers called on adults to vote for candidates who support gun control. They also denounced the National Rifle Association, which lobbies against stricter gun laws.
"If they will not listen to our voices, we will force them to listen to our votes," said Jack Larsen, a UW-Madison freshman and march organizer.
The crowd intermittently cut into speeches with chants of "never again," "not one more" and "enough."
The focus was not just on school shootings, but all shootings. Speaker Mike Jones, a Madison Teachers Inc. member and Black Hawk Middle School teacher, said three students in his school had a parent killed in the past 10 months "because somebody's worst impulses were enabled by easy access to a deadly weapon." He called on adults to make the changes the student organizers demanded.
"If we remain apathetic, we will inherit another generation of wounded, cynical and apathetic adults," Jones said.
Larsen said he saw the march as the beginning of a longer push to mitigate gun violence through tougher laws.
"I'm kind of fed up of the same thing happening, and we talk about it for a while then we just forget about it," but this movement is different, Larsen said.
Trask said she also sees growing momentum for student activism. Several students approached her after the rally to ask how they can organize their own groups.
U.S. Sen. Tammy Baldwin, D-Madison, and U.S. Rep. Mark Pocan, D-Black Earth, spoke before the crowd, outlining their attempts to create stricter gun laws while praising the students who gathered.
Baldwin criticized the lack of action from federal legislators. She told the crowd that only persistent action would lead to change.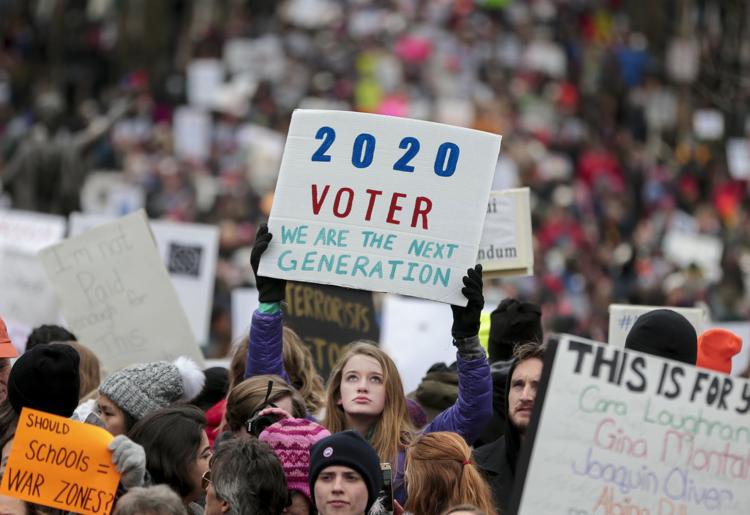 "America's students have been incredible, but Washington has been downright depressing," she said.
Trask also lamented the inaction on gun control that she said could have and should have been done in the 19 years since two students in Colorado brought firearms into Columbine High School and killed 13 people — an event that occurred, Trask reminded the crowd, before she was born.
"I have been told by our adults that they are proud of the youth, but I want to be proud of our adults," Trask said.