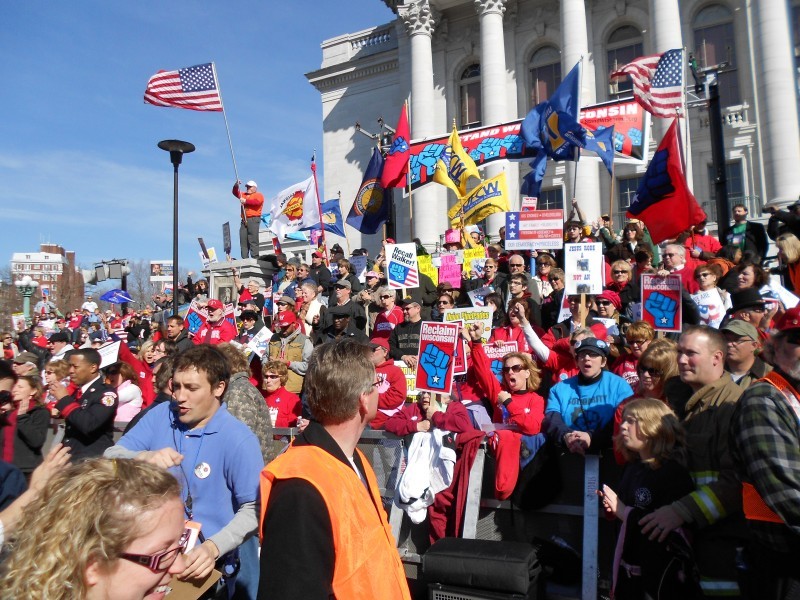 Many Madison-area public officials signed petitions for the recall of Gov. Scott Walker, and they said they did so without fear of repercussions from Walker and his Republican allies in state government.
Unlike voting by secret ballot, signing the recall petitions has become more of a public affair after a tea party group created a searchable database of signatures.
But most local officials — elected in perhaps the most liberal county in the state — who were contacted by the State Journal said they've been open all along about their opposition to Walker and his policies.
"I don't think that Scott Walker's disdain for Dane County will be altered by the number of elected officials signing the recall petition," said Sharon Corrigan of Middleton, a member of the county board's liberal majority.
Walker spokesman Cullen Werwie said the governor wouldn't hold it against Dane County officials for signing a recall petition. The governor's goal for local schools and governments in Dane County is the same as it is for the rest of the state — to help them improve services and spend tax dollars more wisely.
"Gov. Walker has enabled local officials to improve their government," Werwie said.
Politicians in the predominantly Democratic Madison area have been highly critical of Walker's initiatives, most prominently the elimination of most union rights in the public sector, along with limits on local aid, the voter ID bill and more.
The signatories included Dane County Executive Joe Parisi and Madison Mayor Paul Soglin.
Conservative county board member Jack Martz of Fitchburg said his colleagues shouldn't have signed the petitions because taking sides in a partisan election would undermine trust among residents who expected members to be nonpartisan.
"I hope some common sense will be used by both sides so that we can move forward together rather seeing who can stick it to the other leaving long lasting wounds," Martz said.
But liberal county board member Robin Schmidt of Monona said that the nonpartisan status of local offices doesn't mean they must sit on the sidelines.
The State Journal entered the names of members of the Madison City Council, Dane County Board, and Madison School Board into the database at iverifytherecall.com, and then surveyed them to determine the accuracy of the database and their thoughts about the recall.
Names were not returned by the database for five council members and four County Board members who said they signed. A possible explanation is that some names and addresses were misspelled in the database.
Recall organizers in January said they submitted more than 1.9 million signatures to recall Walker and five other Republicans.
Wisconsin GrandSons of Liberty and We the People of the Republic said they organized the searchable database, with names and addresses keyboarded in by volunteers, in an effort to find improper signatures and ensure the integrity of the recall elections.
Spokesmen for the groups didn't respond to requests for comment Tuesday.
Soglin and a large majority of 20 City Council members signed petitions. Few appeared to be hiding.
Ald. Mark Clear, 19th District, said he signed and circulated petitions and trained others to gather signatures.
All seven Madison school board members, including one incumbent candidate for re-election, three other candidates and Superintendent Dan Nerad said they signed petitions.
Nerad's name didn't show up in a search of the database. Nerad said he signed "because of significant reductions made to public education that as an educator, I cannot accept. I'm also concerned with the level of divisiveness that's been created in our state."