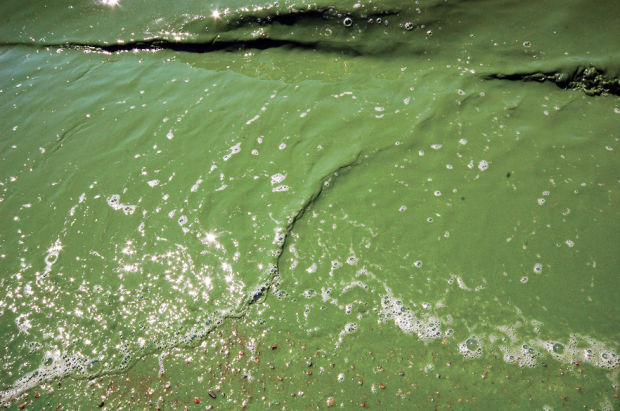 Wisconsin has detailed the sources of unnatural green growths of vegetation and bacteria that stink up long stretches of the upper Wisconsin River amid cottages, homes and campgrounds.
The study — the largest of its kind in Wisconsin — details how and where sources of phosphorus pollution would need to be reduced to return the waters to a healthy state.
The state Department of Natural Resources has scheduled a series of public meetings next month to describe its draft study of the river basin from Lake Wisconsin to Vilas County. The study covers about 9,156 square miles, or 15 percent of the state.
"This effort has spanned almost eight years and builds on previous watershed work conducted in the basin," said Kevin Kirsch, a DNR water resources engineer who is managing the project.
The river basin encompasses or touches parts of 21 counties. It includes 109 stretches of streams and rivers and 38 lakes or reservoirs — such as Petenwell Flowage and Castle Rock — whose use is impaired because they are polluted with the nutrient phosphorus.
Farm nutrients carried by rain and snowmelt are the main source of Wisconsin's most widespread lake and stream pollution problem.
After the Clean Water Act was enacted in the 1970s, nutrient pollution from industry and sewage plants was sharply reduced under strict federal standards, but agricultural pollution is addressed largely by voluntary grant programs. Grants are available to farmers who want to determine how much they are polluting and to reduce the harm by limiting disposal of manure on fields or through changes in planting practices.
You have free articles remaining.
"There is still much work to be done to achieve water-quality standards and reduce algae blooms and the other negative impacts associated with excess phosphorus loadings," said Sharon Gayan, director of the DNR water quality bureau.
In some areas, farmers have formed to publicize pollution-reducing practices and encourage others in their industry to join.
More programs like that one, changes in laws, and more money for voluntary measures are needed so that all sources of pollution are brought fully under control, said Adam Sodersten, spokesman for the Madison-based Clean Lakes Alliance.
"Most importantly it will take a transformational and cultural shift in how we approach lake health" like the societal shift to recycling and composting that took place decades ago, Sodersten said.
The upper Wisconsin River study includes Lake Wausau, Big Eau Pleine Reservoir, Lake Du Bay and Lake Delton.