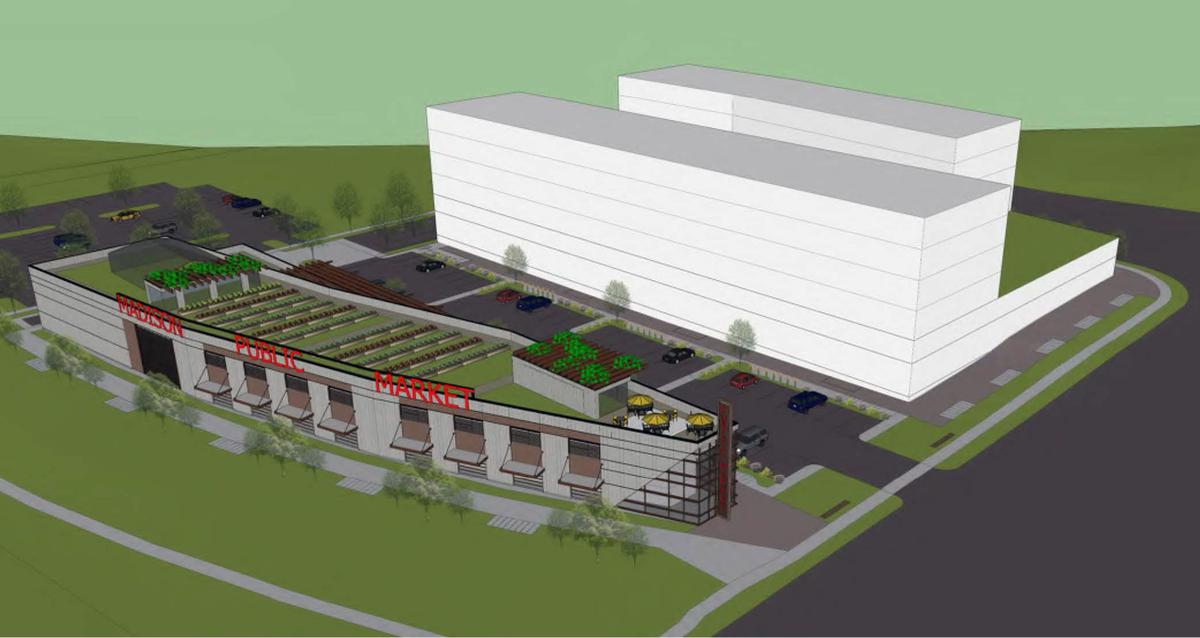 Donors have ignited a private fundraising campaign for the coming $13.2 million Madison Public Market on the East Side, pledging contributions totaling nearly $1 million for the project.
The law firm Boardman Clark is delivering a lead gift of $250,000, while Dairy Farmers of Wisconsin is providing another contribution to create an interactive space within the market highlighting dairy and the state's rich heritage of cheesemaking.
Those gifts and a few others have the nonprofit Madison Public Market Foundation closing in on the first $1 million of an effort to privately raise $4 million for the project, which will be part of a larger redevelopment slated for land bounded by East Washington Avenue, North First Street and Burr Jones Park.
The Public Market would be funded by $3 million in federal New Market Tax Credits, $2.5 million in private fundraising, and $7.7 million in city contributions under Mayor Paul Soglin's proposed capital budget for 2019. The additional $1.5 million in private fundraising is for pre-opening and initial operating costs and programming.
The private fundraising is critical because, under the city budget, construction can begin only when all sources of capital funding are secured.
"This early support of the market has helped us build momentum for making our Public Market a reality," foundation board president Jamaal Stricklin said in a statement. Donors other than Boardman Clark have not yet given permission to share dollar amounts of gifts, foundation consultant Amanda White said.
Boardman Clark, one of the city's oldest law firms, will also be providing programming and non-financial support to the Public Market's community-focused initiatives, such as the MarketReady initiative, which helps entrepreneurs create stable business foundations.
"To us, this project is about more than creating a space to sell goods," said Richard Heinemann, managing partner at Boardman Clark. "It is an investment in the community, a chance to empower underrepresented entrepreneurs, and a great venue to sample Madison's diverse foods, crafts and culture."
The Dairy Farmers' area will include interactive exhibits, education and cheese and dairy products from the state.
"We're excited to create a destination within the market for locals and visitors alike to celebrate the vast array of our state's award-winning cheese and to honor the dairy farmers in Wisconsin," said Suzanne Fanning, spokeswoman for the organization.
Meanwhile, city staff are recommending MSR Design of Minneapolis to oversee engagement with the community and vendors, complete a final design, secure land use approvals and bring the market to completion.
"They've done big projects for the city in recent years," city Office of Business resources manager Dan Kennelly said. "They get it. They understand the city. They know how to handle the economic development part of it. We're excited to work with them."
A resolution to hire MSR for the public market will soon be introduced to the City Council, Kennelly said.
The Public Market, which would face Burr Jones Park, would include:
Market Hall, a large, central space to house 40 or more permanent merchant booths plus 3,000 square feet of event and temporary vending space.
Outdoor Market Plaza, a flexible space next to Market Hall that will allow for outdoor seating, a small stage for live music and other performances, artwork, and seasonal food carts.
A Food Innovation Center, which will provide space to increase local food production and training.
Flexible space for events from weddings to free nutrition classes to community meetings.
A children's area and art spaces.
The market and private elements would go up on a site currently occupied by the Washington Plaza shopping center owned by Doran and Waller. The city is negotiating with them for a piece of the site as the developers continue with design and financing for their project, which could include two, six-story towers with a hotel, residential units and commercial space at the intersection of East Washington Avenue and North First Street. The shopping plaza would be demolished.
City staff will update the Public Market Committee on fundraising and other matters on Thursday evening.
As fundraising and final design proceed, the market's community leadership is also taking shape. The foundation, created in 2017, will operate the market. It now has a 10-member board of directors, and a diverse, 15-member advisory council that will meet quarterly and provide community feedback.
"With the amazing team of community leaders who've joined us, we're certain the Public Market will be an inclusive, incredible destination that quickly becomes one of Madison's most beloved public treasures," Strickland said.
The city hopes to begin construction of the market in the fall of 2019, with an opening in late 2020.
[Editor's note: This story has been updated to reflect a correction. The original version juxtaposed the first names of developers Steve Doran and Todd Waller and misspelled the last name of Madison Public Market Foundation president Jamaal Stricklin.]